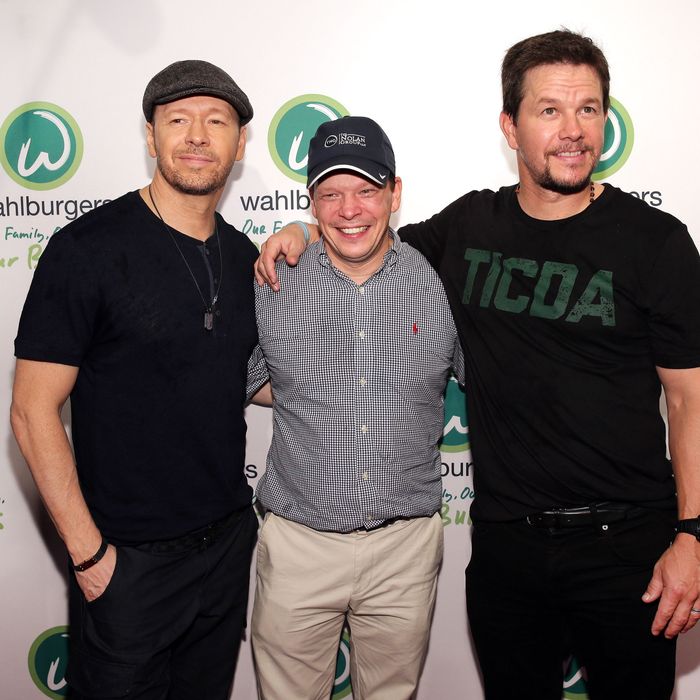 The upcoming Coney Island location opens next month.
Photo: Neilson Barnard/Getty Images
New York City has a lot of hamburgers, an overwhelming bounty that some might even say is an embarrassment of riches. There's no shortage of 'em, but that burger abundance hasn't stopped the Wahlberg Brothers — Mark, Donnie, and Paul — from opening an outpost of their own burger chain (and reality-show anchor restaurant), Wahlburgers, in Coney Island. They held a preview party this week, and when Grub Street stopped by, we wondered if the Boston-based burger trio had any thoughts on the stiff competition they'll be facing in New York. Alas, Mark, ever the demure one, declined interviews. But when we talked to Donnie and Paul, they told us they're just really, really happy to be here.
How do you think Wahlburgers will compete in this heavily saturated burger market that is New York City?
Paul Wahlberg: For us, first of all it's just an honor to be on Coney Island. And for us, we're just going to do the best we can. You know, we want to put out a good product and we want to make sure, you know, it's about the customer service and the whole customer experience — it's not just the glitz and the glamour. We stand behind the product. We stand behind the food.
Dry-aged beef has really taken hold as a big new burger trend. Do you stay up on the trends?
PW: Yeah, but you know our proprietary blend we actually get it from here, from Pat LaFrieda, so we have local roots with that. And the burgers, again, lots of people are doing lots of different things with burgers, and to me, you can't have enough burgers.
Donnie Wahlberg: There's a million people in New York! Somebody's got to feed them.
Have you had any Shake Shack comparisons?
PW: I think we're a little different than Shake Shack. I mean, I think it's a little, like, our target's a little different than them, but you know, any time we're lumped in with Shake Shack as a comparison it's an honor to us. I think our product's a little different, but…
DW: It's Shake Shack, you know? They're amazing.