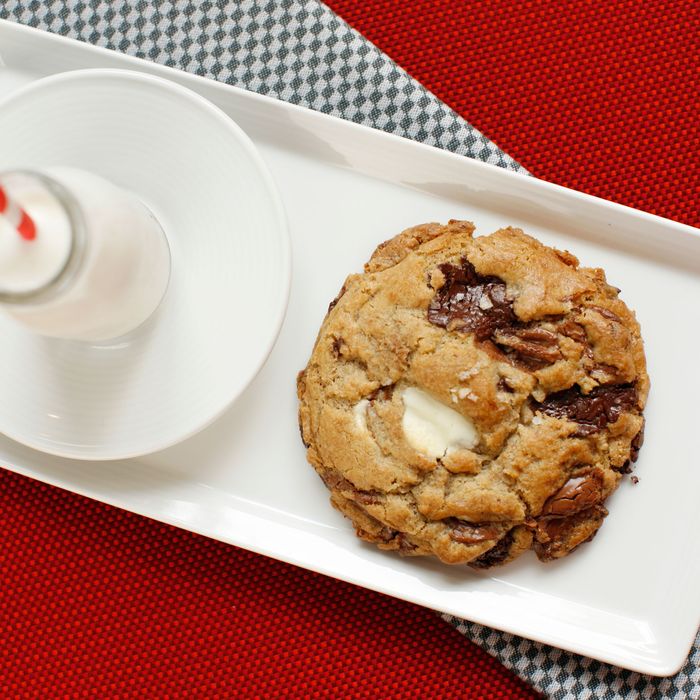 It's served at Untitled at the Whitney.
Photo: Melissa Hom
"People always underestimate a cookie," says Miro Uskokovic, the pastry chef at both Gramercy Tavern and the newly opened Untitled at the Whitney. It's true: While there are some truly great ones in New York — Maman's being the newest addition to the all-star list — they can seem a bit boring, especially in the age of Cronut-inspired, over-the-top hybrid desserts. But Uskokovic's chocolate-chip cookie at Untitled is, without a doubt, one of the most impressive desserts in New York right now.
The $8 cookie is served warm out of the oven, with a miniature glass of floral milk that's infused with Madagascan bourbon vanilla. It's a bit crispy on the outside, with a soft, melting, fudge-y interior. "Untitled is an American restaurant in an American museum," Uskokovic says. "I thought, Why don't we make a big, American, classic chocolate-chip cookie? I wanted it be warm and gooey."
Uskokovic starts with great butter: He browns it for up to six hours, clarifies it, and then strains it — "like a ghee," he says. Next, he adds organic-white and light-brown sugars until the butter is light and fluffy, because "light brown sugar is a little chewy, and white sugar creates a nice crust." But here's the twist: Uskokovic uses Thomas Keller's gluten-free Cup4Cup flour. He never intended to make a gluten-free cookie — it happened by chance. "We made the cookie with normal flour, and then I thought, Let's test it with Cup4Cup, just so we could have the gluten-free option," he says. "But we loved the gluten-free version so much more that we 86'ed the regular flour."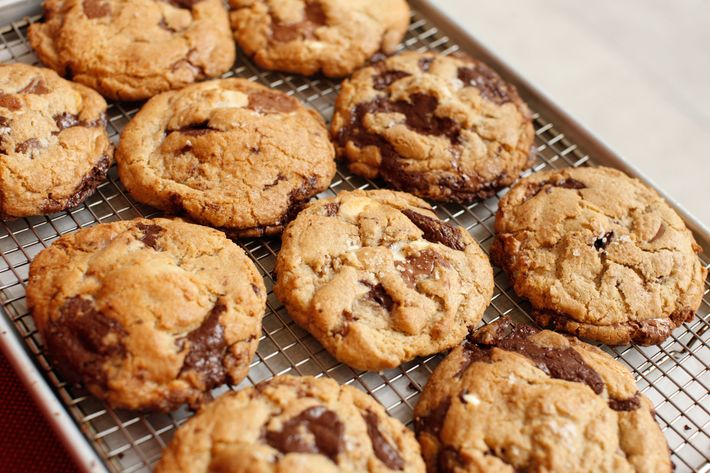 The baking process continues with the addition of three kinds of chocolate, all produced by San Francisco-based Guittard. Uskokovic combines 72 percent dark, 38 percent milk, and a little bit of 31 percent white. In Grub's humble opinion, the white chocolate is what makes it stand out from other cookies in New York. Finally, he adds Amagansett Sea Salt — driving home the all-American idea. (As for the milk, it hails from Five Acre Farms in Brooklyn.)
Part of what makes this cookie so special is that it's always served fresh: The Untitled team bakes it throughout the night, at precisely 375 degrees for only seven minutes. This allows for a crispy exterior, without drying the cookie out. But enjoying the cookie doesn't require sitting down for a full-blown fancy-pants dinner: It's also served at the more casual Studio Cafe on the eighth floor of the museum, where it costs $4 and comes without the vanilla-infused milk. And very soon, Uskokovic plans to sell the cookie to go. In other words: There's really no excuse why you shouldn't try it immediately.