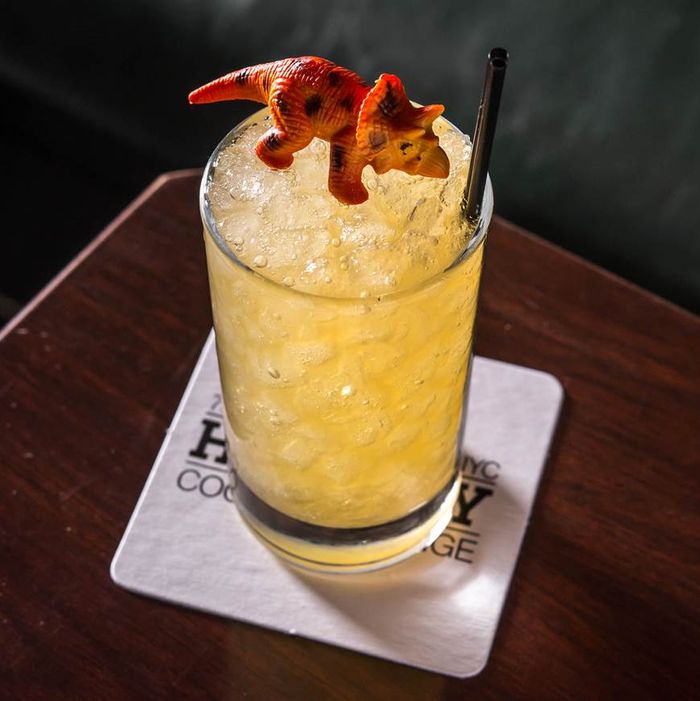 Holiday Cocktail Lounge's Long Island Iced Tea.
The craft-cocktail renaissance of the aughts gave way to many great things — the ubiquity of well-executed drinks, the rise of iconic bar figures — yet it's also led to some overwrought, hyperserious beverages (and even an ill-fated television series called Mixology). Perhaps that's why, as New York's mixological icons reach benchmark stage, restaurants and bars like Oleanders are embracing the so-called trashy drinks that inspired the entire craft boom in the first place.
And so, ace bartenders are trying their hand at once-shunned drinks like the Long Island Iced Tea, Sex on the Beach, Piña Colada, or even a simple Jack and Coke. The high-low mash-up works, resulting in drinks that are nostalgic, unpretentious, and, above all, easy to order and drink. Just what you want in the summer. And, just as you'd expect, places like Mission Chinese Food, Porchlight, and Holiday Cocktail Lounge are making these kinds of throwback drinks with finesse and high-quality ingredients.
163 Iced Tea
Where: Fuku
Price: $10
You'll need to wash down that spicy-fried-chicken sandwich with something: How about David Chang's riff on a Long Island Iced Tea, with vodka, gin, tequila, white rum, Sointreau, lemon juice, and topped with Dr. Pepper?
Group Sex on the Beach
Where: Boilermaker
Price: $16
This East Village bar serves a cheeky concoction of Jamaican rum, Barbados rum, Bacardi 151, lime, grapefruit, seasonal fruit liqueur, Grenadine, Caribbean spices, absinthe, and bitters. It's so strong, that there's a maximum of two allowed per guest.
Grasshopper
Where: Oleanders
Price: $12
The brand-new fern-bar revival's menu includes Long Island Iced Tea, a yuzu margarita, and a Grasshopper comprised of Menthe Pastille, chocolate liqueur, half-and-half, and Jade 1901 Absinthe.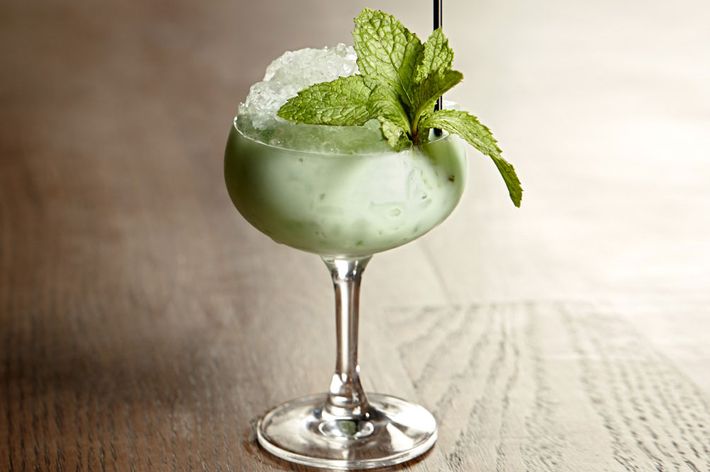 Frozen Pisco Sour
Where: Mission Chinese Food
Price: $8
Danny Bowien doesn't take cocktails too seriously (there's a "MSG Margarita" on the menu, after all), and this version of the South American drink is made with fennel candy.
Kentucky Lemonade
Where: Dirt Candy
Price: $13
Chef Amanda Cohen slow-roasts lemons with sugar and vanilla bean, and then adds housemade beet juice, bourbon, a splash of 7-Up, and traditional soda water.
Whiskey and Cola
Where: Porchlight
Price: $14
With Mellow Corn whiskey, Fernet-Vallet, and homemade cola syrup, this spin on Jack and Coke is deceptively fancy.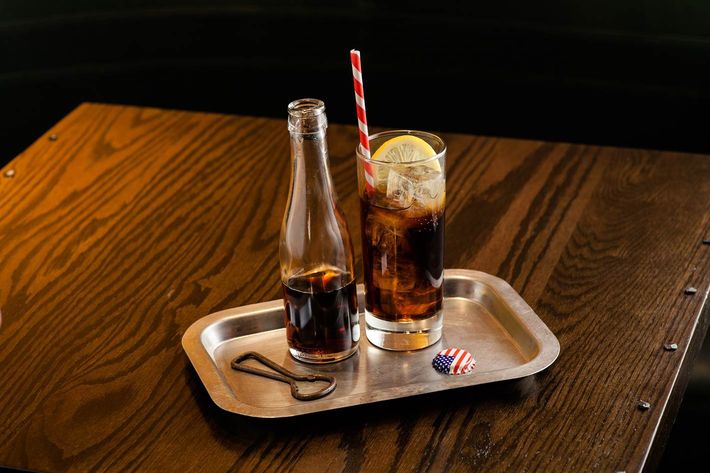 Yuzu Azzurro
Where: Marea
Price: $17
For whatever reason, blue Curacao is popping up on all sorts of menus these days — but it's still a bit odd to see it in a drink at a fancy-pants Italian restaurant like Marea — here mixed with vodka and fresh citrus.
Long Island Iced Tea
Where: Holiday Cocktail Lounge
Price: $6
The revamped historic bar makes its version of the Long Island Iced Tea with breakfast-tea-infused vodka, gin, rum, tequila, oleo-saccharum, and lemon.
Lily Colada
Where: Miss Lily's 7A
Price: $12
This isn't exactly a "light" summer drink, but it's still great this time of year: The East Village outpost of Miss Lily's makes it with vanilla-bean-infused Mount Gay rum, half-and-half, and nutmeg. And you can follow it up with a rum Sazerac.
Frozen Kirin Ichiban
Where: Blue Ribbon Beer Garden
Price: $9
As the summer temps climb — and it gets so hot you can't think straight — you need a beer slushy, and this modern take features a creamy swirl of Ichiban beer foam atop cold Ichiban beer.