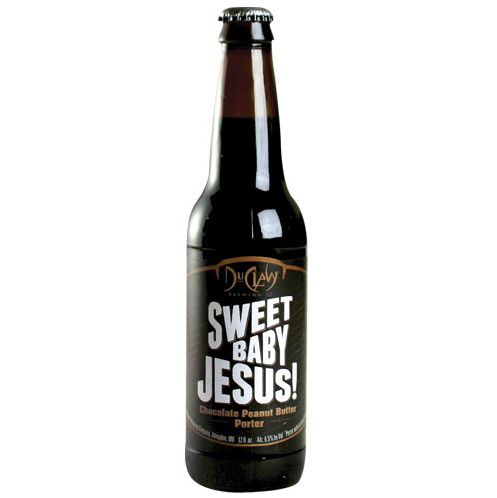 Customers at a Midwest grocery chain are quite upset about the arrival of Baltimore-based DuClaw Brewing's Sweet Baby Jesus! brew, and they've lodged enough complaints that the chocolate and peanut butter porter is no longer on shelves at Heinen's.
DuClaw beer is actually new in Ohio, where most Heinen's are located, and residents there had actually ranked Sweet Baby Jesus! the beer they wanted to try the most. It won DuClaw's home-brew contest back in 2011 (the brewmaster said the taste made him go, "Sweet baby Jesus, this tastes just like chocolate and peanut butter," hence the name). Now a Heinen's rep says, "We have thousands and thousands of items in and out of our store all the time. For us it's a no-comment situation."
Clever or not, religion-themed tie-ins rarely end well, but DuClaw's president insists that the company never intended to offend anyone with a name he took to mean "awe or astonishment." Rather, he says, DuClaw names beers for the emotions they evoke. That, and maybe also for clever hashtag potential: #SweetBJ, in this case.