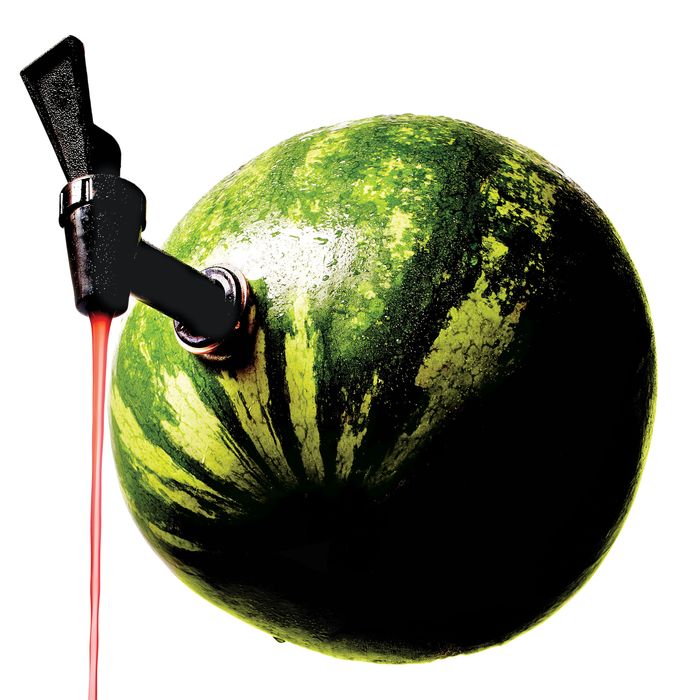 Hack your summer eating.
Photo: Bobby Doherty
As part of New York's Hack-Your-Summer Guide, we've compiled this list of the best things to eat and drink this season.
How to Turn a Watermelon Into a Keg
You could channel your inner frat boy and simply shove a bottle of Popov into a watermelon, waiting a day or so for the fruit to absorb the booze. But Cocktail Kingdom's Don Lee offers this quicker and much cooler alternative for a watermelon punch, plus a technique that transforms the melon into a dispenser.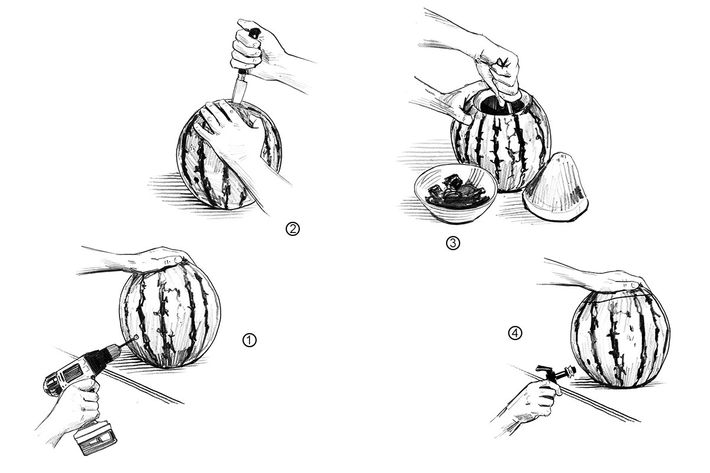 1. Orient the watermelon so it is sitting on its flattest side, or cut off a thin slice to create a base. Use a power drill with a ⅝-inch spade bit to bore a hole (the hole should be slightly smaller than the spigot attachment) near the bottom of the front face of the watermelon.
2. Use a paring knife to cut a round hole angled in the top of the melon, as you would when cutting a jack-o'-lantern, so that the rind can be placed back on top without falling in.
3. Use a spoon to scoop out the watermelon, reserving the flesh. Remove enough fruit to expose the drilled hole and ensure that liquid will drain out.
4. Screw the spigot (available at Chef Restaurant Supply, 294 Bowery; 212-254-6644) into the hole made with the drill. Make sure to leave the outside gasket on the spigot.
5. Using a juicer, juice the scooped watermelon for the punch. (If you don't have a juicer, cut the watermelon into small chunks, place in a blender or muddle by hand, and strain through a chinois or fine strainer.)
6. Add booze:
Watermelon Punch
18 oz. Absolut Elyx vodka
18 oz. watermelon syrup (see recipe below)
18 oz. cold water
9 oz. lemon juice
Combine ingredients and chill in refrigerator until ready to serve. Fill between ¼ and ⅓ of the watermelon cavity with ice and top with punch. Dispense punch from spigot into rocks glasses over ice, and garnish with a watermelon slice or spear. Serves 12.
Watermelon Syrup
16 oz. watermelon juice
8 oz. granulated sugar
Combine and stir until sugar is dissolved. Do not heat. Reserve extra syrup for another use.
How to Make Nose-to-Tail Lemonade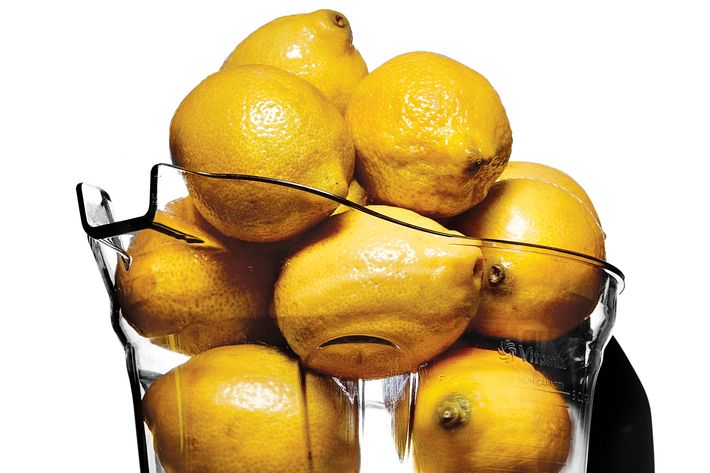 Tossing entire lemons, peels and all, into a blender instead of just juicing them results in a frothy, thirst-quenching concoction that may ruin you for the regular stuff. The oil from the skin provides a serious flavor boost. Here's how to do it, based on the method used by the Upper East Side's late, great Pyramida Grill. Quarter one lemon. Remove the seeds and some of the thick pith at the ends and sides of the slices. Place in a blender with two tablespoons of sugar and some ice cubes. Cover with ice-cold water (about 1 1/2 cups), and blend on high for a minute or so until smooth.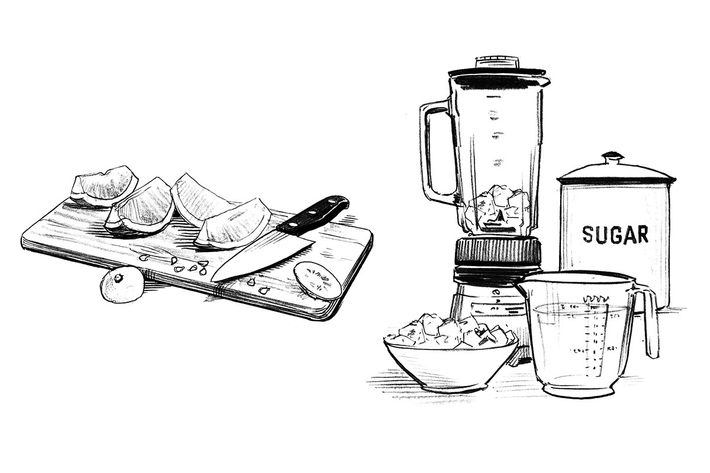 Or …
Find killer tamales behind the micro-mesclun.
Near the back of the Windfall Farms stand at the Union Square Greenmarket on Wednesdays and Saturdays, under-the-radar Betty the Tamale Lady works wonders from a jerry-rigged kitchen of folding shopping carts. Her chicken and pork mole tamales are terrific, and her bean-and-cheese gorditas and quesadillas are awfully tasty, too.
Turn a Starbucks straw into a cherry pitter.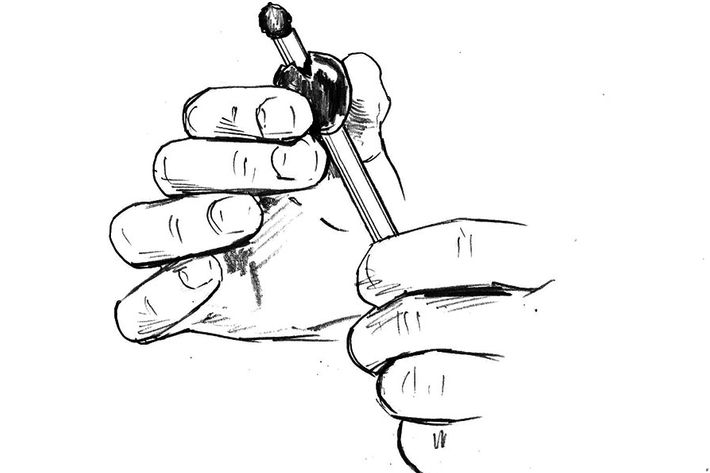 Pitting cherries for a pie with a paring knife is a time-consuming pain. No need to invest in a cherry pitter, though. Just substitute a sturdy straw. The jumbo-size green ones they keep over at the pickup counter at Starbucks work like magic. Insert the straw at the bottom of the fruit and run through the top, removing the pit. Good for hulling strawberries, too.
Find out where the locals drink in the Rockaways.
From the shuttle train, make a beeline for the outdoor back deck at Bungalow Bar. Grab a frozen margarita and head to the working dock, where Broad Channel families anchor for dinner. You can watch a stunning sunset over the Cross Bay Bridge, drink in hand and bare feet dangling in Jamaica Bay. 377 Beach 92nd St., Rockaway Park; 718-945-2100.
Escape the crowds in one of Manhattan's most touristy spots.
Most locals avoid South Street and its nautical-themed chain-store commercialism. Still, a couple of excellent summer options: the unassuming Fishmarket (111 South St.; 917-363-8101), where the congenial owner's mother cooks a secret menu of unexpectedly great Malaysian food; and Jeremy's (228 Front St.; 212-964-3537), the divey, seldom-crowded Seaport stalwart that's home to $6.50 Styrofoam quarts of beer and doors that open (at 8 a.m.) onto a patio overlooking a quiet block.
Track down Disneyland's elusive Dole Whip.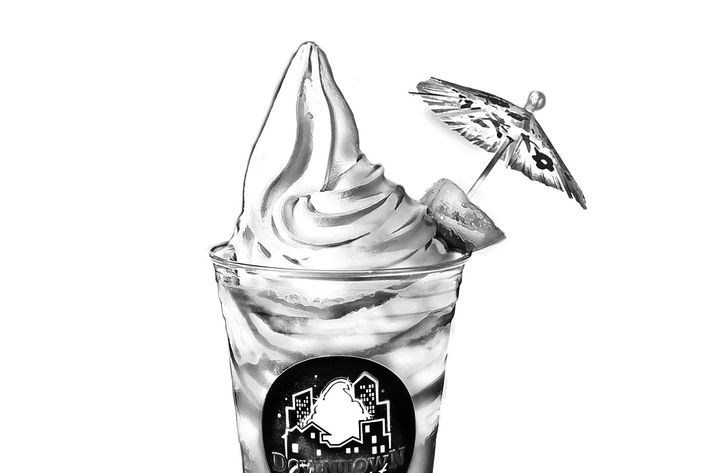 Like Forty Carrots fro-yo, the dairy-free pineapple-flavored soft-serve that originated in Disneyland has a cult following, only it's much harder to find hereabouts. With a little sleuthing, we unearthed three shops that sell the stuff: Orange Leaf Frozen Yogurt in midtown (608 Second Ave.; 646-649-4707), Menchie's Frozen Yogurt in the Bronx (3555 Johnson Ave.; 718-432-2580), and Downtown Yogurt in Jersey City (126 Newark Ave.; 201-333-8359). For true obsessives, it's a week in Anaheim in a ten-ounce cup.
Chill your wine with a dish towel and a freezer …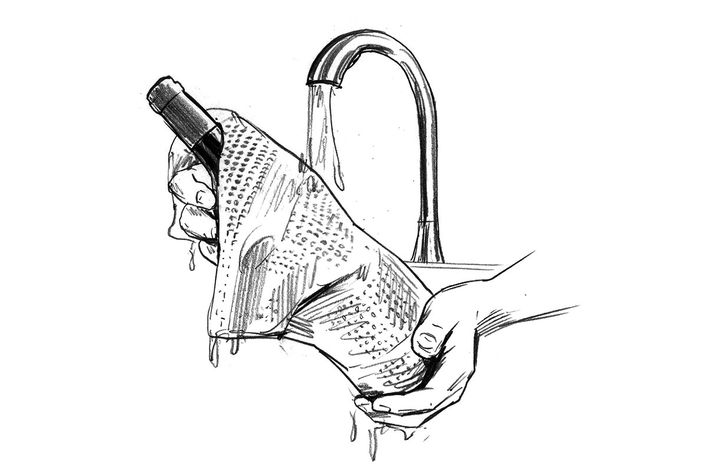 Justin Chearno, wine consultant for the new wine bar the Four Horsemen in Williamsburg, divulges this secret for cooling wine quickly: Wrap your bottle in a clean wet dish towel (even paper towels will do) and pop it in the freezer, and 20 minutes later it will be cold and ready to drink.
… Or just add a few ice cubes.
Jody Williams, who opened an outpost of her West Village restaurant Buvette in the 9th arrondisement two years ago, says Champagne on the rocks has become a thing in Paris. It's called piscine, which means pool.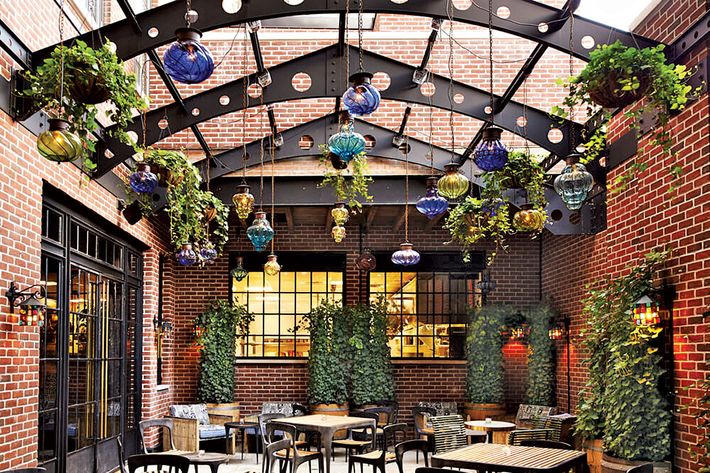 Sip a clandestine cocktail in the midst of Lower East Side madness.
Order a pitcher of Imperial Planter's Punch in the Ludlow Hotel lobby lounge garden, an unexpected oasis of calm, where you can pair Thomas Waugh's quasi-tropical drinks with light bites from the Dirty French menu. 180 Ludlow St.; 212-432-1818.
Learn the trick to liberating ketchup from the bottle.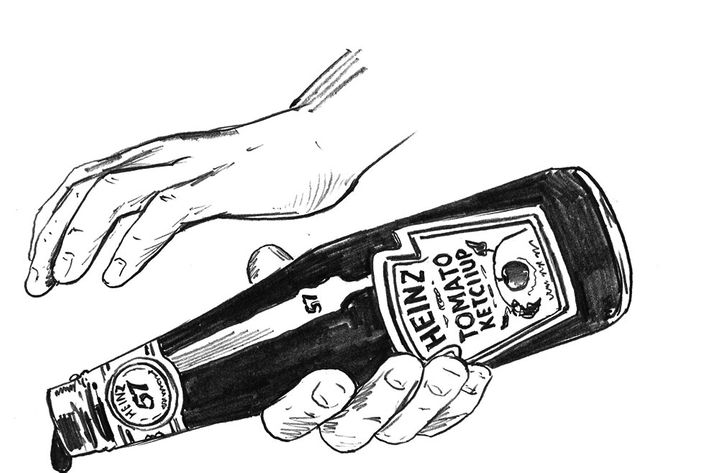 Summer is condiments' time to shine. And while you probably won't see a classic glass bottle of Heinz ketchup at a cookout these days (most groceries carry only the plastic squeeze containers), you still find them in restaurants and still see people struggling with them. Noticing a patron's clumsy attempt to dress his fries one recent night, a Minetta Tavern bartender offered this handy advice: Don't oafishly pound the bottom of the bottle. That will do nothing. Instead, turn the bottle upside down at an angle. With the heel of your hand in an upward motion, smack the bottle at the point where the neck begins to taper into the body of the container (an embossed "57" on the glass marks the sweet spot).
Find the city's best supersize bowl of ice cream hiding in plain sight at a Gramercy restaurant …
At Florian, the kitchen churns its custardy vanilla to order and serves it in a portion large enough for four to share, with a pitcher of hot fudge on the side. What more do you need? 225 Park Ave. S.; 212-869-8800.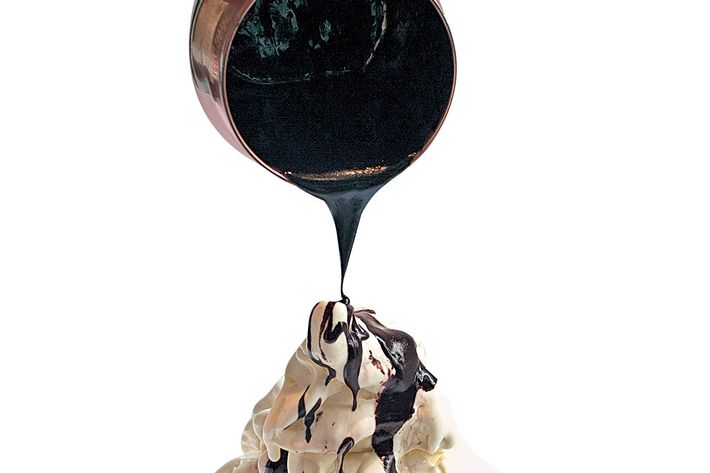 … Or just sate your craving with an off-the-menu kids' cone …
Ask for the Bimbo at Amorino, and you'll get a perfectly satisfying extra-small-size serving (or "flower," as the gelateria calls the shape of its scoops) for two bucks less than the small. 60 University Pl.; 212-253-5599.
… Or drop by a pizzeria for a spiked-float nightcap.
Amaro and gelato are great ways to end the night. At Otto Enoteca Pizzeria, they're combined into boozy floats like the caffè ubriaco (coffee gelato, Segesta amaro) and served in the bar from 10 p.m. until midnight. 1 Fifth Ave.; 212-995-9559.
Picnic in farthest-flung Queens.
When the Governors Island ferry crowds get old, try Bayside's Little Bay Park. The pretty parkland makes for good picnicking, but if you're intent on catching lunch, there's fishing on the bay overlooking the Throgs Neck Bridge. (It's even adjacent to another formerly Coast Guard-occupied spot, Fort Totten; the spooky historical remnants make outings downright educational.) Cross Island Pkwy. bet. Utopia Pkwy. and Totten Ave.
Heading to the Hamptons? Make a kebab pit stop in Hicksville, a hidden hotbed of Afghan cuisine (and expats).
Try Kabul Grill for mantu (ground-beef-stuffed dumplings), potato-and-veggie-packed bolani, and cornish-hen or lamb's-leg kebabs. 129 N. Broadway; 516-933-8999.
Unwind in a secret Georgian garden on Bleecker Street.
That's Georgia the country, not the state. Between the khinkali and khachapuri (dumplings and cheese bread, for the uninitiated) and the burbling waterfall out back, Old Tbilisi feels like another world. 174 Bleecker St.; 212-470-6064.
Additional reporting by Mary Jane Weedman and Matthew Giles
*This article appears in the June 15, 2015 issue of New York Magazine.