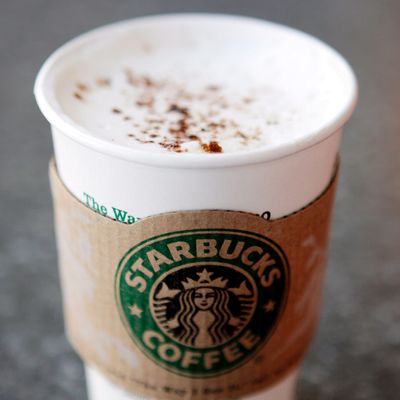 Replaced by the sexier Flat White.
Photo: Andrew Gombert/Corbis
It was clear that after the Great Flat White Debate of 2015 a small war could start over the proper coffee-to-milk ratio of espresso drinks. No doubt keenly aware of its power, Starbucks has since plastered stores with diagrams defining which drinks are more "espresso forward" and which are "milk forward." And now, there's this: The cappuccino is suddenly missing from enough menus to suggest the company is phasing the old standard out altogether.
A writer for Business Insider noticed that the drink's gone MIA at many locations in New York, Seattle, and San Francisco — basically the holy trinity of coffee cities. The company's official response is that menus vary by region, but this seems like a wise strategy: In January, Starbucks introduced the Flat White to appeal to consumers who've gotten used to café menus that emphasize smaller, richer drinks like macchiatos and cortados — and try play up the brand's cool factor, of course.
[BI]