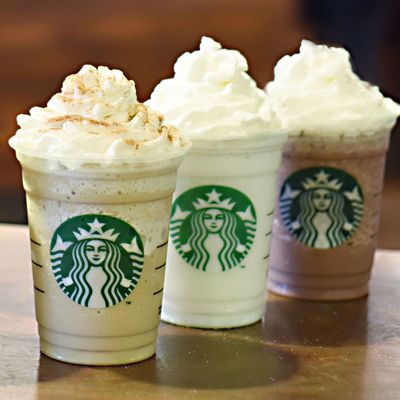 A Frap-load of blended coffee drinks.
Photo: Starbucks
For customers who considered the chain's Birthday Cake and S'mores flavors to be kind of exciting, Starbucks has some OMG!-worthy news: Today, it unveiled six unexpected — and, in some cases, pretty odd — Frappuccino flavors, which are all available starting June 8.*
Here's the lineup:
• Caramel Cocoa Cluster: A toffee-nut-flavored coffee Frap with dark caramel layered on top, and mocha drizzled over the whip.
• Cinnamon Roll: A coffee Frap blended with cinnamon-dolce syrup, white-chocolate sauce, and vanilla bean, then dusted with more cinnamon dolce on top.
• Cotton Candy: A crème Frap made with vanilla bean and raspberry syrup.
• Cupcake: A crème Frap with vanilla bean and hazelnut syrup.
• Lemon Bar: A crème Frap mixed with lemonade and vanilla syrup, plus caramel sugar on top.
• Red Velvet Cake: A crème Frap containing mocha sauce, raspberry syrup, vanilla syrup, and chocolate chips.
Starbucks says these are all "Fan Flavors," meaning if they sound weird or gross, you have fellow Americans to thank. And all things considered, it doesn't look like the company's focus will shift back to cappuccinos anytime soon.
*This posted has been corrected to show the release date is June 8, not June 30.