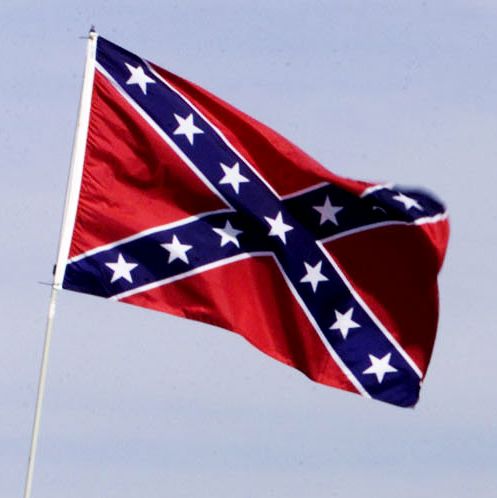 Really?
Photo: Donald Miralle/Getty Images
Flying the Confederate flag isn't even a good way to sell ribs in Nashville, so imagine the welcome a Northern California restaurant is getting now that locals have learned of its unusual choice in décor.*
Diners at Union Hotel, the (actual) name of this hotel and restaurant in Benicia, are greeted by a giant, colorful stained-glass window complete with an American flag, a bald eagle, and oh yeah — the flag of the Confederacy.
As the Chronicle notes, the flag is "seemingly out of place" in liberal San Francisco. The hotel's current owner, Lidia Woytak, maintains that she "didn't notice" the flag when purchasing the place, and explains the window was installed 35 years ago by a former owner to honor Benicia's history. Woytak assures the paper she has no affinity for the flag, although it doesn't appear she's taking any proactive steps to remove it yet, either.
The hotel is 160 years old and sits in Benicia's historic district, meaning the flag is "not likely to be going anywhere soon," the Chronicle informs readers, since any changes have to go through a laborious review process with the town's historic preservation commission. Of course, if there's anywhere that flying the Confederate flag is a losing political battle, you have to assume it's here.
*This post has been updated to reflect the fact that the restaurant in question is outside of San Francisco, not in the city itself.