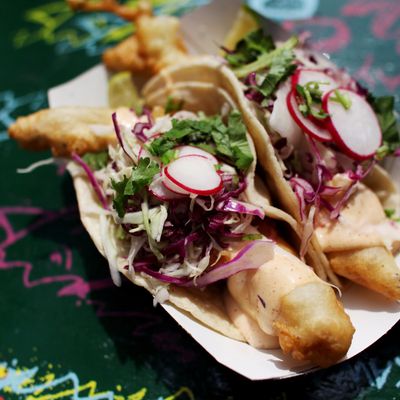 Andrew Field's tacos are still available, but they're in a new home.
Photo: Kirsten Luce for the Washington Post
For years, Rockaway Beach has been on its way to becoming a full-blown eating destination, and the additions this summer will only solidify that status: There's a new café that specializes in pita-taco hybrids, a Peruvian restaurant with great rotisserie chicken, and a pop-up that gives talented New York City chefs a place to cook Latin American comfort food. And don't forget: Burgers at Rippers, Andrew Field's fish tacos (now in a new home), and the French fries from Bolivian Llama Party are all well worth the quick trip on the A train. Grub has rounded up (and mapped!) all of the great places to eat at Rockaway — new and old — so that you can make the most of beach season without ever stepping foot on the Jitney.
Anna Bow New for this summer is a laid-back café that sells a pita-taco hybrid with fillings like smashed chickpeas with feta, and grilled fish with pineapple. Plus: almond-chia pudding, breakfast burritos, and, of course, fresh juices.
The Summer Shift With the help of Rockaway Taco co-founder David Selig, the MP Shift — a New York-based design and branding studio from Anna Polonsky and Amy Morris — has conceptualized "the Summer Shift" pop-up. They're hosting a rotating cast of New York chefs, all with roots in Latin America, and the group includes El Rey's Gerardo Gonzalez, Navy's Camille Becerra, and Cómodo's Felipe Donnelly and Carolina Santos-Neves.
Rippers This remains the best place to get a burger — perhaps because the Meat Hook's Brent Young is behind the operation.
Riis Park Bazaar This outdoor marketplace has it all: food vendors that include Ample Hills Creamery and Fletcher's Brooklyn Barbecue, and Court Street Grocers, live-music performances, a volleyball league, pop-up art and clothing merchants, and even tattoo artists.
By the Beach A single-concept stand specializes in all things coconut is a total slam-dunk.
Tacoaway Beach Co-owner Andrew Field has gone solo and opened a taco operation at the Rockaway Beach Surf Club on Beach 87th Street. Don't worry, though — the menu has remained the same.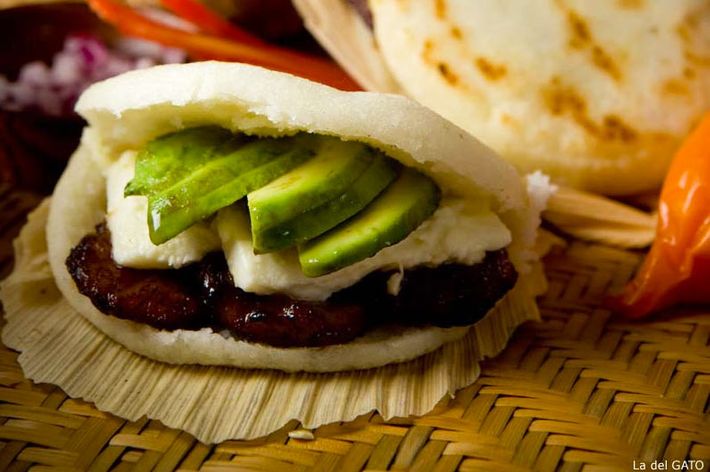 Chicks to Go The speciality at this brand-new Peruvian-rotisserie restaurant is chicken, of course, but there are also standout sides like sweet plantains, empanadas, and rice and beans.
Rockaway Roasters Another new addition for 2015: a proper coffee shop that brews Stumptown beans and cold brew on tap.
The Playland Motel Daniel Cipriani is overseeing the food here this summer, and his menu includes clam fritters, peel-and-eat shrimp, and steak-frites.
Conchos And right near Caracas is Conchos, offering crêpes, smoothies, ice cream, and plenty of other snacks.
Sayra's Wine Bar As one of the only wine bars in Rockaway, Sayra's is a perfect place to go if you're staying the night. You'll find small plates (like a meatball sandwich on a pretzel-brioche bun), sangria, backyard seating, and, occasionally, live music.
Whit's End "Pizza nazi" Whitney Aycock serves pies with foraged mushrooms, imported tomatoes, and a mix of buffalo mozzarella and fior di latte for his cheese.
Goody's Head here for barbecue ribs, macaroni and cheese, and West Indian options like curry goat and roti.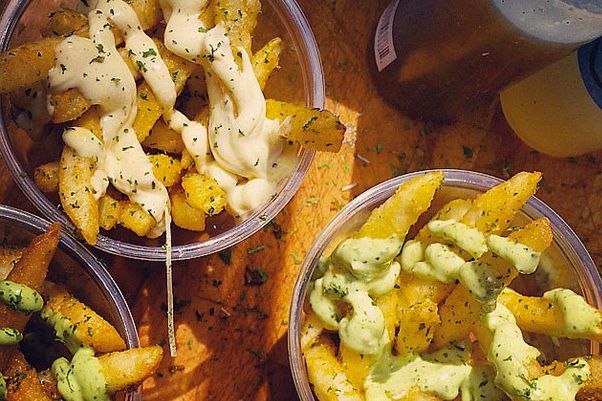 Uma's Yet another reason why Rockaway is so cool? There's a full-blown Uzbek restaurant, with borscht, kabobs, and traditional meat pastries.
Lobster Joint The quintessential summer food — a New England-style lobster roll with celery and herb mayo — is served right on the boardwalk.
Cuisine by Claudette You'll find fresh salads, French pastries, and perfect-looking chocolate-chip cookies at this Moroccan-inspired restaurant.
Beach Sliders This new mini-burger joint serves up classic diner fare: White Castle-inspired burgers, hot dogs, and a Philly cheesesteak hero.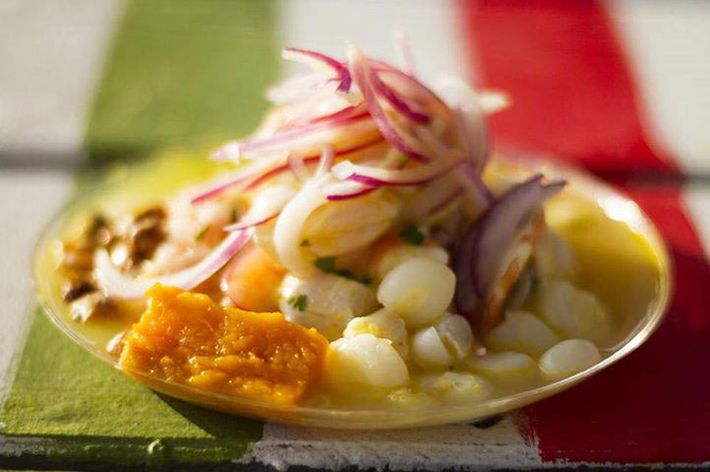 Citysticks Between the alcoholic ice pops, root-beer floats, and Belgian-waffle ice-cream sundaes, this is the place to eat dessert at Rockaway Beach.
The Palms It's not open just yet, but there's a beautiful new tropical-themed space in the works. Local Rockaway merchants will sell things like surfboards, clothing, and beauty products, and O Café owner Fernando Aciar will launch a special new concept. Look out for a mid-July opening.