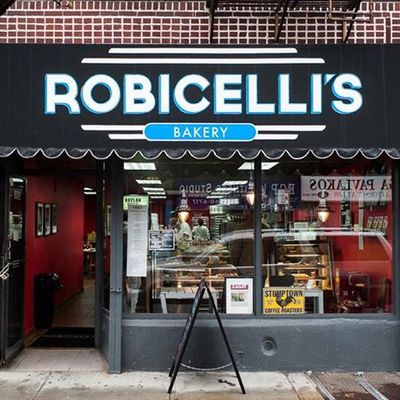 "These have been well researched."
Photo: Robicelli's Bakery
In celebration of Pride and today's historic Supreme Court decision on gay marriage, Bay Ridge's Robicelli's will serve five festive dessert specials over the weekend. All the sweets have been inspired by "favorite desserts of gay icons" and, co-owner Allison Robicelli promises, "have been well researched." Robicelli and husband Matt, her co-chef and -owner, have gone so far as to mine 1960s-era cookbooks in making their Barbra Streisand–themed dessert, and have based their Elton John recipe on an old People article. Here's the lineup:
Cher's Parfait ($5): cannoli-cream mousse, crushed chocolate-chip cookies, and cannoli pieces.
Judy Garland's Milk & Cake Special ($7): served by the slice with a glass of milk.
Barbra Streisand's Ice Cream ($7): coffee "ice cream" that's really "more like a semifreddo," and served with crushed pretzels.
Madonna Tart ($5): a lemon tart with a raspberry-lychee salad.
Elton John's Grilled Cheese ($6): a cinnamon-raisin grilled cheese with mascarpone and pears.