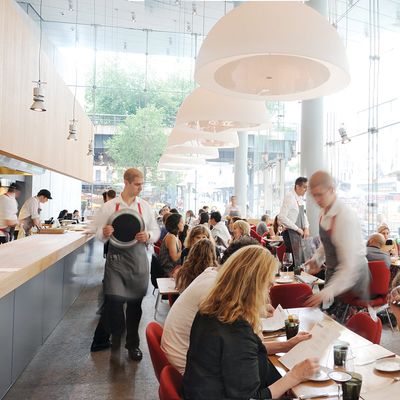 Untitled
Photo: Tirzah Brott/New York Magazine
Given the abundance of grand, sun-splashed spaces at Renzo Piano's new downtown Whitney museum, my first slightly churlish thought, upon settling into my Saarinen chair at the new house restaurant, Untitled, which opened on the building's ground floor not long ago, was that I would have liked a slightly better view. Sure, you can glimpse sideways at the river if you happen to be facing west, and if you're looking east, you can see the southern tip of the High Line, which is filled, during this summer season, with hordes of tourists trooping to and fro through the potted fauna. Unlike at the museum café upstairs, however, there are no breathtaking views of the harbor or of the condos sprouting up like cornstalks around the Meatpacking District, and unlike Danny Meyer's other celebrated museum restaurant farther uptown at MoMA, there isn't much art to gaze at while you peruse your compact, café-style menu.
But like I said, I'm being slightly churlish. The new restaurant at the new Whitney may not be a monument to the aesthetic glories of contemporary art and architecture ("I feel like I'm at one of the finer restaurants in a Belgian airport," one of my guests remarked), but compared with the loud, poky little spaces that pass for first-class restaurants these days in the big city, it will do fine. Unlike some Saarinen chairs, these ones are comfortably upholstered and colored in a cheerful raspberry red. The blue-limestone floor doesn't do much to deaden the noise in the room on busy evenings, but the ceiling is as high as a cathedral, and it's surrounded by a tall glass wall on three sides. There's a white-oak bar in one corner of the room where you can sip a well-made Negroni after you've ambled around the galleries, and rows of café tables have been set up in the shadow of the building so you can sit outside and watch the river as it rolls down to the sea.
The menu at Untitled feels abbreviated by Meyer's lofty standards (there are five appetizers, five entrées, and assorted snacks and vegetables to pick at), but for a modest museum restaurant, the food, as orchestrated by the great Michael Anthony (Gramercy Tavern) and his talented chef de cuisine, Suzanne Cupps, packs a considerable punch. You won't get sheets of crackly flatbread sprinkled with bits of bacon and sweet spring onions at, say, the American Folk Art Museum, I'm betting, or bowls of crab fritters, which are round and dense, like hush puppies, and served with a pink aïoli that's whipped fresh and folded with bits of pickled Fresno pepper. The potato chips here are fresh fried instead of bagged — the ones served at the café upstairs with pimento-cheese dip are even better — and the excellent lobster toast is tossed with garlic scapes and ramps and spooned onto little triangles of brioche.
As is the custom at any Meyer operation, these carefully curated dishes are brought to the table by swarms of smiling hospitality professionals, wearing neatly pressed button-down shirts and the trademark butcher's bibs (which in this case are colored a modish Prada gray). On my visits, these cheery souls were gently pushing the fashionable vegetable section of the menu, and for good reason. Anthony is one of the city's great masters of seasonal, Slow Food cooking, and he and Cupps plate their garden greens in all sorts of tasteful and pleasing ways. Even the card-carrying carnivores at my table enjoyed the roasted beets (touched with buttermilk) and the cauliflower (caramelized, then served in a subtle coconut curry), but if you get just one dish, make it the leeks, which are seared to a kind of brûléed crunchiness, touched with oranges, and arranged on the plate in a decorative symmetrical pattern, like one of the art pieces upstairs.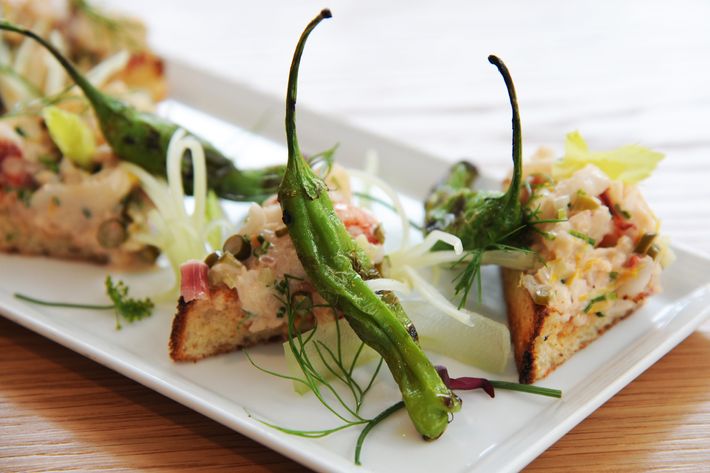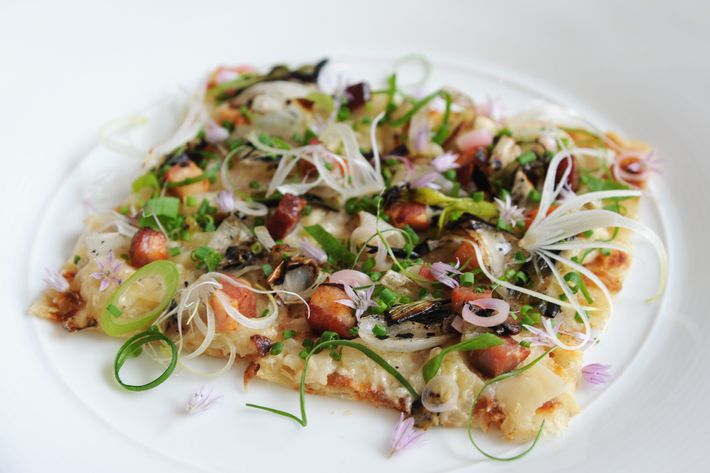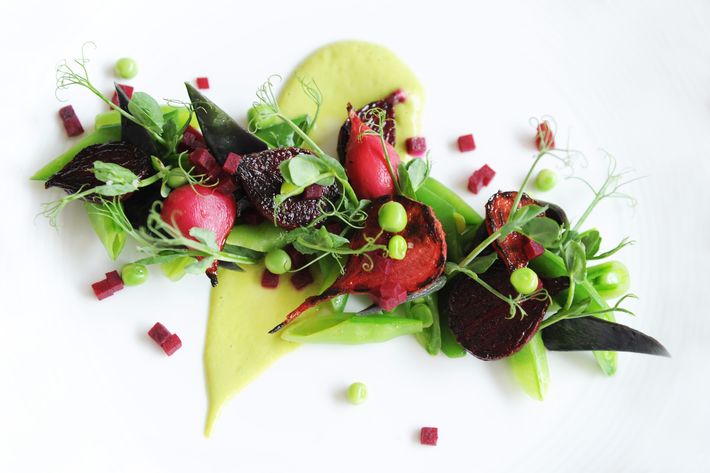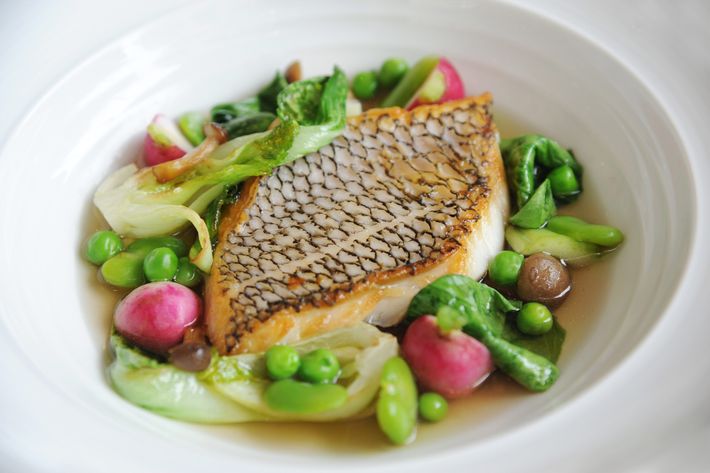 None of the entrées at Untitled cost over $27, and many of them are plated with the same kind of care as these vegetal compositions. The strips of thick, eggy stradette pasta might have worked better in a bowl (they're laid out like strips of unbaked pie crust on the plate), but that most aesthetically challenged of fish dishes, black bass, is balanced in a decorative way on top of a soothing broth filled with mushrooms and bulbs of bok choy. The monkfish Ms. Platt ordered one evening tasted almost like lobster, the way good monkfish should (it's garnished with black and green garlic and poured, for extra measure, with a rich lobster glaze), and if you want something slightly heftier, I suggest the country chicken (cooked roasted and deep fried, with snap peas and kale), or the plump pork sausage, which was so nicely composed on a white plate around a tasteful amount of potato salad that one of the sophisticates at my table took out her phone and snapped a picture of it.
Anthony and his team also provide the various snack dishes (cold carrot soup, pots of pickled cucumbers, a variety of open-sandwich toasts) at the very pleasant café on the eighth floor of the new Whitney, and on a peaceful weekend afternoon, with the sun beating down on the parasols outside and the Statue of Liberty shimmering in the distance, it's one of the better new lunch venues in town. You don't have to pay a $22 nonmembers fee to get a seat at Untitled, however, which is also open late into the evening, and on Tuesdays, when the museum is closed. You won't find the excellent chocolate hot fudge cake on the café menu either (although the less-interesting, much-Instagrammed gluten-free "triple chocolate chunk" cookie is available upstairs), or the strawberry pound cake, which is so tasty and pleasant to look at (it's covered with a Riesling zabaglione and dappled with pistachios and tiny sorrel leaves) that you might be distracted, momentarily, from the shoals of summer tourists moving back and forth just outside the window.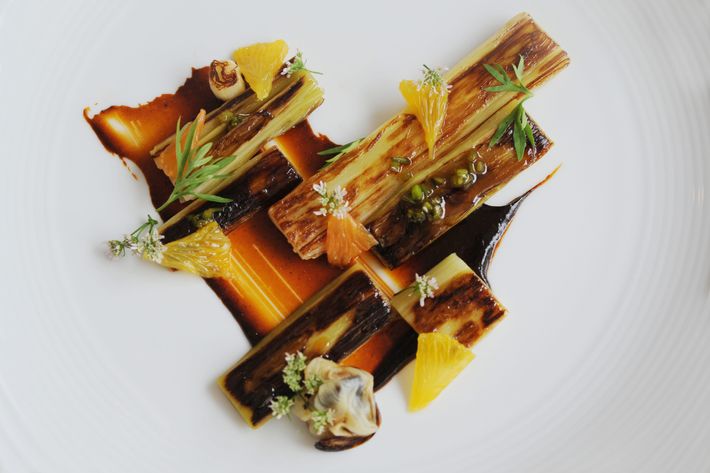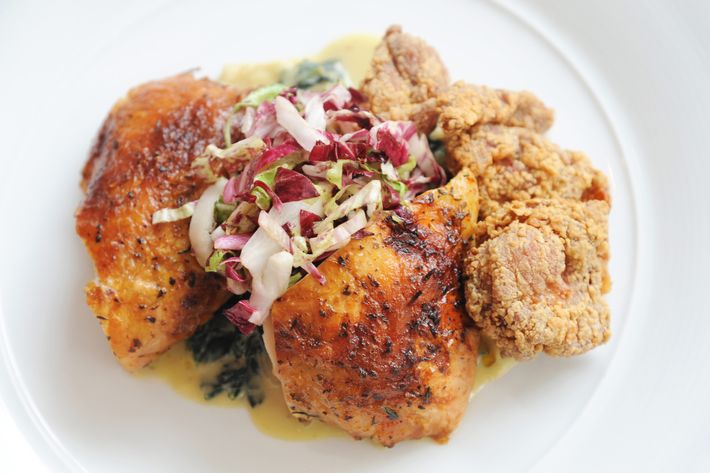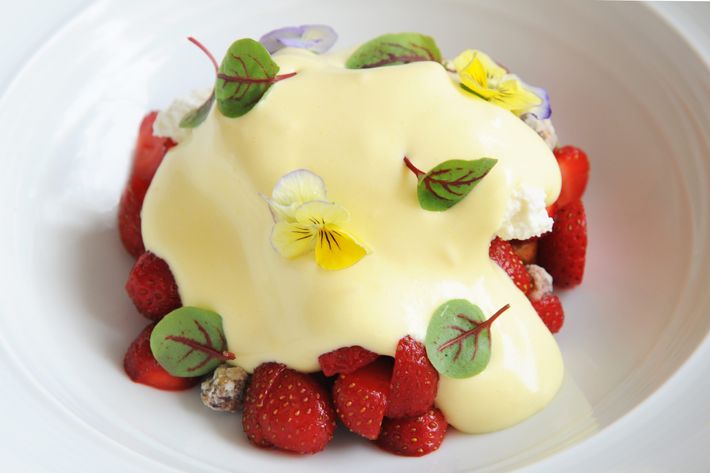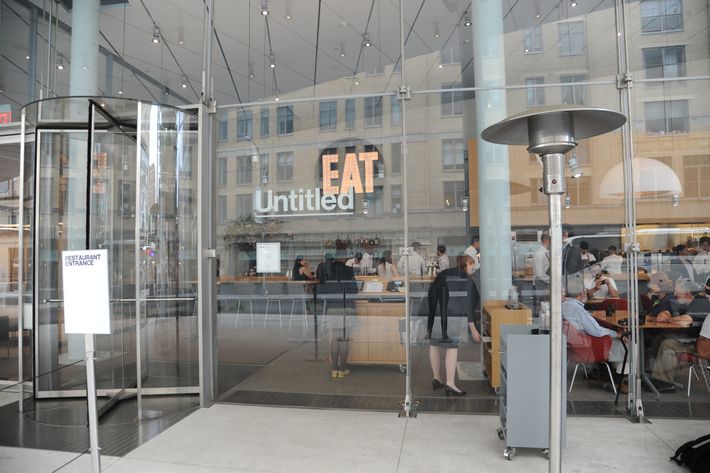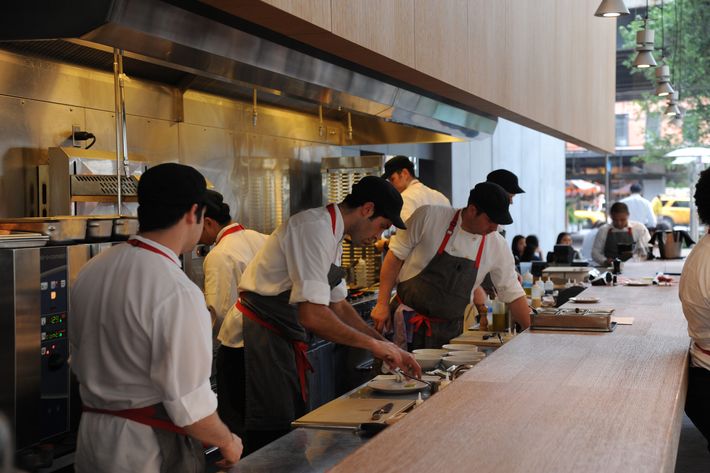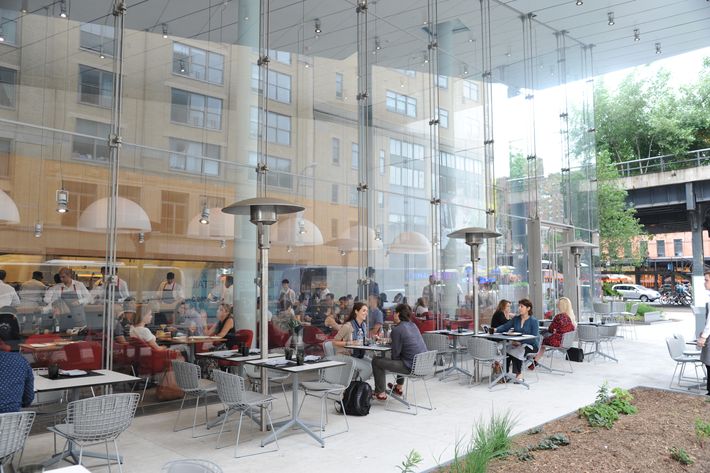 Untitled
99 Gansevoort St., nr. Washington St.; 212-570-3670; untitledatthewhitney.com
Open: Monday through Sunday for lunch and dinner.
Prices: Appetizers, snacks, and vegetables, $6 to $15; entrées, $23 to $27.
Ideal Meal: Lobster toast, leeks with citrus, black bass or roasted chicken, chocolate hot fudge cake or strawberry poundcake.
Note: There are eight varieties of sparkling rosé on the wine list and 22 Champagnes.
Scratchpad: One and a half stars for the tight, Haute Barnyard menu, and another half-star for the location and, yes, the room.
*This article appears in the June 29, 2015 issue of New York Magazine.