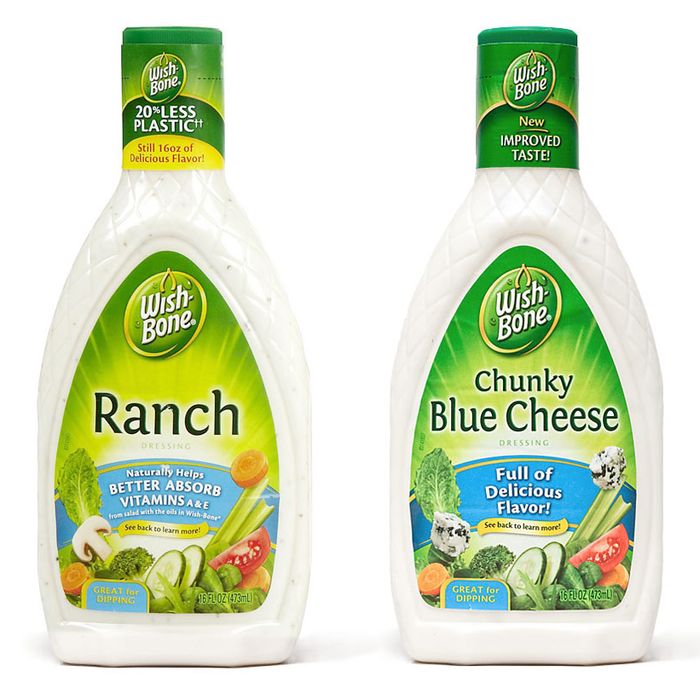 Can you tell which is which?
After a crack consumer discovered that the whitish liquid inside his Wish-Bone Ranch Dressing bottle was in fact blue-cheese dressing, New Jersey-based Pinnacle Foods has issued a voluntary recall for 8,678 cases of the controversial salad topping and pizza-crust-dipping agent. In fact, the recall is a little more serious than it might seem because the mislabeled salad dressing could pose a serious threat to consumers with life-threatening egg allergies, since the blue-cheese variety contains the ingredient while the Ranch does not.
In a statement posted to the FDA's website, the company writes:
Pinnacle Foods Group LLC is voluntarily recalling a limited quantity of its Wish-Bone Ranch Salad Dressing variety, due to the product containing Wish-Bone Blue Cheese Dressing, inadvertently packed in Ranch Salad Dressing bottles and was brought to our attention by a consumer. This product contains eggs, a known allergen not declared on the packaging. Those people who have allergies or severe sensitivity to eggs run the risk of serious or life-threatening allergic reaction if they consume this product. If you are not allergic to eggs, this product is safe to eat. No illnesses have been reported to date. The Food and Drug Administration has been made aware of this recall.

The product was produced on April 23, 2015 by a contract manufacturer. In total, 8,678 cases of Wish-Bone Ranch Salad Dressing in 24 oz. bottles, distributed nationwide, are involved in the recall. The 'Best Used By' date can be found on the neck label of the bottle. No other Wish-Bone products are included in this recall.
[Time]