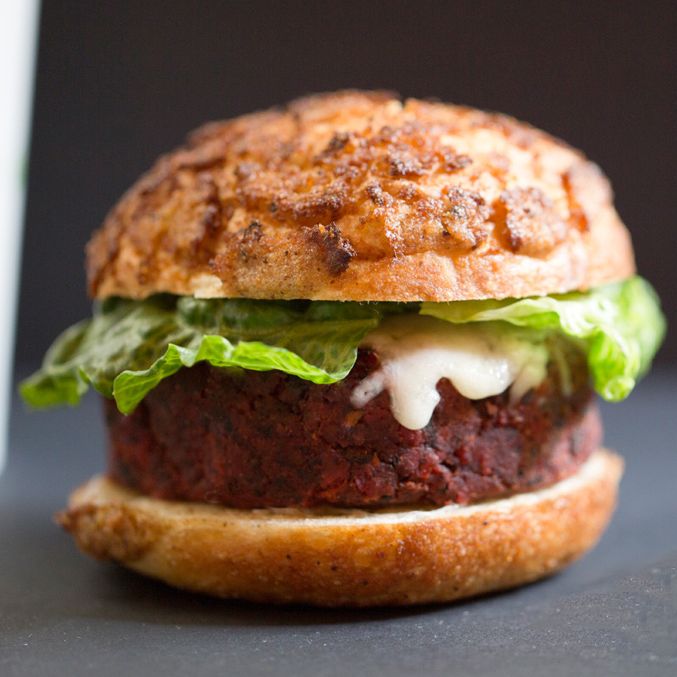 Dan Barber's wastED veggie cheeseburger.
Photo: Courtesy of Shake Shack
Like most old-line carnivores, I've always tended to consign the veggie burger to a cold, distant corner of the ever-expanding burger cosmos. But as the great burger boom continues, this neglected little genre has been experiencing a mini-renaissance of its own. Travel around town, these days, and you'll find innovative burger facsimiles made of black beans (the excellent Guadalupe at Bareburger) and leavened with prunes (at your local Hillstone outlet). Trendy new millennial chains like Umami Burger and Shake Shack all have veggie-burger options on their menus, and just as in the realm of brioche buns and fancy, chef-centric beef blends, some of the finest culinary minds in the city (and therefore the world) are devoting their energies to developing new non-beef burgers that look, feel, and even sort of taste, uncannily, like the real thing.
There are all sorts of reasons for this boomlette, of course. Many of these new veggie-burger options are cheaper to produce than the beef (or turkey or tuna) alternative. They're also obviously healthier, and unlike, say, your average In-N-Out Animal Style burger, it's possible to devour several in one sitting without having to retire for a three-hour nap. Then there are the myriad environmental benefits. The veggie burger has a much smaller carbon footprint than any of the meat options on the market, and in this time of increasing scarcity, what we're talking about is not just some crackpot, next-age alternative to the all-beef patty but quite possibly the future of the great American burger itself.
With this in mind, your humble critic sampled the two iconic burgers of this neo-veggie movement — Dan Barber's wastED burger and Brooks Headley's Superiority Burger — to see how they stacked up to the real thing. Barber developed his burger earlier this year out of assorted Dumpster leavings (it's mostly pulp from the local Liquiteria) for his much-praised wastED pop-up, and the feedback has been so positive that he often includes it on the tasting menu at Blue Hill, served open-faced, with a fried egg on top. Headley, who is a lapsed vegetarian, has had a lifelong obsession with veggie burgers ("I think I've eaten more veggie burgers than any man alive," he likes to say). He developed his Superiority Burger as a staff meal at Del Posto, where he's pastry chef, after Hurricane Sandy and has plans to begin serving it to the public soon.
Related Stories
This Is the Story of the Hamburger
The 50 Most Important Burgers in New York
On the Trail With In-N-Out's President
Both chefs have devoted a good deal of time to duplicating what Barber calls the essential "taste keys" of the classic burger-eating experience, and in form and structure, they're about as different from the old tofu-loaded, sprout-heavy veggie burger model as an ancient Studebaker is from a Tesla sedan. Barber's wastED Burger is delicately sized, almost like a slider, but the patty has a dark cooked-beef color (there's plenty of kale and beet pulp in the mix), and the consistency is soft, but not too soft, like a burger cooked a little on the rare side. Headley, who used to undertake veggie-burger pilgrimages during his misspent vegetarian youth (his favorite house of worship was a place in San Diego called Faque, run by Seventh-Day Adventists), has given his burger a dark-grilled color, too, and says he favors a smaller patty because "the Corner Bistro look doesn't work for veggie burgers."
I wasn't wild about the overly sweet all-beet ketchup accompanying Barber's wastED burger, but the patty has a pleasingly meaty heft to it, and the puffy, lightly toasted bun (made from old "re-mixed" burger buns from Balthazar and sprinkled with a crumble of malted rye) is a thing of beauty. Headley's burger is the more perfectly weighted of the two (he used quinoa for the patty I tasted, speckled with crushed nutmeg for a granular, off-the-griddle crunch), and the choice of the Martin's potato roll, which Shake Shack made famous, along with a crunchy strip of iceberg lettuce instead of a more boutique garnish (Barber uses romaine) gives it an almost eerily realistic quality.
So how do these next-generation burgers compare to the real thing? I'd give Barber's creation a six and a half out of ten, and Headley's a seven. Neither of these noble veggie burgers has the greasily addictive, flavor-bomb finish of the beef burger, but the Superiority Burger, in particular, tends to get stickier and more densely tasty as you eat it, just like a proper burger should. This flavor is enhanced by a melted slice of Muenster, a barely visible garnish of umami-rich roasted tomatoes, and a dab of honey-touched Gulden's mingled with eggless aïoli instead of mayonnaise, and like any burger of the first rank, as soon as you've finished it, you're thinking about the next one.
*This article appears in the June 1, 2015 issue of New York Magazine.