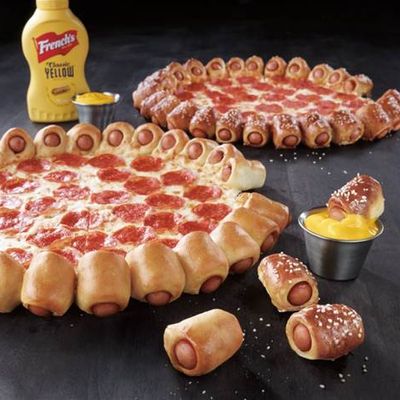 What happens when you break off all the bites?
Photo: Pizza Hut
As threatened, Pizza Hut will sell hot dogs shoved inside pizza crust beginning June 18 in America. Pizza Hut's basic dog-in-crust template has been around for a while, but the big curveball Stateside is that the franks don't run in a continuous loop lengthwise around the pie, but rather get broken up into 28 "premium hot dog bites" that face inward and are angled up, resembling little cannons ready to fire some obesity right up into your face. Basically, they're pigs in a blanket, and, naturally, they tear off, with a side of mustard provided for dipping.
In theory, that seems fine. (As "fine" as a hot-dog-stuffed pizza can seem, anyway.) In practice, however, the mechanics break down. How is somebody supposed to actually eat a slice of the pizza once they've ripped off the little dog dippers? The bites look tenuously attached to begin with, and once they're detached, the pizza will have no structural integrity. Instead you'll be left with a flat, crust-less mat of wet sauce and greasy cheese. Obviously, Pizza Hut has certainly squandered any chance of endorsement from renowned crust advocate Patrick Stewart, and it raises the question: Is this some sort of clever de Blasio conspiracy to turn mainstream America on to eating pizza with a fork? It's probably safe to assume that the kind of person who would want to eat a pizza stuffed with 28 mini-hot-dogs maybe isn't the same kind of person who's also going to break out the flatware to do so.