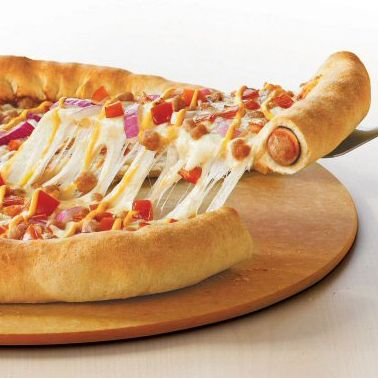 Canada's version even has mustard drizzled on top.
Pizza Hut's most frightening pie — with a crust that doubles as a hot dog — has been inching toward America for years (eight, to be exact), first invading South Korea, then infiltrating the U.K., and then Canada. The wait is over: Pizza Hut is finally inflicting hot-dog pizza upon the U.S., starting June 18. A more official reveal is surely coming, but for now, there's this promo flyer with a Venn diagram showing overlapping circles for "pizza" and "hot dog." Subtle.
Pizza Hut recently admitted that its massive millennial-focused brand overhaul was a flop: The logo changed, the website got redone, uniforms were redesigned … but as the chain later found out, people didn't want pizza with Peruvian cherry peppers or honey sriracha. Greg Creed, CEO of Pizza Hut parent company Yum Brands, told investors that he's "obviously" not happy with the relaunch. As he explained: "We haven't been as effective as we'd like with our marketing, and need to balance its appeal to millennials with mainstream pizza customers." Enter hot-dog-stuffed pizza.