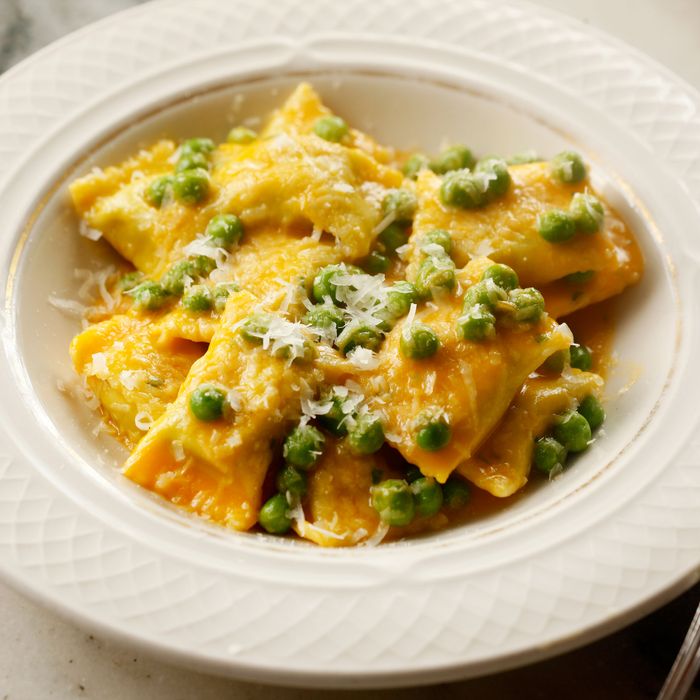 Agnolotti with sweet peas, carrots, and Parmesan.
Photo: Melissa Hom
Most of the time, when restaurateurs dramatically revamp a concept, it's because it's simply not working. The food costs aren't feasible. The neighbors have moved on to a hot new single-concept operation. The rent is too damn high. But with Perla, Gabriel Stulman's fanciest — and most expensive — of his six restaurants in the West Village, he seemed to have a hit on his hands. So why, after four years, has he decided to change it?
"I started to analyze Perla — I try to break down and analyze all of our restaurants — and I wanted to freshen things up," Stulman explains. "It was a combination of things: Most people went to Perla seasonally, in the fall and winter. The old décor was dark, and the room needed a brighter and airier feeling. The menu was too heavy. It was working, but it wasn't working the right way. It wasn't the Perla that I want it to be."
Somewhere along the way, most New Yorkers started to view Perla as a special-occasion restaurant. This upset Stulman, who wants all of his concepts to feel casual and approachable. "By default of it being expensive, and of the food being large and meaty, I ended up inherently alienating a demographic," he says. "All my restaurants are neighborhood places, and that's what I believe very passionately about — what I preach as my values, beliefs, and ethos. And Perla was missing the mark on those things."
So Stulman closed the restaurant for a few days to quietly instate all the changes. Now the ceiling and the walls are cream-colored, the chairs are lighter, and the two redesigned bars are warmer and more welcoming. The art on the wall is more playful. And with the departure of opening chef Michael Toscano in November, there was room to redo the entire food menu, now helmed by Jack Harris. "We were treating Perla like a younger and hipper vibe of Babbo," Stulman says. "We wanted people to dine large, and we guided them into ordering three-course savory meals filled with meat. That's a lot of food! I think a lot of people left Perla being like, 'That was fucking amazing, but ugh.'"
The new "tremendously lighter" menu includes dishes like salmon tartare, sweet-pea agnolotti, and hanger steak with salsa verde. It's also much more affordable. "This ties into another issue I have — but I'll admit that, to some extent, I am part of the problem: Dining in New York has gotten to be too fucking expensive," Stulman says. "That's why I made all the changes to Bar Sardine. Anywhere you go for two people in the city, I feel like, after tip, I'm spending $150. What the fuck happened? It's a problem and I don't like it. Perla helped create that. The difference between spending $100 and $150 is big."
There are three large-format dishes that appear pricey at first glance, but they're sized for four, not two. That breaks down to about $14 per person for the $55 lasagna with peas, ramps, Swiss chard, and pesto. And the massive $15 roast-pork sandwich could serve as a meal in itself. It's a sharp contrast to Perla 1.0, which served $75 dry-aged New York strip steaks with oxtail sugo, beef-cheek agnolotti, and lamb shank. Only two of the old dishes survived: the gnocchi and the orecchiette with sweet Italian sausage and broccoli-rabe pesto.
"There was a moment where I thought, Yeah, we could keep doing this — I don't need to change it," he says. "But I want Perla to be the neighborhood Italian restaurant that everyone wants in their neighborhood."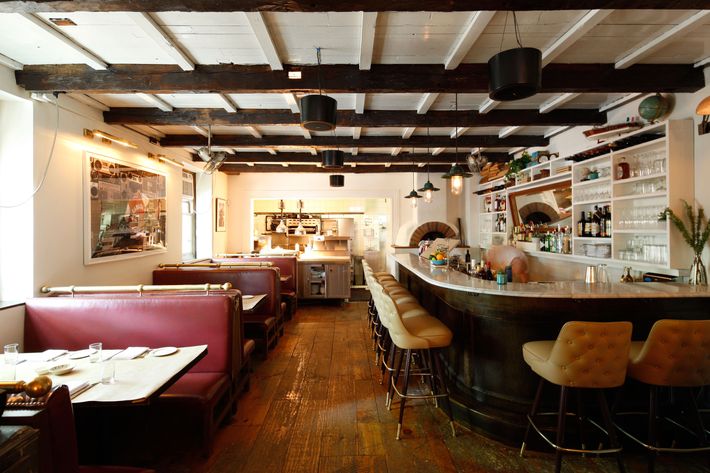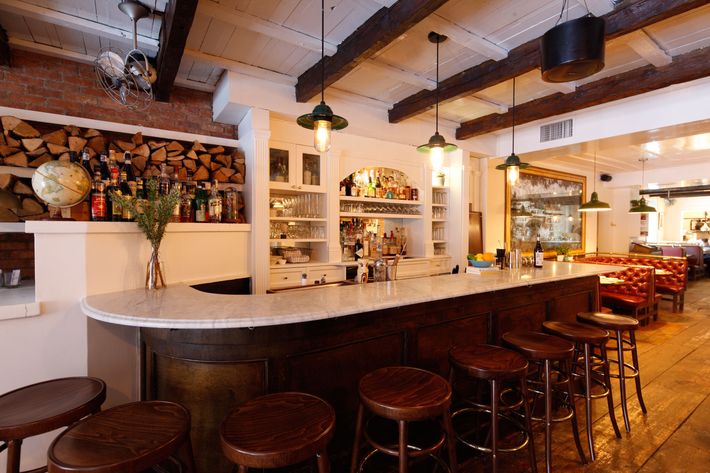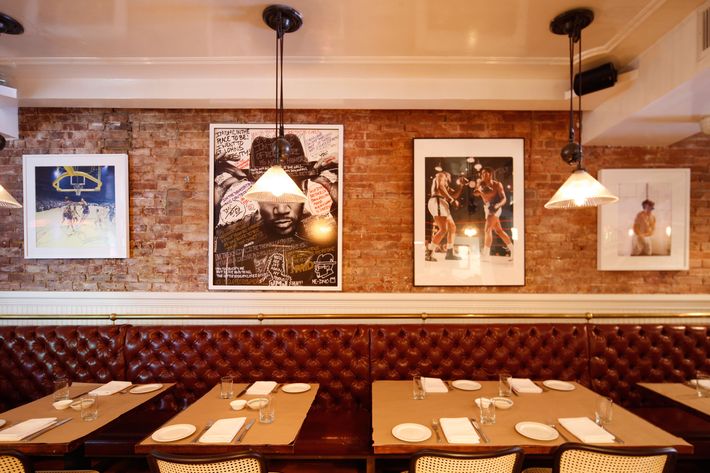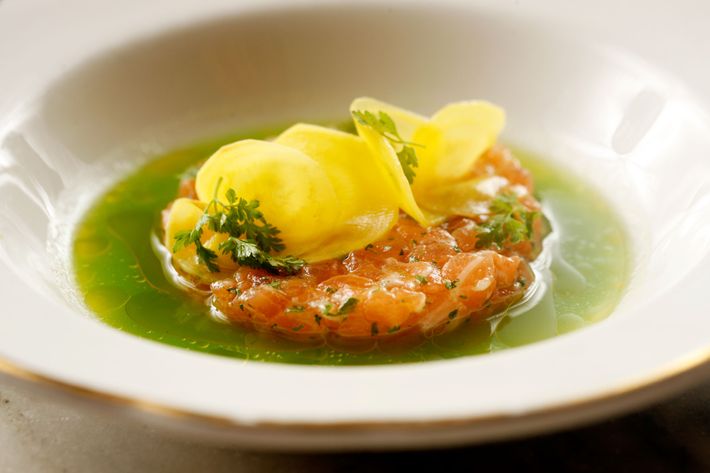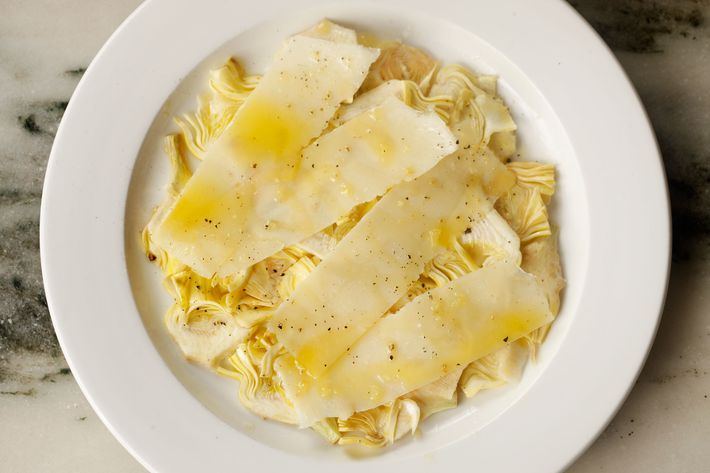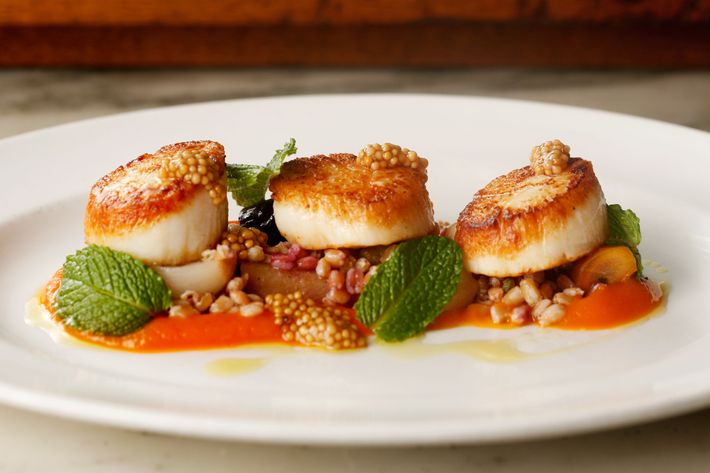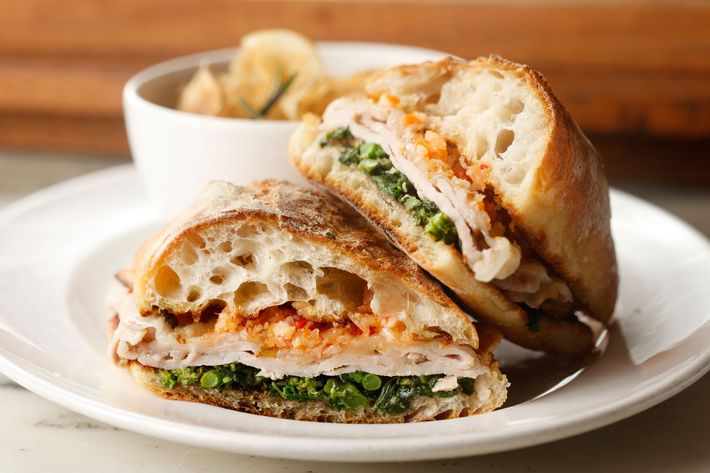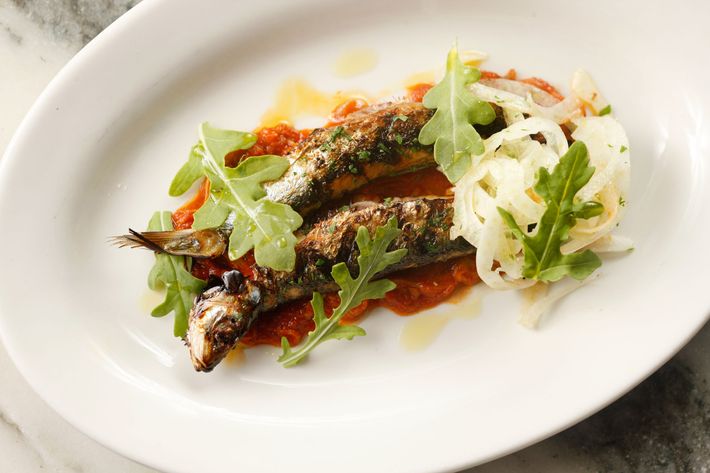 Menu [PDF]
Perla, 24 Minetta Lane, 212-933-1824