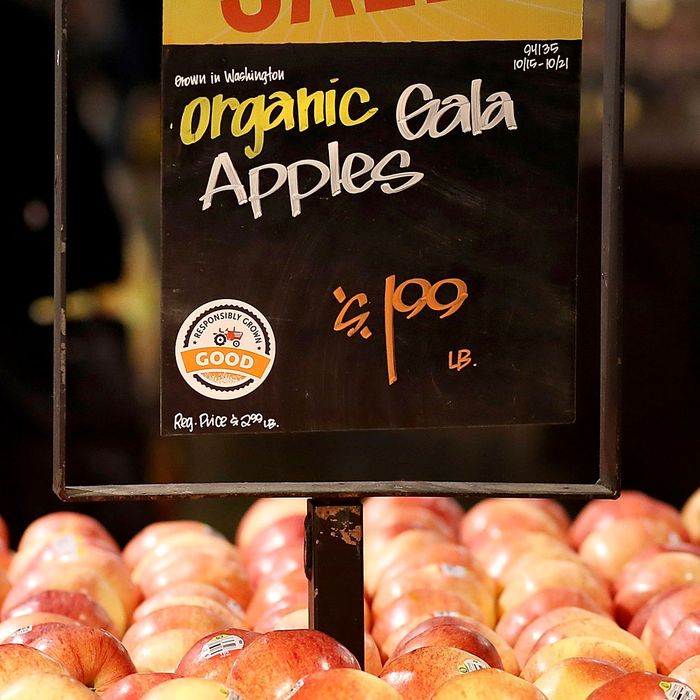 Bad apple.
Photo: Justin Sullivan/Getty Images
Not only has the unlikeliest of competitors — Costco — usurped the mantle of America's top organic-food-seller, but now Whole Foods is facing a minor revolt from organic farmers who are blasting the company's new "Responsibly Grown" ratings system. Yesterday, a group sent co-founder John Mackey a letter saying, "Whole Foods has done so much to help educate consumers about the advantages of eating an organic diet. This new rating program undermines, to a great degree, that effort."
In theory, Responsibly Grown fosters transparency: Shoppers can instantly see if produce comes from a farm whose sustainability practices rank as "good," "better," or "best." But, in practice, farmers who've been selling organic produce to Whole Foods for years say that they don't appreciate a "good" rating because they "didn't fill in the blanks correctly or didn't have it done on time" — especially when their non-organic neighbor up the way's conventional asparagus gets a "best" score. To make things worse, complying with the program can cost anywhere from $5,000 to $20,000. Several farmers tell the Times that it's enough to make them rethink doing business with the grocer.
Whole Foods argues that getting organic certification is tough, so this program serves as an incentive for conventional farmers. Plus, the program considers factors like water and energy use, and worker welfare — criteria that aren't part of the organic standard. But since organic farming is costly enough already, a lot of farmers feel Whole Foods' ratings devalue it. One of them tells the Times, "If you can get a 'best' rating as a conventional farmer using pesticides and other toxic substances, why would you grow organically?"
[NYT]