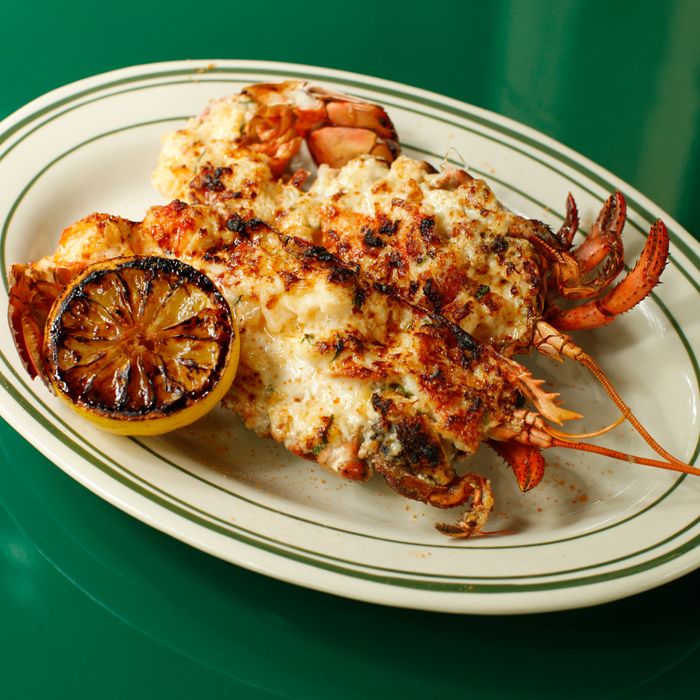 Lobster Thermidor with lemon, Gruyère, and cognac-cream sauce.
Photo: Melissa Hom
In the crazed world of New York bars and restaurants, there is always room for another concept. Still, it came out of left field when two of Williamsburg's most successful restaurateurs — Joe Carroll (Spuyten Dyvil, St. Anselm, Fette Sau) and Francesco Panella (Antica Pesa) — announced that their new restaurant, Oleanders, is based on the fern-bar concept popularized in the '70s. Now, in the McCarren Hotel's former the Elm space, they've taken the tiki craze into the era of Harvey Wallbangers and Lemon Drop martinis. It's a world modern-day cocktail culture arose, arguably, in reaction against.
Fern bars are fairly foreign to a younger generation of New Yorkers reared on faux dives and retro cocktail dens — likely leaving many scratching their heads about what exactly Oleanders will be like. New York restaurant critic (and child of the '70s) Adam Platt characterizes the fern bar, aesthetically, as a place defined by brass, pillows, white colors, and, of course, plants. "It's Laura Ashley rendered in culinary terms," Platt says. "They're basically bars with plants, and they serve sweet food and flowery, flavorful drinks."
What Platt and Carroll can agree on is that the fern bar came out of California and, as Carroll says, San Francisco's Henry Africa's is cited as the original. Though fern bars became characterized as pickup scenes, they arose during the years when it became socially acceptable for single women to go to bars alone for the first time. Platt may be skeptical of the merit of fern bars, but Carroll, who said he had been wanting to open this restaurant for years, clearly believes they deserve the time of day. "It was the first time that restaurants were ever trying to be American," he says, explaining that the concept was soon copied by Houlihan's, TGI Friday's, and Ruby Tuesday's. "Nearly every bar and restaurant in the country looked like this for a decade."
Typically, the food menu at fern bars featured a grab bag of classic, turn-of-the-century dishes like lobster thermidor and more contemporary American comfort foods (a lot of cottage cheese, too). "You'd see stuff like meatloaf and coq au vin on the same menu," Carroll says. At Oleanders, the menu from chef Kevin Chojnowski (Willow Road, Public, Olives NY) features dishes like coq au vin (thickened with pig's blood), pasta primavera, and loaded potato skins. And James Beard Award winner Dale DeGroff has developed the bar program, putting together a menu of "modernized and updated" vintage drinks like the Harvey Wallbanger, Long Island Iced Tea, and Rob Roy. "The great example is a piña colada — people always bitch about it, but it's so good," Carroll says. "Who doesn't like that?"
Above all, Carroll and Panella believe that Oleanders — which officially opens on Friday — makes sense for the space. As Platt notes and Carroll conceded, the spacious, bright dinning room was already decked out in enough plants to fill a Rainforest Café. In their eyes, the neighborhood needed something more easy-going and approachable after the Elm, which never really resonated with locals. There will be indoor seating for 85 with a large bar area, pool-side dining, and even a game room where guests can play billiards while sipping on cocktails. And since Oleanders is taking over the hotel's entire food operation, come July 4, it'll start serving sparkling wine and fried snacks in the new rooftop bar, which sports a sleeker, '80s-inspired vibe featuring a chrome-plated light from Studio 54.
"We wanted to do something fun and interesting, too, so it wasn't just another Brooklyn restaurant or a burger place," Carroll says. "It's going to be super casual. We want people coming in here from the pool and eating here in bathing suits."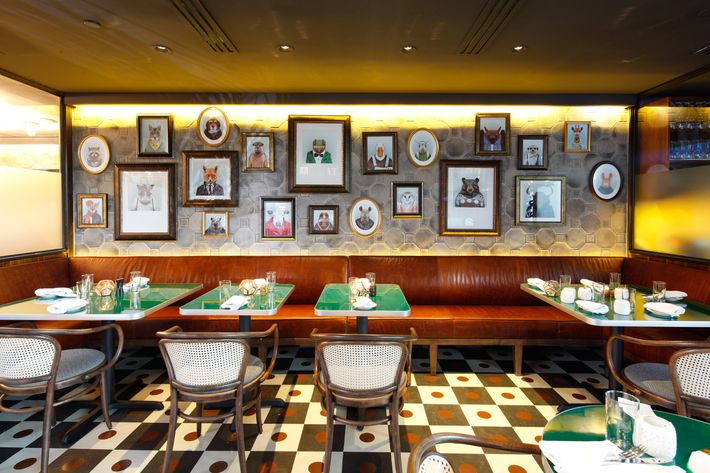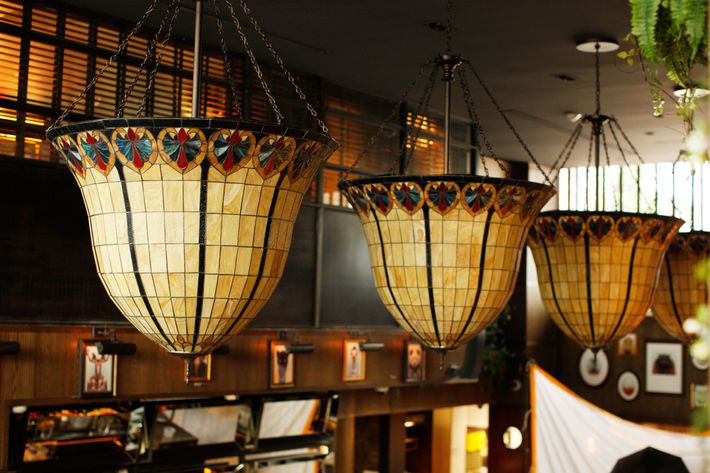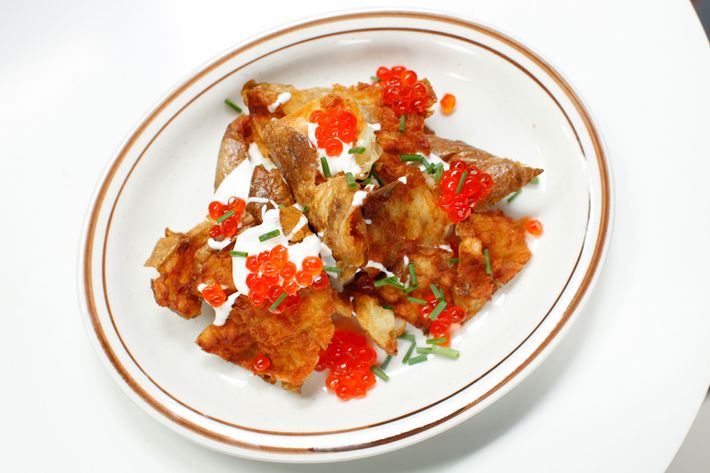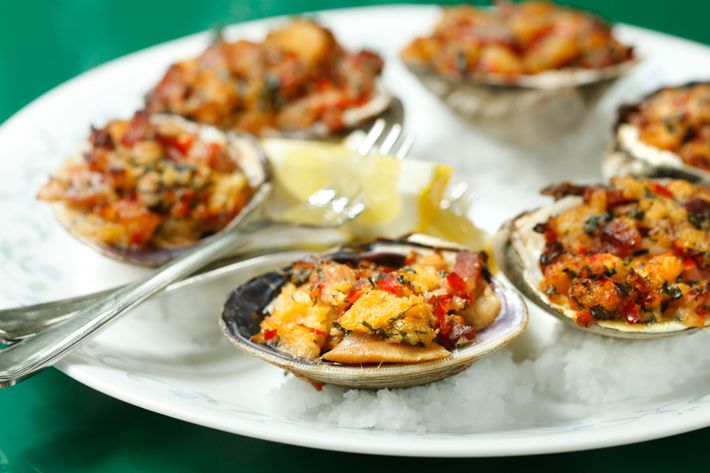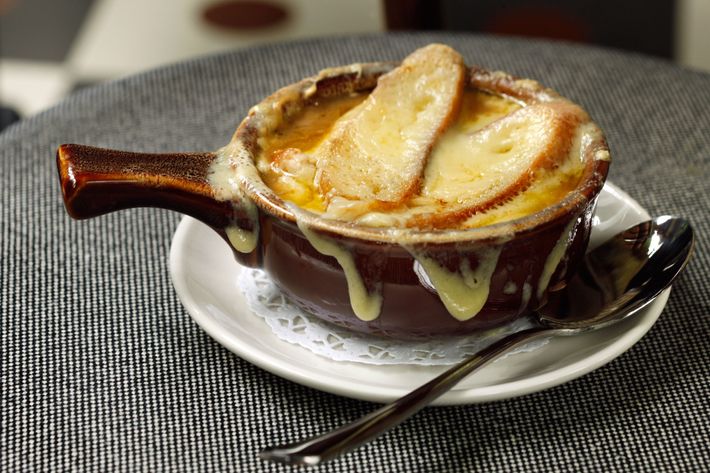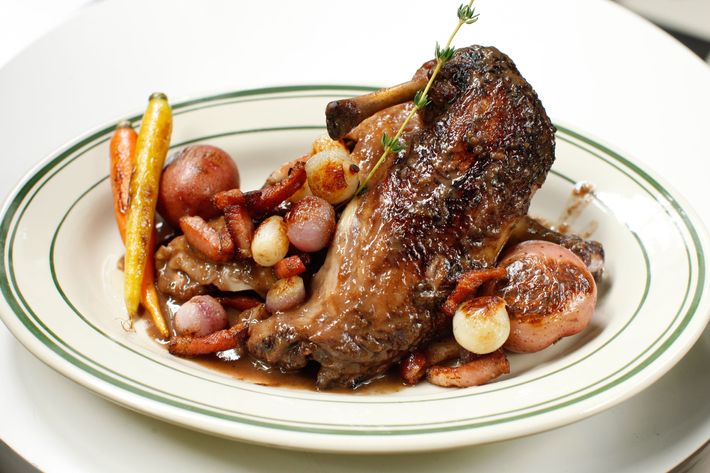 Menu [PDF]
Oleanders, 160 North 12th St., btw. Bedford and Berry, 718-218-7500