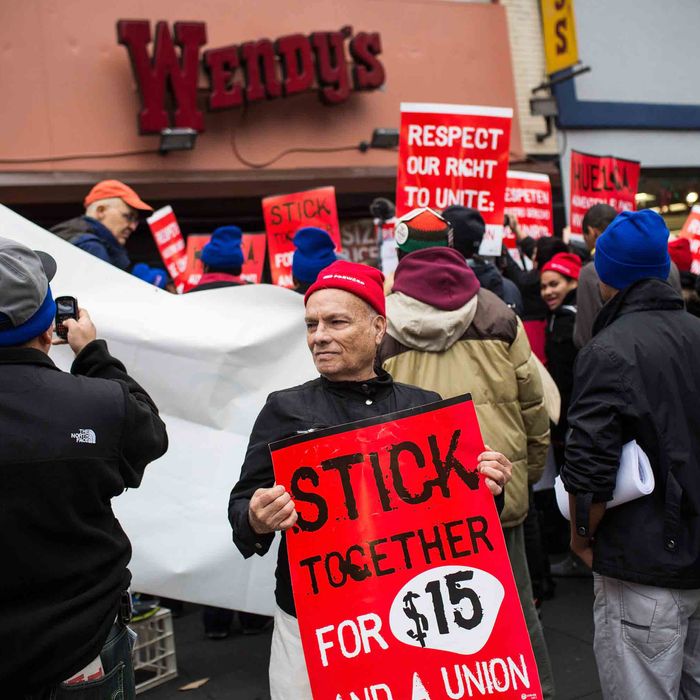 Sounds good to them.
Photo: Andrew Burton/Getty Images
Governor Cuomo's much-touted Wage Board starts hearing testimony today to weigh the effects of raising hourly pay for fast-food workers, but New York City Comptroller Scott Stringer is already a step ahead. His office ran some numbers, and in a new report, they argue that increasing minimum wage to $15 an hour would give food-service workers an extra $1.3 billion per year when the law takes full effect in 2019. (The total economic impact, the report estimates, is $10.2 billion, benefiting 1.46 million workers.)
As far as the restaurant industry is concerned, the study breaks down the gains by borough: Queens would benefit the most — its 66,000 workers would get $550 million more per year, for an average weekly pay increase of $159 per person; $361 million would go to 54,000 Brooklyn workers, giving them an extra $128 per week; Manhattan's 34,000 workers would get $217 million more per year, which is a $124 weekly bump per worker.
Stringer's report also notes that the number of fast-food jobs is growing more quickly than in any other minimum-wage industry (the city now has 7,600 fast-food restaurants), and that, contrary to common perception, only 9 percent of these workers are students — the average age citywide is 33, and 70 percent are Hispanic or black. Data show a $10,000 raise puts $900 more into social-welfare programs per worker, and costs the government up to $500 less in public assistance.
Eager to sell this raise to any remaining skeptics, Stringer ends the report by noting that a higher wage would also be a boon for real estate: "With fewer households severely rent-burdened, landlords are likely to suffer lower collection losses due to non-payment," and higher pay probably means "higher rental rates for apartments."
[NYDN]