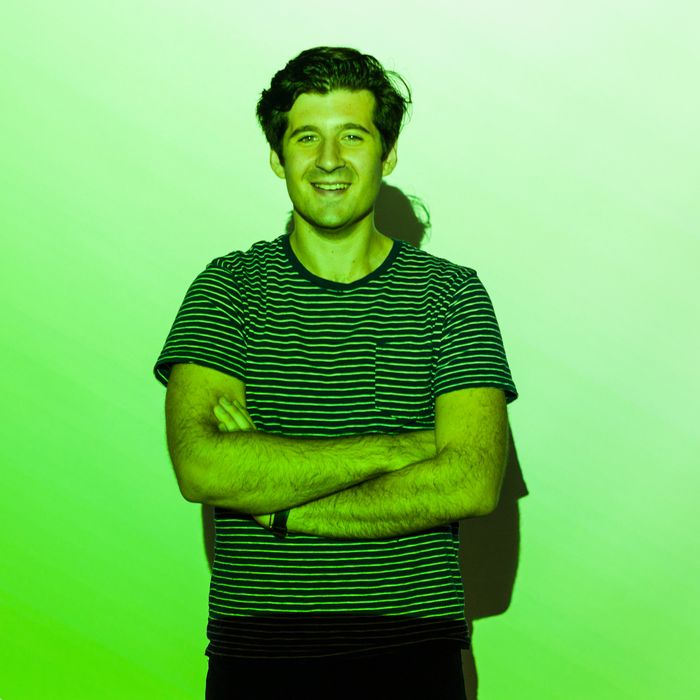 Noah Robbins is the CEO and founder of Ark Foods.
Photo: Freddy Mejia
Something clicked for Noah Robbins the first time he tasted a shishito pepper. He is, he says, an "extremely" obsessive person, prone to cataloging flavors of potato chips and freaking out over flavor profiles. But it was different with shishitos: Everything came together in the snacking pepper's slinky, slender frame. "I started thinking about its taste profile and characteristics and why everyone loved it," Robbins says. So, on a hunch, he did something about it and started growing the peppers himself, quickly becoming New York's top supplier and, in the process, stoking even more demand for the ingredient. Now Robbins's two-year-old company, Ark Foods, grows a half-million pounds of peppers per year, and the 27-year-old farmer is applying a Silicon Valley start-up approach in his quest to uncover the next must-have ingredient.*
A New York native who was raised in Westport, Connecticut, Robbins graduated from Cornell in 2011. After college, he worked at a Chelsea gallery, Greene Naftali, but "after too many disagreements" was fired. Looking to re-start and spurred by discouraging statistics about the rising age of farmers, he packed up his things and left for a Florida farm. This wasn't a hokey return-to-the-land idea, though. Robbins's father worked as a citrus farmer for years, exposing him to the basics of agriculture, and he became fascinated with orange groves and trying to understand how they operate. "I still don't think I know to this day," he says.

Around the time Robbins was first exposed to the shishito, he was occasionally doing crop forecasting and figuring out how much of a certain crop, like broccoli or bib lettuce, a farm should grow based on variables like "how the sun is going to behave." So his mind was already fixated on numbers and projections when he discovered the shishito pepper one weekend night back in New York. He couldn't stop thinking about it. But at that time, Robbins said, it was a cherished thing only available at farmer's markets, which would pop up on menus for a week and disappear: "There was just a moment where I couldn't understand why all these chefs were having these great times with this vegetable, and why you couldn't have that experience in a grocery store."
In other words, Robbins figured out that he'd found a niche product that had potential to go big. That first taste of shishitos immediately sent him down the rabbit hole. Despite having no background in data analysis and little experience in Excel ("I wasn't a banker," he points out), Robbins started mining menus and pumping the information into a spreadsheet. Compiling tallies for different cities and using different variables to try to determine if there really was enough demand for the pepper. The answer he found was: not really. Not at that moment, anyway. But, obsessed with the pepper's flavor profile, Robbins was convinced of the shishito's grand future by other factors, like the fact that it's a relatively inexpensive ingredient for chefs, yet interesting enough to be featured as a plate's centerpiece. Plus, it is extremely versatile — in addition to the plates of fried shishitos that were cropping up at restaurants around town, Robbins saw the peppers appearing in things like sushi and cocktails. "Originally there wasn't really enough demand, but I was going to take the risk because I believed in the vegetable too much, to be honest, " Robbins says, laughing. "I kind of hoped for the best."
So, in September 2013, he set up Ark Foods in southern Florida, borrowing equipment and currying a lot of favors to get started. He harvested 20,000 pounds of shishitos during the first five-month-long growing season (half as long as normal due to Robbins's late start) and was soon supplying peppers to distributors in the Northeast. Now, he's got farms in North Carolina and Long Island, where Ark Foods acquired a North Fork greenhouse last summer. This year, the company hauled in 500,000 pounds of peppers. While some shishito competition has surfaced, Ark is nevertheless the top producer. "When we're in production on a large scale, if you eat a shishito pepper in New York there is a very high likelihood you'll be eating ours," Robbins says.
While originally hatched as a way to reliably provide shishtos to restaurants year-round, Ark has also started moving into retail, talking to grocery stores and focusing on getting these peppers into people's home kitchens. Ark's shishitos are now being shipped to California and can be purchased at some Whole Foods in the Northeast, as well as Good Eggs, Foragers City, and Fresh Direct. They also recently secured a stand at Smorgasburg, called Ark Food Shishitos, which Robbins envisions as a way to stir up interest by showing "all these people having this great time trying this new kind of French fry, but it's a vegetable." In growing just one unproven crop and focusing on flavor over yield, what Robbins did went against the conventional wisdom of commercial farming.
"I can't tell you how many farmers told me I was an idiot to just grow shishitos," he says. "In commercial farming, a lot of large-scale commercial farmers will play the commodity market. So they kind of thought that if I was growing this amount of acres I was basically putting all my eggs in one basket. But what they didn't know is that I had done the research."
In reality, Robbins never put all of his eggs in one basket. He always planned to do more than just shishitos and now his company is poised to take that next step. About a year ago, he brought on a dedicated engineer (who previously worked for a company Robbins wouldn't disclose) specifically to analyze data with a team of people, as well as create an algorithm for acquiring and investigating high-end menu data. (They're also diving deep into condiments like hot sauces.)
What's he doing with that data? For starters, Ark will start selling access to it, made available through a web platform, to retailers and distributors this summer. At the same time, Robbins is working with an undisclosed "circle of chefs," breeders, and "people who can create demand" in his quest to find the next shishito pepper. Ark has dedicated a small space to growing new fruits and vegetables, and this summer will be testing out four new crops. These include a pop-able, difficult-to-grow cucumber that Robbins believes will be the next baby carrot, and a heat-less habanero that still has the tangy, citrus-y flavor the pepper is known for. Robbins believes that both of these will be huge.
Yet Robbins's pursuit isn't just about finding the Next Big Ingredient and jumping on before anyone does; Robbins is clearly, genuinely interested in finding new things and bringing exciting, different flavors to the market because, in his estimation, "people are bored of what they're seeing in grocery stores."
He also sees a chance to remind people that great ingredients can be grown by people other than bearded, boutique farmers specializing in heirloom carrots or multicolor beets. "I love what those small farms are doing and totally believe in it," Robbins says, "but I think commercial farming in general needs a bit of a change."
*This post has been corrected to show that Robbins is 27, not 26.