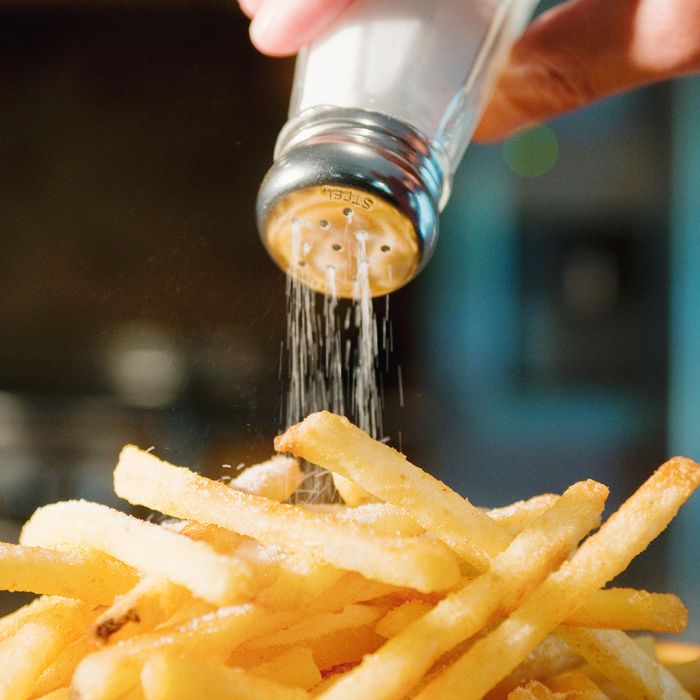 These fries would get special designation.
Photo: PM Images/Getty Images
Still committed to out-Bloomberg-ing the rest of America, New York City is set to announce a new nanny-esque food-labeling proposal today. Department of Health officials want chain menus around town to start sporting a "salt-shaker-like symbol" next to items with at least a day's worth of sodium, which the FDA defines as 2,300 milligrams, or roughly a teaspoon of salt.
Health Commissioner Mary Travis Bassett says that adding symbols will make fast food more transparent for customers. If the plan gets the go-ahead today, a final vote could reportedly occur as early as September, and salt shakers could colonize fast-food menus by December.
While there's no doubt an argument to be made for empowering consumers, industry critics maintain that the requirement would just swaddle menus in another layer of red tape — they'll "soon have more warning labels than food products," gripes the president of the New York State Restaurant Association.
If this proposal happens, it's all too likely that the next round of labels will include a gelatinous blob next to fatty food, a foaming beaker beside anything with GMOs, and Sloth from the Goonies if there's a chance the meat comes from mutant animals.
[AP]