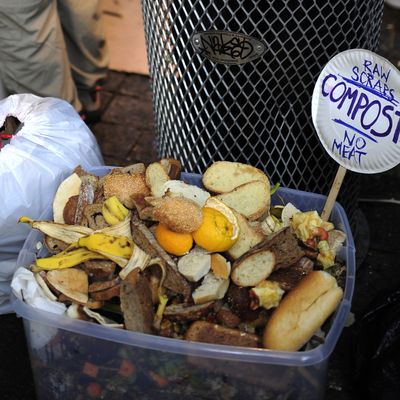 Time to take out the trash.
Photo: Emmanuel Dunand/AFP/Getty images
The NYC Sanitation Department is seeing whether it can expand a little-known composting program — currently available to certain outer-borough residents (about 3 percent of the city) — to the entire food-industry sector. Crain's reports that Sanitation Commissioner Kathryn Garcia expects to provide an answer by July 1, and she says:
"I get to determine if there's [composting] ­capacity in the region and which industries would have to source-separate their organics. We're still running through the data, but it's based on how much [food waste] the different industries generate, how close they are to one another — so we try to eliminate any increase in truck traffic — and then, again, it's also about capacity."
The news might take restaurant-industry leaders by surprise. Andrew Rigie, head of the NYC Hospitality Alliance, says that he thought the city had ruled capacity was too big of a problem, but tells Crain's, "We'll certainly be interested in what the commissioner determines. The restaurant industry is supportive of environmentally friendly practices, but we need to make sure any new requirements aren't operationally and cost prohibitive."
In its pilot phase right now, the small curbside program picks up piles of food scraps, paper towels, and other compostable waste from schools and residents, but the job of handling even this relatively minor swath of New York's trash was so intense that it shut down a processing facility in Delaware last December. Nonetheless, Mayor de Blasio has said he's set on rolling the program out citywide by 2018.
[Crain's]