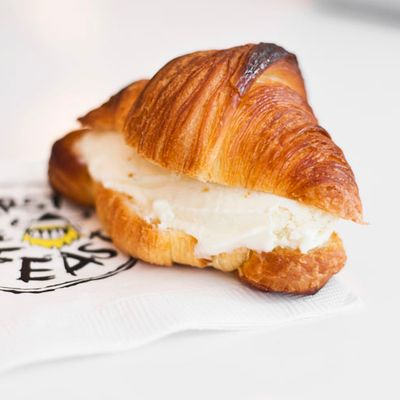 The "I Am a God Ice Cream Croissantwich" should live up to its lofty title.
Photo: Liz Barclay
It seemed unlikely that in terms of viral hits, Nicholas Morgenstern could ever top avocado-toast ice cream. But now, in collaboration with First We Feast, he's hosting a very special "Kanye West Ice Cream Week." Today through Saturday, June 12, Morgenstern's Finest Ice Cream will sell special sundaes — all inspired by what West's fantasy ice-cream parlor might look like.
The offerings include "Kim Kardashian Thirst Trap Sundae" (sesame-caramel ice cream with Champagne-caramel sauce and whipped cream), "All Day Vanilla Ice-Cream Cake" (vanilla cake, vanilla ice cream), and, best of all, "I Am a God Ice Cream Croissantwich": vanilla ice-cream stuffed inside a custom-made Arcade Bakery croissant — arguably New York's best.