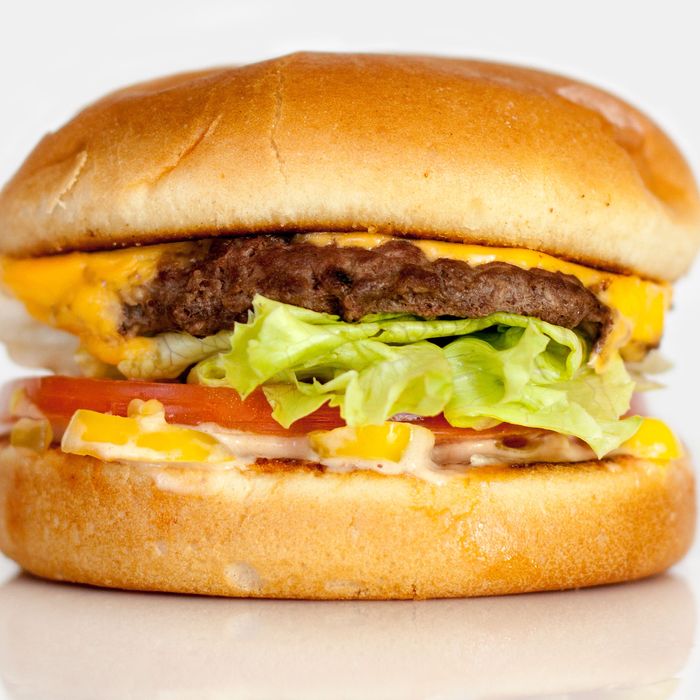 A classic In-N-Out burger.
Photo: Christopher Simmons
People find all kinds of deeper meaning in their food, including a group that's using the humble hamburger — and its near-infinite number of variations — to look for lessons about the nature of imagination. In January 2014, two staffers at San Francisco design firm MINE launched a modest blog, the Message Is Medium Rare. Christopher Simmons and Nathan Sharp set out to review a burger a week for 52 weeks straight, with a goal of understanding the creative lessons behind each one. What does each topping contribute to the overall taste? Is the design visually appealing? How does nostalgia come into play? What does a modern burger look and feel like? While Simmons and Sharp got a bit off track with their initial timeline, they've now expanded their reach to review burgers from all across the country, and are even thinking of turning their concept into a book. Grub spoke with Simmons, who writes each review, to find out how the project has transformed his line of thinking about restaurants, and — without getting too deep — life itself.
How'd you come up with the idea for the site?
I run a small design office in San Francisco and we started going out once a week, as an office, to get food together and to relax. We got on this kick of going out for burgers — we all like burgers — and over the meal, we would talk and analyze the burger; we were looking at it through the perspective of designers, since we're not food critics or anything. We thought about doing a book, so we formalized it and would sit down to write up one review a week and add a star rating. After a couple months I was like, Why am I going to put this work in for an entire year just to make a book that probably no one is ever going to buy or read? We should just put it out there right away. We came up with the name and built the blog in under a day, and we already had maybe four reviews done.
What was the response?
It's been insane. You always hope for some kind of response, otherwise there's no point in sharing it. I thought maybe a few of my friends in the design community would get onboard. We got really lucky, really early: Cool Hunting picked it up and once it's on a blog like that, it ends up popping up in a bunch of places that syndicate that kind of content. We built this on Squarespace, which is just a blogging web design platform, and they liked it as an example of what [a site like this] can be, so they used it in a campaign. I was sitting and watching the World Series in a hotel room in New York and on the first commercial I see my website pop up.
Why do you think there are actual lessons about design or marketing that can be gleaned from burgers?
I think the truth is that it could be anything. You could say, What can a baseball game teach us about design or creativity? You can always find a metaphor. I've eaten enough burgers and thought enough about them that I'm pretty intimate with them, so you find parallels to life in these ordinary things. One of the things that I think we see as a recurring theme is the importance of having a point of view.
Can you give me an example?
My favorite burger that we had at a place called Bar Jules, which is closed now, is just meat. No lettuce, tomatoes, onion, mustard, anything on it. Just meat on a bun and a salad on the side. One of the people I was eating with said, This is not a burger at all; I'd rather eat a steak. And I was like, This is the perfect, ideal burger — best thing in my life. It's got that point of view: When you eat it, you can tell that someone had a reason for making it the way they did, and that they're proud of it.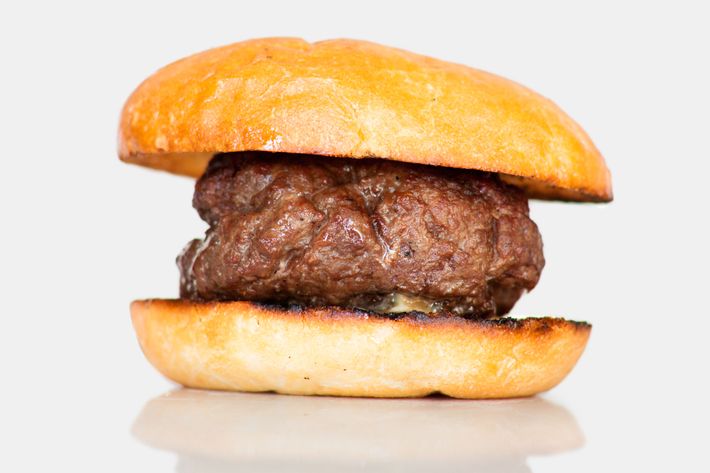 So that's interesting. Like, Shake Shack set out to make the best possible version of a nostalgic, roadside burger.
When we started the blog, we figured we should start a Twitter, and Shake Shack was one of our early followers. I got a direct message from them saying that if we're ever in New York, come to Shake Shack and give it a try.
That doesn't surprise me! They're so meticulous. And they hired the Pentagram designers, which is fascinating.
I don't know if you know the story about them, but they basically did the whole identity for free. Pentagram was working on a master plan for Madison Square Park, and part of [the design] was the burger shack, the first Shake Shack. They wanted to demonstrate that it could fit with the surroundings and not interrupt the historic revival they were going for, so they mocked up this plan for the Danny Meyer restaurant and it became the identity of this global chain. I mean, I'm sure they've been compensated since, but it didn't start as that.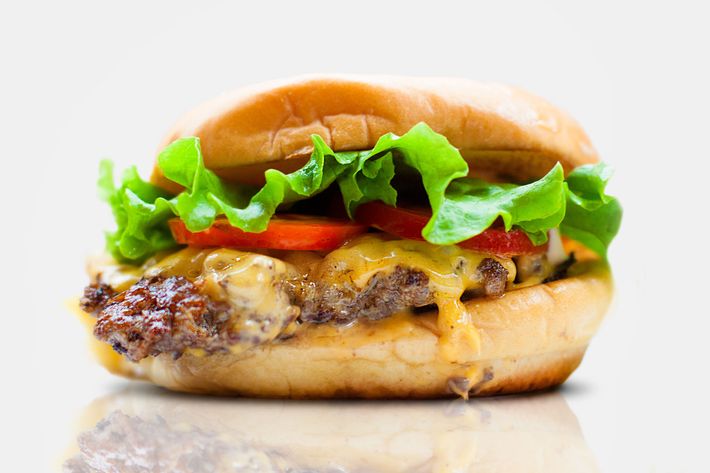 What about bad burger experiences? You didn't like Habit Burger.
Yeah, so the problem with Habit Burger, for me, is that it's the exact opposite of everything that's great about a burger with a point of view. It's hard to understand what they're going for, whom they're trying to connect to. The classic questions are, Who are you? What are you? And why should I care? I found it impossible to understand what story Habit Burger was hoping I'd walk away with.
Right, in a situation like that, it's like nobody cares about it.
I think the real answer is that just about everything in this world — though it's starting to change — is made by people. Advertising, and logos, and new products, and cars, and hamburgers are all made by people. People make things for other people … but the outlet varies. For me, my outlet is design. For someone else, it might be painting. For you, it's writing. And for someone else, that outlet is hamburgers. So it's really about taking the time to be a little bit slower, a little bit mindful about our experiences, and realize that they're all connected because we share a certain set of common values and interests … That's really West Coast and hippie, but there are certain underlying connections between things, and it's lucky for me that this can include something as delicious as a hamburger.
Are you going to keep the project going?
I think it's one of those things where you take a week off, and then two weeks off, and then it's off your mind, you get really busy with work, and it's hard to fit in. I started coaching Little League for my kids, so the amount of free time you have to eat hamburgers and write about them dwindles. In fact, I went to this little bar last week, trying it for the first time. They have a kitchen and their burger was one of the best burgers of my life. I took a bite of that and it was like, All right, I've got to start writing this again.