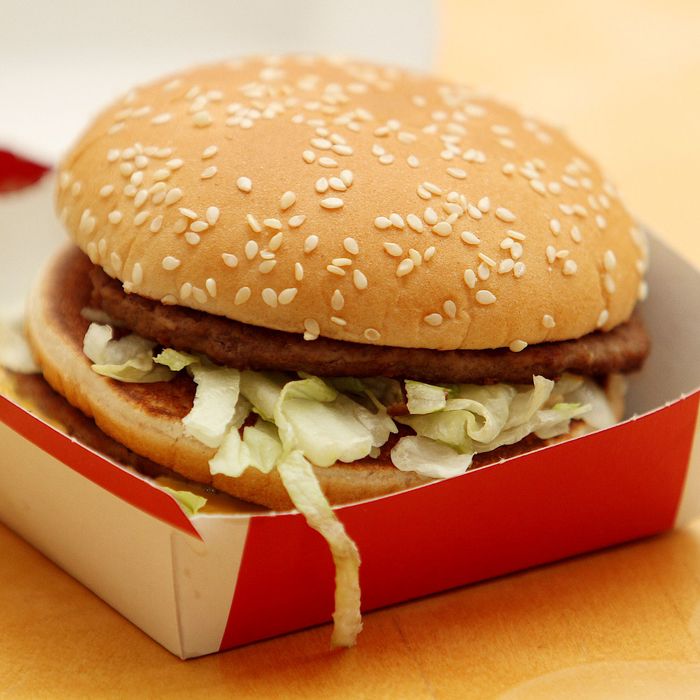 Grimace.
Photo: Barcroft Media/Getty Images
Yesterday, McDonald's released its monthly earnings statement, showing plummeting sales … once again. And today, the chain made a major announcement that, in an effort to help reverse the trend, it's hiring former White House press secretary Robert Gibbs as its new global communications officer.
He's got his work cut out for him, though: May's earnings report shows that same-store sales dropped 2.2 percent for that month, which is somehow almost a third worse than the decline analysts had expected. This marks 12 straight months of flat or declining sales, proving that the turnaround plan — to brand as a "modern, progressive" burger company, toast the buns longer to make them "hotter" and "tastier," and, of course, "evolve" the Hamburglar — failed. The one bright spot was in Europe, where sales actually climbed 2.3 percent, largely because McDonald's U.K. ran a month-long promotion called, ironically, "Great Tastes of America."
This is the last time that critics will be able to point and laugh at the McDonald's monthly earnings, though. Last month, CEO Steve Easterbrook announced that the long-standing practice (since 2003) will come to an end on July 1, when the quarterly earnings report comes out, in order to focus on "strategic, longer-term actions." Gibbs at least can breathe a sigh of relief that he won't have to start off each month sugar-coating these dismal reports.