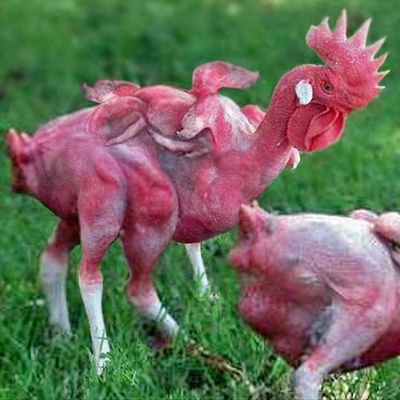 Buckets of franken-chickens.
Seeking to protect its turf in a country that accounts for approximately half its revenue, KFC is suing three Chinese companies that have spread rumors that the fast-food giant breeds mutant chickens. (Really!) Social media has fueled whispers about franken-chickens that are genetically modified to have six legs and eight wings — for maximum, diabolical meatiness. As KFC's representatives tell it, China's largest restaurant chain has been bullied by three media companies intent on undermining the company's immense popularity. Now, with the support of a government intent on cleaning social media up, KFC can finally fight back, or something!
Perhaps social media in China really is the Wild West, and consumer distrust over food safety is a major issue in that country, but it looks bizarrely desperate to fight against something so ridiculous. Sales have recently lagged in China, according to KFC's own CEO, but the rumors didn't start in China; they're a strangely persistent artifact of the late '90s, originating in a widely circulated email. The hysteria taps into current fears over GMOs and evil fast-food henchmen, so it makes sense that rumors are once again running rampant.