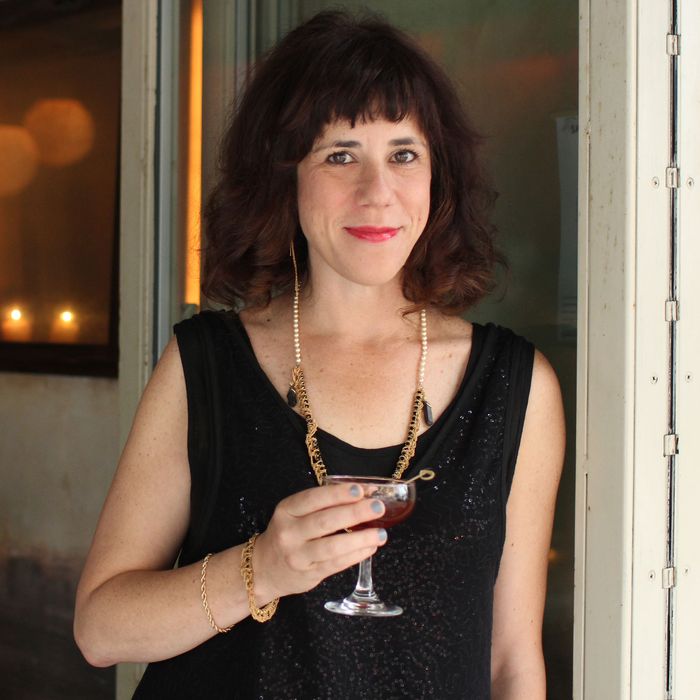 "Oh lord, that panna cotta. We are celebrating the hell out of my book."
Photo: Melissa Hom
"I'm legendarily not a good cook," says writer and essayist Jami Attenberg, whose work includes novels The Kept Man, The Melting Season, and The Middlesteins. "I do enjoy making stuff for myself, but it's very made up. I would not invite anyone over to eat with me." This week, Attenberg had very little time to cook for herself, as she was busy prepping for the release of her novel Saint Mazie, which reimagines the life of Mazie Phillips, a movie-theater proprietor on the Bowery in the 1920s. You may also recognize the title as sharing the name of a Williamsburg bar — one that Attenberg considers her neighborhood haunt.
Friday, May 29
BookExpo America — the biggest book convention in America — has been going on this week, and because I have a book coming out, I've been making appearances. I've basically been in cabs back and forth to Javits Center for the past few days, eating Kind bars for lunch, and things like that. One day, I had a Frappuccino. Like I just stopped caring about everything and had a Frappuccino. So I would like to eat a nice breakfast this morning.
I walk my dog over to Five Leaves across McCarren Park. I had this vision of sitting outside with him. That's all I wanted after this week, was to sit quietly outside with my dog and eat. Then, halfway through the park, I had another vision that Five Leaves would be so busy that I couldn't get a seat. I got sad. I actually talked myself into being sad about something before it even happened. That is a master-class-level neurotic trick.
But I got a seat right away! I had a Moroccan scramble, which is spicy with sausage and chickpeas and avocado and sourdough bread. It is perfect and I eat it like a little pig. Also, I had a large orange juice and a coffee. I gave my dog a bully stick, which he chewed quietly under the table.
I had a late lunch with my friend Vannesa at Marlow & Sons. We try to have lunch there every Friday. She's my most health-conscious friend, so whenever I eat with her, I'm always ordering salads just to keep up. And then maybe a month ago, she started ordering sandwiches and I was like, "Yes! We get to eat sandwiches now!" She was doing things like putting potato chips on them. Like, really going for it. It was exciting to see, and I felt so free, like I could eat anything in the world I wanted. But then, last week, she told me she was pregnant, so it turns out I had just been eating like a pregnant woman for the past month.
I order the green salad and the lentil soup with green onions, because I am not pregnant.
Later, I go to the Amazon BEA party at the Hudson Hotel. I try the appetizers — a Kobe beef cube, raw tuna with melon and soy — and they are fine, but I am more wine-focused at this event. I effortlessly consume a great deal of it, as do many of my fellow partygoers.
My friend Maris and I go back to Brooklyn to eat at St. Mazie, which is not just the title of my book, but my home-base bar. I eat the slow-cooked short rib with white beans, Maris has the roast chicken, and we also share a kale salad. All of the food gets eaten as if it is the first time food has ever existed, and we have just discovered it. We are explorers, this is our food now, and we must conquer it.
Saturday, May 30
I usually walk my dog around 6:30 a.m., and on the weekends, I have to get a coffee from a deli near my house because none of the hipster places are open yet. I like the kid who works there. He's always smiling even though he's been up all night. We're chit-chatty with each other. It's a nice way to start the day. And I kind of like the burn of the black deli coffee.
I buy my gentleman-friend a coffee, too, and I say, "Don't say I never do anything nice for you," and he says, "I didn't and I couldn't and I wouldn't."
Miraculously, there are raspberries and Greek yogurt and almonds in my house, and I eat that when I get home. After that, I go grocery shopping, and I buy actual food that I am going to prepare for myself and it is thrilling. I buy some kale and some carrots and some spring onions. I steam all the vegetables and I make some black-bean pasta and I eat all of it and then I clean my entire kitchen and I feel better.
In the evening, I bike to the South Slope to have dinner at my friend Rosie's house. I bring Manchego and Humboldt Fog for dessert, and also a Rioja. Rosie is making what she calls "a very broadly interpreted tapas situation." So there are tapas, but they are mostly not very Spanish. There is both Polish and Italian sausage, for example. The Polish sausage is double-smoked kielbasa, and it's from Jubilat in the South Slope. And the Italian salami is from Bologna, a gift from Rosie's friend Melanie who reportedly walked three miles to get it when she was in Bologna. It is the most delicious meat. It tastes like what meat would taste like if it were better. I eat a lot of it.
Rosie makes us an apertif of grapefruit juice, vermouth, and tonic. For dinner, she serves Indian carrots with black mustard seeds (a Madhur Jaffrey recipe!), a chickpea-and-spinach cazuela, shrimp sautéed in garlic, chile, and olive oil, and some olive bread from the Lopez Bakery. We dip the bread in the spicy olive oil sauce. We drink the Rioja. We gossip. We tell each other everything is going to be okay because it is, it is already better, one meal can change everything.
Sunday, May 31
I eat yogurt with raspberries and blackberries and the last of the almonds. I recently decided not to buy almonds ever again because I read that New York Times piece that said that basically a gallon of water is spent on producing one almond. So I've just been lingering over the last of this bag I bought before I read that article. Good-bye, almonds.
Then I walk the dog over to Bedford Avenue and get a coffee at Black Brick, which I think is my favorite coffee place in Williamsburg. The guys who work there are funny, chatty, and seem to be really into making good coffee.
For lunch, I have zero focus on anything today and there's no food in my house. (Why is there never any food in my house?) So I make a little plate with some turkey and some leftover Humboldt Fog and I just sort of pick at it for a while. I wished that I had a sour pickle or a tart green apple as well, but in this instance, longing does not translate to action. Later, I remember I have some chipotle-chile Mexican chocolate. I eat a few pieces of that and the heat lingers in my mouth for a while, and my desire to feel discomfort in my mouth even as I experience pleasure is satisfied.
My friend Anderson is in town from New Orleans. She works in the coffee industry so she wants to try a few coffees around town, so I meet her at a cupping at Parlor near the Navy Yard. Everyone who works there is super-cute, and the coffee is delicious, but I have never been to a cupping before, and I did not realize the spitting-out-of-the-coffee-after-tasting-it part of the process, and I do not think I will return to a cupping soon. I did enjoy the coffee, though! My favorite was the Burundi Yandaro.
Anderson and I drive over to St. Mazie for a late-afternoon glass of rosé, and my friend Neal, who is visiting from Seattle, joins us. It begins to pour. It is an epic rain. Time stops for a second. The weather was one way — warm and muggy — and now it is cool, and wet, and impenetrable, and we are trapped in this restaurant. But we make it out alive, hustling under a shared umbrella. We go to La Esquina. I get the fish tacos, and they are delicious, and also the queso fundido, because I live to dip things in cheese. And I have a margarita and then I go home and sleep the sleep of a dead person.
Monday, June 1
Breakfast: yogurt and blackberries. Miss you, almonds. An iced Americano from Black Brick.
Around lunchtime, I open my refrigerator door and stare into it listlessly. It now exists solely for the purpose of storing cheese. So I order a pizza from Motorino, the Brussels sprouts pizza with a green salad. Having leftover pizza is my attempt at keeping food in my house.
Late in the afternoon, I meet a psychic in a McDonald's in Times Square for a coffee and she reads my chakras and tells me my heart chakra is empty and my throat chakra is on fire and I have too much yin and not enough yang in my life. Also, she tells me there is an old Scottish woman who is my spirit guide and that this guide is knitting me a blue and purple scarf to go around my throat to keep me warm and loved.
After that bit of magic, I meet my friend Rachel for, as she called it, an "Erev Mazie" meal. We go to Via Carota and eat like the divine queens we are: creamy stracchino on a thick slice of bread; a decadent pile of prosciutto di parma; wild, pungent ramps with pancetta and grilled polenta; grilled artichokes with aïoli; and tortelli with nettles, which we both agree is our favorite. And we get the panna cotta with just a touch of olive oil. Oh lord, that panna cotta. We are celebrating the hell out of my book.
Tuesday, June 2
It's the day my book comes out!
Breakfast: yogurt and blackberries, a hard-boiled egg. I make a mug of this black tea that I got in Paris at Le Salon by Thé des Écrivains, the bookstore in the Marais where I had the launch party for the French edition of my last book. It's a special tribute tea to American authors, and the tin is beautiful: There are illustrations of Margaret Mitchell, Edith Wharton, Henry James, Edgar Allan Poe, and Mark Twain on it. There's not much tea left in the tin and I'm sadder about no more tea than I am about no more almonds, but today felt like a good day to drink it.
For lunch: leftover pizza, duh.
My publisher is throwing a party for me at St. Mazie, so I decide to make my special sea-salt-maple-syrup-chocolate-chip cookies for the guests. My rule with these cookies is that whenever I bake them I have to think nice thoughts about the people who will be eating them, so that they'll be baked with love. I spend two hours thinking about all the people I care about and it's a nice way to spend the afternoon.
Then it's time for the party, and it is a really amazing party — one of the most fun nights of my entire life. I know that there was food there, but I honestly cannot recall eating a goddamn thing.
Wednesday, June 3
I take the dog for a long, quiet walk. It's sunny but cool out, after a few days of rain. I walk to this vegan-ish café on Bedford called Abracadabra. The guy who works behind the counter is bright-eyed and adorable. I get a coffee with almond milk and also a sandwich: two fried eggs wrapped in lavash bread with cilantro and hummus. I eat it as if I am a Hun, pillaging a small Eastern-European village, and I could eat 20 more of them, but I do not. I stop myself, and instead I think about the future. I plan for a moment when I will grocery shop again, cook again, make the things I need to make in order to take care of myself. I will start tomorrow. But for today, it's just stars in my eyes.