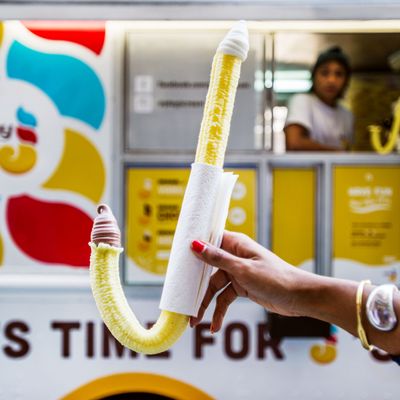 You can taste the ice cream and puffed-corn cone in each bite.
Photo: Jed Egan
There are plenty of great, distinctive ways to eat ice cream in New York, of course, but there's now yet another new treat that makes everyone's favorite summer sweet seem fresh again: the J-shaped cone sold at J-Play Ice Cream, a new food truck roaming around Soho.
The truck opened for business only six weeks ago and drives around Soho and the LES, where it's serving one of the first renditions of the J-shaped cone in the America. Co-owners Chulho Kang and Rich Kion use a special machine that Kang brought from Korea to make the puffed corn, and each cone shaped by hand (in Brooklyn, of course). As for the ice cream, Kang and Kion make it right in the truck using a mix from A Panza & Sons, Ltd.; they offer chocolate and vanilla at the moment, though Kang says he hopes to introduce green tea and black sesame (his personal favorite) soon.
The J-shape ice-cream cone is popular in South Korea's Insadong shopping district, but the unique cones first emerged around 2013 and started a food-vendor craze in malls in the Philippines, where they are called "Jipangyi." The benefit of the cone's odd construction is that it fully envelops the ice cream, making it much easier to contain potential drips (a fair trade-off, given the cone's slightly, um, embarrassing shape). Because the cone is made of puffed corn, it's also naturally gluten-free and tastes a little like Corn Pops cereal. It's also thick enough not to get soggy as the ice cream melts.
Each cone costs $4, so it won't set you back any more than a Mister Softee, but it will cost you a few curious glances.