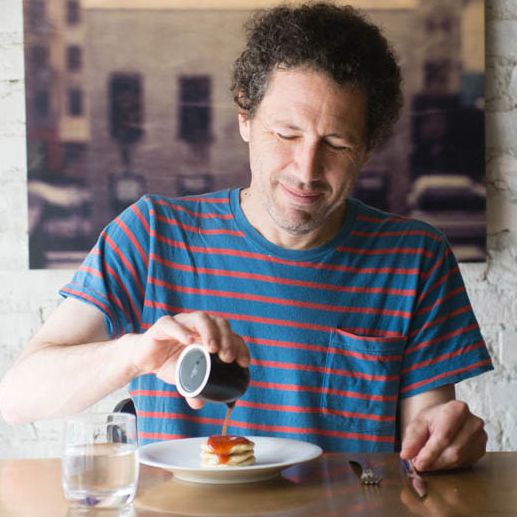 Kaplan at Alder.
Photo: Christina von Messling
Brought to you byYo La Tengo recently hit a landmark 30 years as a band, and to celebrate — or because it's just in their blood — the group is releasing another album this August, called Stuff Like That There. Vocalist and guitarist Ira Kaplan spent this week prepping for said album, but still found time to try the tasting menu at Alder, hit a whole-hog barbecue, and check out several heavy-hitting restaurants in Los Angeles.
Friday, June 12
We are the proud owners of an appliance that has its own infomercial. At 2 a.m. I scrolled by a NutriBullet ad and I was like, "Hey!" A friend gave it to us, and it sat in the box for weeks and weeks. She said, "Once you start using it, you're gonna start using it every day." And she was right. We don't use it every day, but we use it a lot. For breakfast on Friday, I used it to make a juice of orange, grapefruit, mango, apple, almond, and ginger. I had that with some strawberries, black coffee, and some scrambled eggs with some stuff, that my wife (and bandmate), Georgia, made.
We spent the afternoon in Hoboken in our practice space, and for dinner, we went to Alder, where we had the tasting menu. We'd been to Alder before, but hadn't been there since they started doing the tasting menu.
It's funny — it seems like there's a lot of tasting-menu-bashing going on right now, but I have no problem with it as a concept. Alder's was incredible. I was very impressed. Usually, the first course, cauliflower tofu, is not really something that I say, "Wow, this I can't wait to try." That's one of the things I like about tasting menus: They point you toward things you wouldn't necessarily think of ordering. And one of the things I also like a lot about Wylie Dufresne's cooking is that the flavors come out in surprising ways. This happened with the roast chicken course in particular. It's like, "Oh, I see. This is roast chicken."
The Ovaltine ice-cream-cake dessert also led us to a big conversation about Ovaltine, and whether we'd ever actually had it. I remember the commercials for it when I was young, but I don't think Ovaltine ever entered our home. I'd have to check with my brothers, who have a better recollection of our youth than I do.
Saturday, June 13
Breakfast was Grape-Nuts, strawberries, blueberries, almond milk, and half a banana, black coffee, and granola. My breakfast routine could easily be the same thing every single day, but one thing I do make is my own granola, adapted from a recipe I found somewhere. It's basically oats, cashews, almonds, sunflower seeds, flax seeds, pumpkin seeds, raisins, and dried apricots, with canola oil and maple syrup. As much as I liked the ones that I was buying, they were all sweeter than I wanted them to be, so I like to be able to adjust that.
Later, we went to Brooklyn, where the owner of the studio we worked in for our latest record was having a birthday party, and he cooked an entire pig. He had a box, and the pig was inside this box, and once in a while he would remove the top, adjust the coals, and then close it up again. For appetizers, he had a raw-vegetable platter and huge piece of brisket from Fletcher's, which reminded me of one of my favorite food comments from Calvin Trillin. He was writing about his friend, Fats Goldberg, who stopped for a chili dog at Kresge's as an appetizer on his way to lunch. So sort of similarly, my friend served brisket as an appetizer for the pig.
We drank some wine and some Two Hearted Ale, which we brought. Sometimes, the more social the circumstance, the more you're just putting food in your mouth and are distracted by other things. All of which is to say that I'm not remembering what the side dishes were. There were tons of side dishes and they were all good. Dessert was a birthday cake. It was a white cake, which is not my favorite, but you gotta be polite. And it was delicious.
Sunday, June 14
We left for the airport at 9 a.m. to go to Los Angeles, where we were going to shoot a music video. Breakfast was Grape-Nuts, granola, and blueberries. I bought a salad from Balducci's at JFK for the flight — the most merely functional thing I ate all week. Balducci's has really changed over the years from that place that was too snooty to ever walk into. And now you're like, thank goodness for what Balducci's represents. It was a chicken, mango, cashew, and lettuce salad, which was fine. It sort of read better than it tasted.
On a previous trip, we had stayed at a hotel practically next door to Son of a Gun and ended up going there twice in a couple of days, because it was delicious and convenient. So we had dinner there, and it seemed better than ever. This time it kind of reminded me more of Animal's food, and in a different way of Alder, where some of the ingredients didn't quite prepare you for what the dish was going to be. So we were very pleased. I had the grilled octopus salad, the soft-shell crab, the smoked mahi fish dip, and the heirloom carrots. To drink, I had a Golden Road Point the Way IPA. I'm pretty predictable when it comes to beer — I usually drink IPAs. I was certainly happy to be drinking the IPA of a beer-maker named after a Grateful Dead song. To me, it was a Grateful Dead song. Who knows, there may be another Golden Road that I'm not familiar with.
Monday, June 15
We had coffee in our hotel room before heading out to the video shoot, which began at an abandoned mall in Hawthorne. I probably shouldn't tell you more about the shoot, but the mall was super creepy. There were breakfast burritos available at the first set, but I declined. I wasn't ready for that. I had nuts and dried fruit.
Lunch was at the second set, where there was just a cold-cut bar. I made a turkey sandwich, or what passes for turkey. It doesn't resemble anything you've eaten on Thanksgiving. After wrapping at the final location, a plaza in Silver Lake, the band, the director, and a friend of the director went to Osteria Mozza for dinner. Probably our first choice would have been the Pizzeria Mozza, just because it would have been a little less formal and just as delicious, but we actually couldn't get in on such short notice.
We started with a baby kale salad with ricotta, pine nuts, and marinated anchovies. Then we ordered pastas, which were so good: fiorentini with tomato, guanciale and pickled chilies; bavette cacio e pepe; tagliatelle with oxtail ragu; and orecchiette with sausage and Swiss chard. Then, tripe alla parmigiana, two burratas, a grilled octopus salad, and a giant steak. Plus wax beans and sautéed spinach. Yeah, there was a lot of food. It was good, because tripe is something that I don't normally order, but with a large group, it's perfect. I'm happy to have a couple of bites of it, but I don't want a dish of tripe. Even though it wasn't my favorite, I was really happy to be having it.
Going back to the thing about tasting menus, I'm very happy to be told what to eat. Especially in a large group, when you're going to share things and there's negotiation. I'm just like, you know, If food appears in front of me, I'll be thrilled. Usually.
Tuesday, June 16
Breakfast was at Salt's Cure, where I had pork-shank hash, biscuits, and grapefruit juice. We'd been there before, and this time it was near the hotel, which helped. It's very pork-centric. They have their own bacon and their own sausage.
On days of travel, the known quantity is definitely a plus. You know where you're going; you know it's gonna be good. We were meeting a friend of ours there, and it's really all about making the flight. In 2001, we went to San Francisco to play a film festival, and before going to the airport, the guy who brought us out there took us to lunch at the Slanted Door, which is now in the Ferry building but it used to be in the Mission. At some point at the end of the meal, we realized that we were really, really late. And he just tore to SFO, and we barely got on the flight. Getting to the airport is really supposed to be the most important part of the day, so now we're conscious of that.
We had some chicken thing on the plane. We fly on United whenever we can, and because we've flown on it so much, we get treated better.
Wednesday, June 17
We moved from Hoboken to Manhattan a year ago, but still have our practice studio out there. I had my normal breakfast — granola, Grape-Nuts, strawberries, and the like, did some press calls, then went out to Hoboken to work.
For lunch, I had a chicken torta from the Taco Truck. A lot of the places we've eaten in Hoboken came about because somebody else who lives there says we should try it — we don't typically leap to try Hoboken's newest restaurant. This place is great, though. The tortas in particular, because of their portability, have become staples.
For dinner, I was on my own, because Georgia wasn't feeling well. We like to cook in our home, but she does more of it than I do. I went to Lan Larb, which is in our neighborhood, and which I think has pretty good Thai food. I ate the Tum avocado salad and catfish larb. You've probably noticed that I don't feel compelled to try new restaurants. A lot of the time, I like to go to places I've been before.