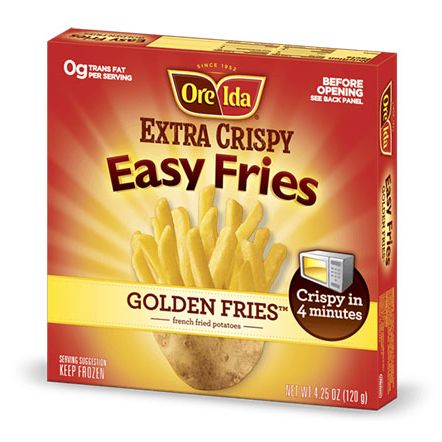 Now that the FDA has officially made trans fats the top public-health enemy, the lawsuits are starting: A California man is suing Heinz for the "dangerous levels" of partially hydrogenated oil that he believes are in its Ore-Ida brand of fries and tater tots.
Up until now, the feds' trans-fat labeling policy has been that manufacturers can round down to zero if the product has under 0.5 grams. Heinz has a Nutrition Facts box and a label on the front that state "0g trans fat per serving," and Backus argues that it's bogus. The FDA no longer recognizes trans fats as "generally safe" and, in fact, blames them for 20,000 heart attacks and 7,000 deaths every year. Backus's class-action suit doesn't explicitly say whether Ore-Ida's bags clock at 0.5 grams or higher, and if so, by how much, but the new FDA ruling obviously supports the belief that any is too much.
Weakening his case, Backus claims he had no way of knowing over the last ten years that trans fats were, like, kill-you bad. Unfortunately for Heinz, he knows now that his risk of diabetes, heart disease, and cancer is sky high thanks to having "repeatedly consumed Defendant's Easy Fries and Easy Tater Tots." The suit wants all misleading Ore-Ida Easy bags destroyed, an as-yet-unnamed amount of punitive damages, and Heinz to do a "corrective" advertising campaign.
[Law360]