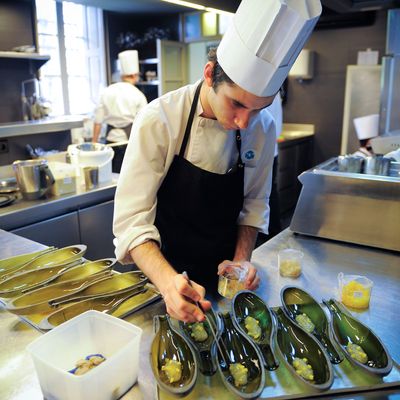 Inside the award-winning kitchen.
Photo: David Ramos/Getty Images
While Copenhagen's Noma has received endless hype, El Celler de Can Roca — which just earned first place on the 2015 "World's 50 Best Restaurants" list — still manages to fly a bit under the radar (at least to Americans who don't work in the restaurant industry). What's this 45-seat restaurant in Girona, Spain, really like? If Noma boasts live ants and sea-urchin pie and foraged vegetables, what's El Celler's shtick?
This family-owned restaurant actually opened all the way back in 1986: Three brothers — Joan, Josep, and Jordi Roca — launched tiny El Celler next to their parents' restaurant, Can Roca. They served hake with rosemary and garlic vinaigrette as their first-ever dish. Then, in 2007, they moved the restaurant to its current location, and shortly after earned their third Michelin star. This isn't the first year El Celler has won the "World's 50 Best Restaurants" honor — it placed first in 2013, and ranked second in 2011, 2012, and 2014.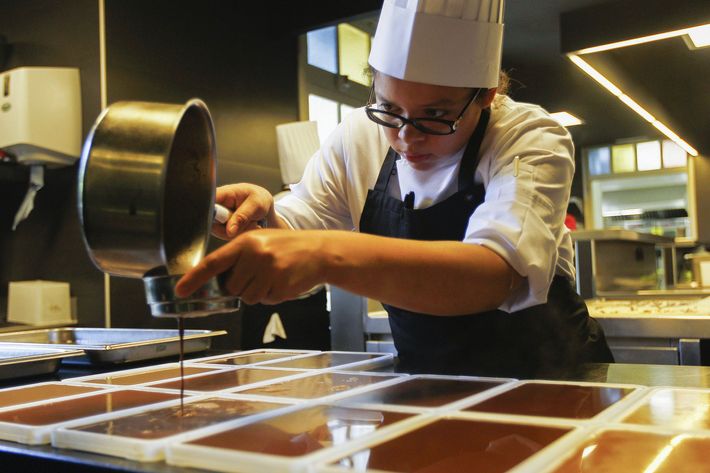 The food here is serious and avant-garde: On its website, the restaurant goes so far as to say its "link to academia has led it to defend the dialogue between the countryside and science." (Okay.) It helped pioneer many popular modernist techniques, like highly controlled, low-temperature vacuum cooking, distillation, deconstruction, and cooking with embers and wine. Joan Roca is widely regarded as the first chef to use an immersion circulator. Oddly enough, the brothers are also passionate about perfume cooking: They love to adapt the "soul of a perfume" into an "edible reality," and have collaborated with designers like Calvin Klein.
Many compare El Celler to another legendary Spanish restaurant, elBulli, because of its modernist cuisine. Recent critics have found (and loved) dishes like candied olives served on a tiny olive tree, suckling pig with artichoke flowers, lobster ceviche topped with a frozen face of a tiger, sous-vide oysters, prawns and seawater, a tricked-out dessert cart, and, famously, dancing ice cream that actually sits above a concealed motor. This 2011 review by Jonathan Gold is a bit dated, but it paints a nice picture of the experience.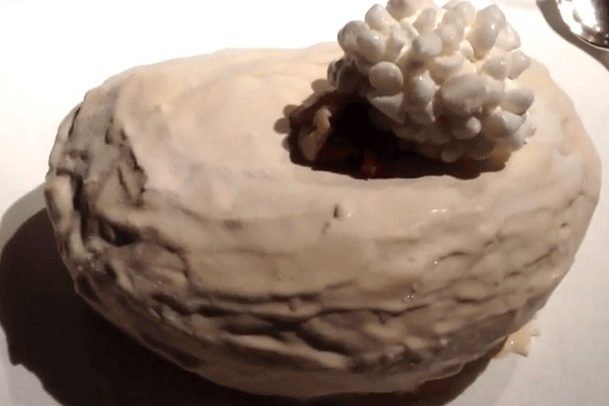 The 20-or-so-course meal there will run you about $184 to $218. But even if you're willing to splurge, that's not to say you can even get a table: The restaurant's phone line has been busy since yesterday, though it does have an online reservation portal. For those traveling to Spain who want a taste of the experience, there's always Rocambolesc — the Roca family's nearby spinoff concept nearby that focuses entirely on dessert and is billed as "a window to the cuisine of El Celler de Can Roca." Sure, the ice cream there doesn't dance, but it's still damn impressive.