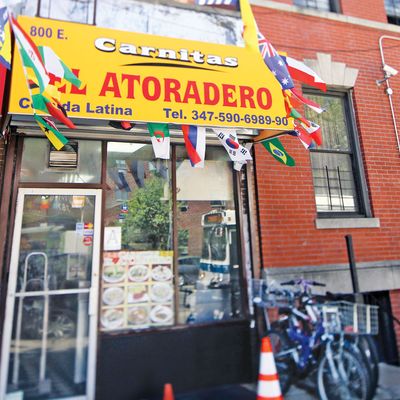 The restaurant is already gone.
Photo: Cassandra Rose/Cassandra Rose Tannenbaum
In today's hypergentrifying New York, it often feels like a day doesn't pass without another beloved restaurant closing because of a reported rent hike or, increasingly, business pressures. But these closings are typically relegated to Manhattan and Brooklyn, where landlords have enjoyed a feeding frenzy on classic institutions and otherwise healthy restaurants. Rarely are these ripples felt in the Bronx, and though the story is a little different, it has apparently happened to the beloved Mexican restaurant Carnitas El Atoradero, which has closed its doors for good. It's always a bummer when a well-liked restaurant goes under, but in the case of this spot, it seems the fact that it had received plenty of positive critical attention might actually be one reason why it's closing.
When time came to sign a new lease in April, owner Denisse Lina Chavez says she was faced with an unexpected obstacle: "My landlord thinks that I'm famous and making huge money," Chavez tells Grub. Chavez grew up so poor she couldn't afford shoes, but through decades of work remade herself into a successful entrepreneur, yet the idea that critical praise could be used as leverage to raise rents to unmanageable levels in a blue-collar neighborhood like Mott Haven is a particularly hard pill to swallow.
El Atoradero began in the 2000s as a weekend taqueria housed in a tiny bodega. It specialized in carnitas, which Chavez cooked in her bodega using a deep cauldron filled with deliciously seasoned fat. You'd go to the bodega, wait for your order while drinking in aromas of pork fat spiked with citrus and herbs, and then eat your picadita de carnitas while crammed up against a shelf of preserved loroco and Hispanic ramen brands. Soon, Chavez started making baleada sencillas (a Honduran dish of a folded flour tortilla filled with beans, queso duro, and crema) and pupasas for the Central-American-heavy neighborhood. She already had Honduran cooks working for her, so why not?
It wasn't long before people took notice. The tiny operation was first written about in 2011 on former $25 and Under critic Dave Cook's indispensable Eating in Translation. In December 2013, Chavez opened up Carnitas El Atoradero next door to the boedga, where she broadened her focus to the home-cooked specialties of the Poblano kitchen. She began serving dishes like the Lenten classic tortas de camaron (dried shrimp patties), pozole rojo, and a garlicky, tart guasmole verde. I wrote about the restaurant shortly after it opened, and it didn't take long for it to gain the attention of major outlets including New York, which named it No. 17 on last year's "101 Best (New) Cheap Eats" list, and the New York Times, which awarded it an NYT Critic's Pick. Though she was sometimes thwarted in her plans to bring in certain ingredients from Mexico, Chavez was always ambitious and even willing to put her life in danger for her cuisine. Moonlighting as a small-time importer, she traveled by car for six years to her hometown of Atlixco, Puebla, a journey that was originally inspired by a need for better herbs and took her through the drug war ravaged north — eventually landing her in the hands of Los Zetas.
For the time being, fans can still head to Chavez's bodega, El Atoradero, to sample her carnitas. There will, sadly, be none of her spell-inducing albondigas en chipotle or smoky, multifaceted mole poblano, though. A friend came by on Sunday to suggest she apply for Smorgasburg, but all she's done is asked her daughter to look into the application process. Nothing is certain — "I try, maybe something small," she tells Grub — and, though Chavez is wildly stubborn and passionate, this could be very well be the end of Carnitas El Atoradero the restaurant.