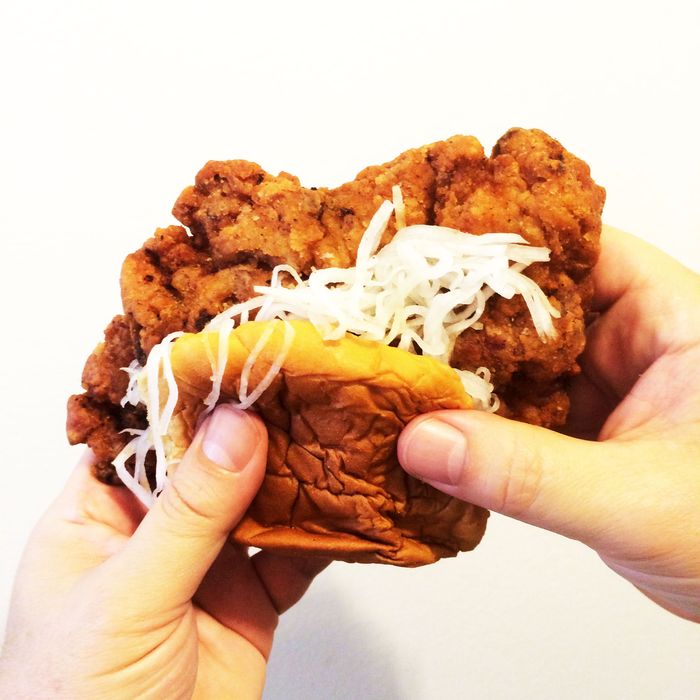 Behold.
Photo: Rob Patronite
Only 48 hours in, David Chang has decided that man cannot live on plain old spicy chicken sandwiches (plus the occasional Asian-inflected grain salad) alone. Thus, he's added the $9, off-menu Koreano to Fuku's offerings . The Underground Gourmet waited in line for 25 minutes today to try it. Here's our report: Basically, a Koreano is just a regular Fuku chicken sandwich with a topping of julienned daikon radish. It adds a bright and vinegary note, which those who like a little extra tang along with their grease will appreciate.
As far as the fried chicken goes, when Chang told us earlier that "…we've developed a technique that allows for a very, very, very juicy sandwich that's still crispy," he did not overstate the case. In fact, he might have been selling himself short. This thing is almost Cracker Jack crunchy as well as preternaturally juicy. Biting into the chicken at the counter is almost like biting into a Shanghai soup dumpling. Some sandwiches we took to go, though, lost a fair amount of crunch and juice after about a 20-minute trip home.
Some other thoughts: The salad is as unexpectedly fresh and delicious as you've heard. The spice level of the chicken is mild at best, which is perfectly fine. (If there's a silly, counterintuitive criticism to make, it's that there's too much chicken; some aficionados of fried-chicken sandwiches might prefer a neater package with a bird-to-bun ratio less heavily weighted in favor of the bird, as bafflingly good as it is.)
What's also impressive about Fuku is how smooth and efficient the place is at this early date. The line moves swiftly, the kitchen runs like a Swiss watch, the Fuku traffic controllers are poised. Even a clean-cut dude sporting a Santa Ana Golf Club polo shirt and crisp Dockers could not faze a friendly Fuku order-taker with a request for 15 sandwiches. "That will take 45 minutes," she replied. "Will that be all right?"