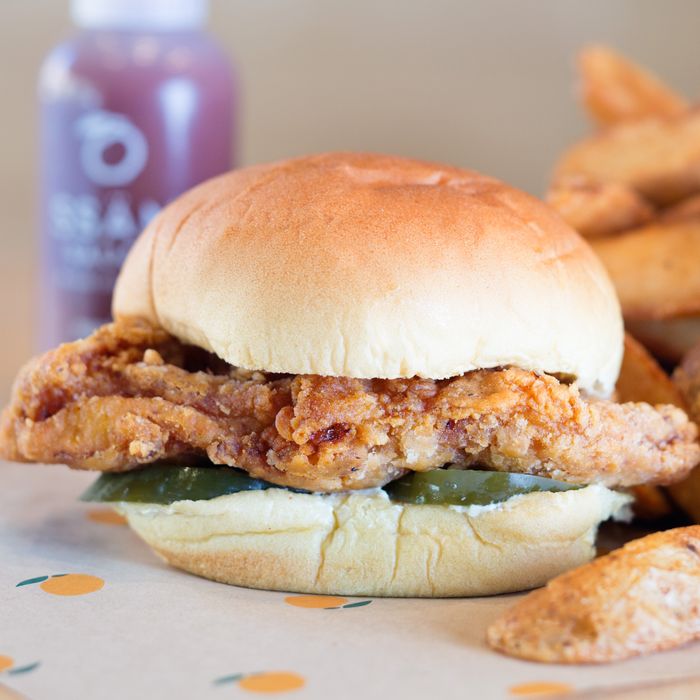 Don't even think about asking for this sandwich non-spicy.
Photo: Gabriele Stabile
After six months of intensive R&D in the 600-square-foot East Village birthplace of Momofuku, Inc. (163 First Avenue, the original location of its Noodle Bar), David Chang is ready to unveil Fuku, home of the $8 spicy-fried-chicken sandwich and prototype for what the chef hopes will become a fast-food brand. The obvious inspiration is Chick-fil-A, which Chang grew up eating in suburban Virginia, but he's also a vocal fan of In-N-Out for its unique corporate culture as much as for its burger. Chang describes Fuku as "our attempt to sort of honor the great fried-chicken places and fast-food concepts out there, to do our version of that, and hopefully, to make it better."
Chang wants to start small and streamlined, with an eye on takeout and, eventually, delivery, and the opening menu will focus on one core sandwich: Chicken thighs that have been marinated in habanero purée, coated in buttermilk, dredged in a spice blend, and deep-fried, then tucked inside a — what else? — Martin's potato roll with pickles and butter. Of course, this being Momofuku, the chicken is sustainably sourced from a network of small farms, the rolls are steamed (not unlike the bao that earlier models were served on as an occasional Noodle Bar special), and the butter is laced with fermented-chickpea flavor from Chang's culinary lab. As for his cooking method, Chang isn't revealing any secrets, but he will say this: "We feel very confident we've developed a technique that allows for a very, very, very juicy sandwich that's still crispy." Other combinations are in various phases of development. (A Chicken Cordon Bleu riff involves Benton's ham and Swiss cheese.)
Other than that, there will be fries and a seasonal vegetable salad ("the healthy option that I don't anticipate anyone ever really ordering," says Chang). There's also, incidentally, a liquor license — perhaps a first for a fast-food chicken-sandwich joint. All eating and drinking will be done upright; the reconfigured space is now standing-room-only. And take note: The "spicy" part of the spicy-fried-chicken sandwich is non-negotiable. Don't bother asking for a plain one. Not that Chang intends for his recipe to be some sort of extreme-eating challenge. "I want people to argue whether it's spicy enough," he says. "I want people who don't eat spicy food to say, 'That's fucking spicy but I'll eat it and pay the price later,' and people who do to say, 'That doesn't even register.'"
Ultimately, he says, it's just a fried-chicken sandwich — a necessary occasional indulgence even in these juice-cleansed, salad-bar-saturated times. "Everyone's concerned with eating healthy these days, but people are still going to want to eat something that's not so healthy once in a while. We want to be that solution."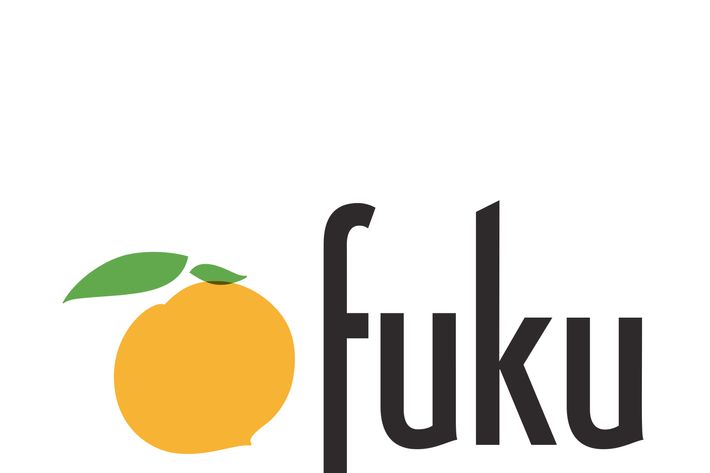 Fuku serves lunch Wednesday through Sunday, from 11 a.m. to 4 p.m.