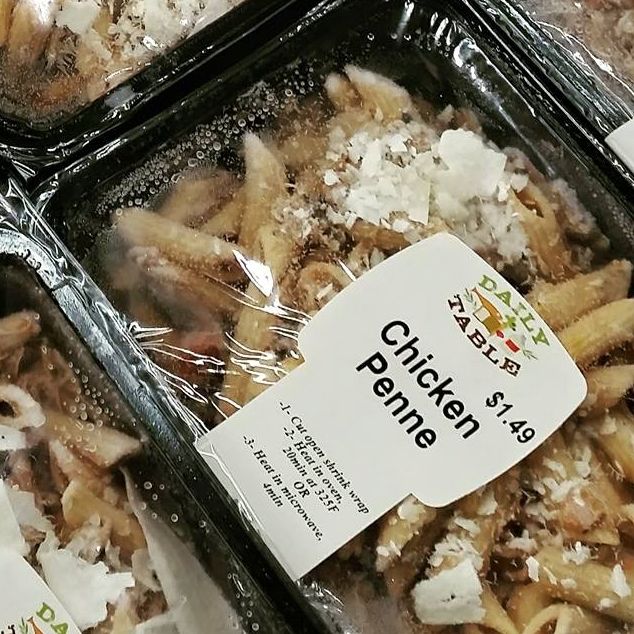 Looks like a steal.
Photo: Courtesy of Daily Table
The doors finally opened at Doug Rauch's Daily Table yesterday, and it sounds like the residents of Boston's Dorchester neighborhood are pleased with its array of aged, discarded, expired, or otherwise "unusable" food. Rauch, the former president of Trader Joe's, has said that his goal is to crank out Trader Joe's–style selections at reduced prices by selling products that are either expired or surplus. People instinctively recoiled but Rauch wants to remind them that this food is often still totally edible (he even admits to routinely drinking milk weeks beyond its use-by date).
Photos of produce posted to Facebook show bags of flash-frozen okra for 29 cents, while NPR reports a dozen eggs cost just 99 cents. In very Trader Joe's fashion, the store uses that same stuff for hot food sold at a bar and in a variety of refrigerated ready-to-eat options. There are also still healthy-looking carrots and un-wilted romaine, all of which would have ended up in the dump. According to NPR, shoppers are paying about $30 and leaving with enough groceries to feed their families for a week.
Critics have dismissed the plan as exploitative to poor shoppers, but Rauch argues the business model isn't even entirely about helping underserved populations — it will also reduce the colossal amount of food waste. It took a year and a half to get the Boston store up and running, but Rauch hopes to open Daily Table outposts all over the country.
[NPR]