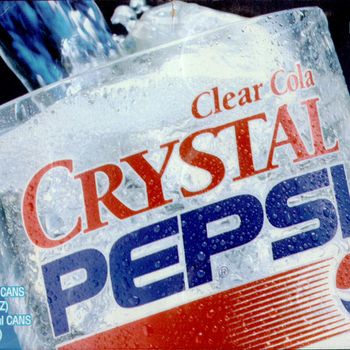 Upon noticing that anti-sodas like Clearly Canadian and Original New York Seltzer are poised for major comebacks, Grub wondered how long it would be before Pepsi dusted off Crystal Pepsi, its own transparent, long-departed '90s-era soft drink. It did not take long to get the answer. Though Pepsi hasn't yet revealed official details on when it will return, the soft-drink giant has told one prominent fan to get ready. In a message sent to '90s-soda activist and professional competitive eater Kevin Strahle, Pepsi coyly hinted the he and his fellow fans will "all be happy with what's in store."
Originally introduced in 1992, Crystal Pepsi was a caffeine-free "clear cola" that, despite an initially positive reception, quickly went bust. Yet that hasn't prevented CP from developing a fanatical fan base that wants it back after two decades of absence from the market and the fact that many found its flavor to be subpar. This legion of obsessive fans has rallied around Strahle, launching a #BringBackCrystalPepsi campaign on Twitter, creating a petition on change.org with 34,000 signatures, and campaigning the old-fashioned way: over the phone. Judging from their tweets, Crystal Pepsi's fans are very, very passionate about the soda.
Pepsi says they were inspired by their fans' commitment, but
their decision probably had a lot to do with witnessing the insanity surrounding these other comebacks, as well as the current backlash as GMOs and additives, a similar climate to one that inspired the first anti-sodas of the '80s. If and when Crystal Pepsi does return, it will mean one thing only: The '90s-soda revival is in full effect.
[Ad Age]