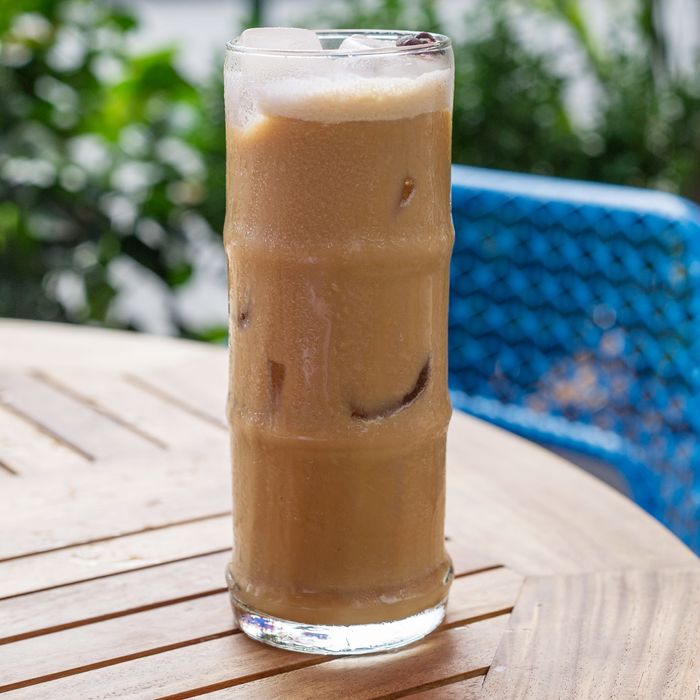 This drink at Santina includes cold brew, espresso, and housemade coconut cream.
Photo: Jed Egan
Every summer, the temperature slowly creeps into the 90s, and New Yorkers are reminded anew that good iced coffee can be surprisingly pricey. Grub's opinion: If you're going to splurge, you might as well get more for your money, which is where these dressed-up iced-coffee beverages enter the picture. Places like Santina, Sweetleaf, Café Grumpy, and Saltie are all offering fun alternatives to ho-hum cold brew, with unique mixers like housemade coconut cream, maple syrup, or even orange seltzer. Here are 13 drinks to try in New York this summer:
Cold Brew Tonic
Where: Stumptown
Price: $4.50
Stumptown's Ethiopian Yirgacheffe Chelbessa cold-brew concentrate gets poured over Fever-Tree's Indian tonic, and then garnished with a Luxardo maraschino cherry and a touch of cherry syrup. The coffee-tonic combo has been blowing up lately, and this drink — new for the summer and available at all Stumptown locations — is one of the best ways to give it a shot.
Coconut Iced Coffee
Where: Santina
Price: $7
Santina's iced coffee — only available at breakfast and brunch — is truly special: It's a "Redeye"-style drink, with cold-brewed coffee and a shot of espresso. But the very special ingredient is the housemade coconut cream, which has the intended effect of making the whole thing creamy, slightly sweet, and just a little tropical. In proper tiki fashion, the ingredients are shaken up with ice and strained in a tall glass.
Coconut-Lavender Iced Cappuccino
Where: Nourish Kitchen + Table
Price: $5.50
This West Village café takes its coffee quite seriously, and its latest seasonal beverage includes coconut milk, coconut extract, lavender simple syrup, Vittoria's espresso, lavender flower buds, and Ronnybrook milk.
East Village Special
Where: Everyman
Price: $5
The coffee shop's latest coffee-meets-soda special combines espresso, lemon, tiki bitters, orange-cream citrate, and soda. If there were such a thing as a coffee creamsicle, this would be it.
Cascara Fizz
Where: Blue Bottle at Gotham West Market
Price: $3
Okay, this one's kind of like an iced tea, but the tea is brewed with the skins of coffee beans — and then mixed with lemon juice and sparkling water.
Coconut, Lychee, and Pineapple Espresso Shakerato
Where: Café Serai at the Rubin Museum of Art
Price: $5.50
Here's something refreshing: a double-shot of espresso spiked with coconut, lychee, pineapple juice, and a special blend of spices — all shaken over ice and poured into a flat white glass.
Iced New England
Where: Saltie
Price: $5
Wash down the famed Scuttlebutt sandwich with a simple combination of iced coffee, almond milk, and maple syrup.
The Voo Doo Child
Where: Sweetleaf
Price: $4.75
This Long Island City–based shop (with an outpost in Williamsburg) is now serving cold-brewed coffee with condensed milk and a homemade vanilla sweet cream. It's like a sweet Starbucks drink — but made with real-deal ingredients that upgrade the whole thing exponentially.
A Manhattan Special
Where: Eleven Madison Park
Price: $6
Did you know that Intelligentsia makes a cold brew that's exclusive to EMP? It gets mixed with a splash of simple syrup and house-carbonated soda water for a refreshing pick-me-up. (Which you can order at the bar if you aren't looking to pony up for Daniel Humm's full, multi-course tasting menu.)
Grady's Cold Brew Iced Coffee Milkshake
Where: OddFellows
Price: $8.50
OddFellows has partnered with Grady's, and this milkshake is made with coffee ice cream and a full cup of New Orleans–style cold-brew coffee. (Don't drink it and expect to sleep through the night.)
Espresso Tonic
Where: Sessanta
Price: $8
A double shot of espresso, Demerara Syrup, and Fever-Tree tonic water, shaken and strained, is super refreshing. For the full gin-tonic effect, there's an orange peel on top, too.
Chilly Chili
Where: Tijuana Picnic
Price: $10
Chef Alex Lopez's homemade horchata is the ideal partner for Stumptown's cold brew. (Condensed milk and Ancho Reyes chile liqueur don't hurt, either.)
Coffee Soda
Where: Café Grumpy
Price: $5
Come August, Café Grumpy will sell a version of the soda that helped the shop win an actual coffeehouse competition last year. This particular version will include cold brew, orange seltzer, and a dash of simple syrup; look for it at the Lower East Side, Chelsea, and fashion district locations.