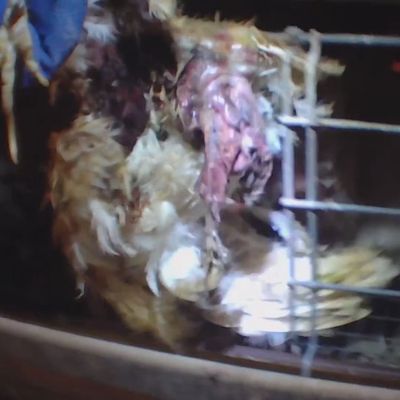 The Humane Society has released a horrible video that shows egg-laying conditions for hens at a Pennsylvania farm — one that supplies Costco's Nearby Egg brand of eggs. The grisly footage doesn't show birds confined to their controversially small cages, but the shocking part is that it raises food-safety concerns: Many hens look like they have to crawl over dead and, by all appearances, rotting birds that no one has ever removed from cages. (Fair warning: This is gruesome footage — at one point, the Humane Society's Paul Shapiro pretty accurately uses the words "mummified pancakes.")
As the group notes, the conditions at family-owned Hillandale Farms are ripe for food-borne illnesses like salmonella. At a time when America's egg industry could do without any more risk, it's pretty dismal.
To make things worse, Hillandale Farms' eggs are sold at Costco in packaging that features free-roaming hens. The company has somewhat improbably blamed the abuse on the person who shot the video, calling it "an isolated incident." (They've also fired that employee.) Whatever the case, those cages are indisputably camped. It's going to make for some uncomfortable press for Costco, which announced eight years ago that it was transitioning to cage-free eggs.