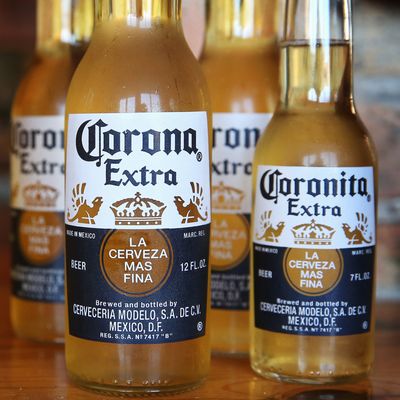 Time to hoard supplies?
Photo: Scott Olson/Getty Images
Some news to really baffle Corona haters: The beer's meteoric rise now has its owner, Constellation Brands, nervous that a day is coming when they actually won't be able to meet demand. A giant expansion is therefore under way to double the size of the main brewery along the Texas-Mexico border at a cost of $1.5 billion, and to find a home for a second California brewery that by 2018 could be bottling more beer than the Texas brewery.
The reason: This stuff has blown up lately. Corona ships nearly 10 percent more beer than it did even five years ago, making it now the top American import and the country's fifth-best-selling beer overall. And it's not just Corona — Constellation makes Negro Modelo and Pacifico as well, brands that have grown by 12 percent in the past year, far outpacing the 0.4 percent growth figure for the beer industry as a whole. For a little more context, Anheuser-Busch InBev's shipments are down by 10 percent since 2008, and MillerCoors' have cratered by 14 percent.
Analysts also say that Corona's boom isn't likely to slow down, predicting Constellation's beer sales will keep posting an annual growth rate of at least 6 percent for the next decade. There are drawbacks to rapid expansion, though. Last year, some glass particles wound up in Corona bottles, resulting in a $37 million recall, and there's fear the stress of such quick growth will create more risk, though the company says the bottle incident "will never happen again." It's looking more into cans, too, and there's a new focus on increasing the presence of Corona taps in bars, too.
[WSJ]