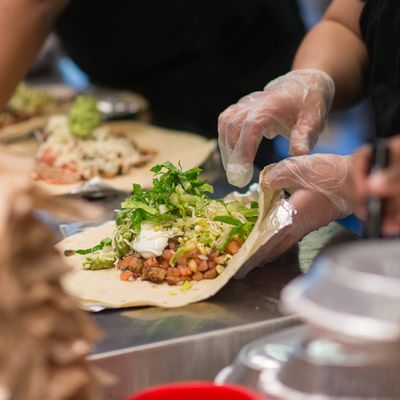 The guac will still be extra.
Photo: Bloomberg/Getty Images
Chipotle, in its quest to make its fast food seem as wholesome as possible, is on the cusp of another breakthrough: Steve Ells wants to nix ingredients like fumaric acid and sodium metabisulfite from his chain's flour tortillas and commit Chipotle to the cause of producing "artisanal tortillas on an industrial scale."
The problem, of course, is that Chipotle goes through a little less than a million tortillas per day (with that number ever-rising as Chipotle conquers America). So it needs to figure out how to make a simpler flour tortilla — the kind of thing a regular person might whip up in their kitchen — that can stand up to the industrial methods required for this kind of scale. So Chipotle has turned to the Bread Lab, the Times reports. The quest to make the freshest, most delicious tortilla has lately tantalized culinary greats such as Enrique Olvera and René Redzepi, but Chipotle could hardly have picked a better R&D; base than the brainchild of master wheat-breeder Stephen Jones, who has worked with chefs like Dan Barber in the past.
Jones's team has already created a tortilla that requires just four ingredients (instead of the current recipe's 11): whole-wheat flour, water, oil, and salt. This recipe reportedly makes for smoother dough with a longer shelf life, but whipping them up is also more of a fuss, requiring a complicated sourdough starter that needs time to ferment. That could cause problems, but the chain appears to be tackling the problem the right way. It's letting researchers at the lab work their way through a field of more than 100 wheat varieties, before giving stores in small markets a few to start trials with. Ells tells the Times, "the next step is to put it into production to supply a small group of restaurants … as we prove that's successful, we'll expand until we're supplying the whole region with tortillas, and then move on to the next region."
But one question does remain: How many calories are in these things?
[NYT]