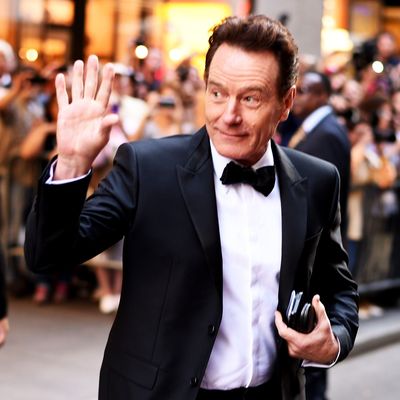 Cranston ate at Cookshop with a high-powered crew.
Photo: Andrew H. Walker/Getty Images
This week, around New York, Laverne Cox was spotted having drinks at 30 Rock's SixtyFive Bar, Solange Knowles decided to party it up in the Hamptons, Stephen Colbert dined at Isabella's, and here it comes: Filmmaking posse Bill Murray, Wes Anderson, Edward Norton, and Bryan Cranston all lunched together at Cookshop. Read it all here.
Beautique: Jon Bon Jovi paired his fried gnocchi with a glass of rosé in midtown. [Page Six/NYP]
Cookshop: Bill Murray, Wes Anderson, Edward Norton, and Bryan Cranston got together for a late lunch of highly local fare in Chelsea. [Page Six/NYP]
Florian: Emmy Rossum enjoyed Italian food near Union Square. [Page Six/NYP]
Good Enough to Eat: Jennifer Lopez brunched with boyfriend Casper Smart, twins in tow. [Page Six/NYP]
Hotel Chantelle: Victoria's Secret Angel Candice Swanepoel attended a party here. [Page Six/NYP]
Hunt & Fish Club: David Spade was overheard discussing his new film with model Selita Ebanks. [Page Six/NYP]
Isabella's: Stephen Colbert dined with his family on the Upper West Side. [Page Six/NYP]
Jimmy: Fashion trifecta Shanina Shaik, Tyson Beckford, and Stefano Tonchi mingled at the Australian Fashion Foundation's summer party. [Page Six/NYP]
1Oak Southampton: Solange Knowles, partied with friends in Southampton after spinning a set at the Hamptons Surf Lodge early this week. [Page Six/NYP]
SixtyFive: Laverne Cox grabbed a drink with friends at 30 Rock. [Page Six/NYP]
SushiSamba: Daniel Radcliffe ate sushi with girlfriend Erin Darke. [Page Six/NYP]
Swifty's: Michael Moore was spotted here indulging in hamburgers and strawberry cake. [Page Six/NYP]
Up & Down: Notorious party animal Scott Disick lounged with pals Ja Rule and Plaxico Burress. [Page Six/NYP]