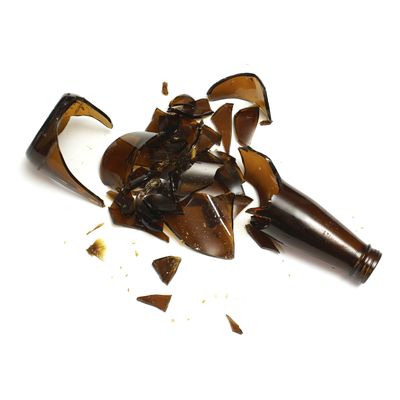 Despite the craft-beer boom, some of the city's iconic shops are being forced to closed.
Photo: Matt Benoit/Getty Images
Earlier this month, Park Slope's Bierkraft, a staple destination for the city's specialty-beer movement, closed without warning. Gone forever. The news followed on the heels of other prominent closings: Breukelen Bier Merchants in Williamsburg, which opened in 2011 with 500 bottles on offer, shuttered this spring. Eagle Provisions and Cobble Hill's American Beer Distributor, destination-worthy beer stores with a combined century's worth of experience, are each gone now, too.
Craft beer — essentially all those smaller, more interesting beer brands — is thriving, so it seems strange that some of the city's most prominent beer shops would close at a time when the beer world appears bigger than ever. But the retail side of selling unique, small-batch beer remains surprisingly difficult, and it seems it's only getting more so, owing to fickle customers, the increased cost of hiring knowledgeable staffers, and stiff competition from unlikely foes such as drug stores and delis.
Even though specialty beers command premium prices, profit margins on craft beer are typically much smaller than they are on run-of-the-mill liquor (and, owing to New York's liquor laws, beer-specific shops can't stock products like Absolut or Jack Daniels). And there's another (more surprising) issue: The sheer variety of great beer that's available these days. "There are so many new beers out there that it almost seems crazy to drink the same beer twice — there's always something new on the horizon," says Patrick Dawson, a Denver-based beer expert who has written a primer on properly aging beer. That makes it seem like customers have incentive to return to specialty shops often, and to a certain extent they do, but that phenomenon, store buyers say, also makes it difficult to find the line between staying relevant with a constantly rotating selection and winding up with old inventory that doesn't sell. "The first few bottles of anything new always fly off the shelf because they've got dedicated customers who are beer geeks," Dawson explains. "But they're probably never going to try it again, even if they like it." Sam Lance, the former cellar manager at Bierkraft, agrees that it puts people in his job in a strange spot: "So many new ones are coming in each month into New York, it's most difficult figuring out what to spend." You don't want an under-performing beer occupying shelf space or a draught line that might otherwise be used for something more popular.
The most consistent sellers at some shops are from larger breweries — but even if the beers technically qualify as "craft," they don't exactly telegraph the image of curation and expertise boutique beer sellers are looking to project. "We sell a ton of Sierra Nevada Torpedo," says Justin Philips, the owner of Beer Table in Grand Central Terminal. "It never goes on the shelf; people just ask for it and it's in the refrigerator." He explains the reasoning: "Independent retailers like Bierkraft and like us, we have to be really careful when we have those products to maybe not put them in the forefront. We have them for the customers who want them, but it's not the product I'm going to push."
Philips says the real goal is to get regulars who return for the same one or two beers while also picking up a couple of new bottles to try — and the main draw of any beer boutique is the trusted staff who can point customers to those new beers they might love. Skilled staffers, who can command better pay as a result, are more like a bartender or a sommelier than a simple sales clerk, able to explain the difference between, say, an Aecht Schlenkerla Rauchbier and an Ayinger Celebrator Doppelbock. "The experience," Philips says, "is more akin to a really good coffee shop than going into a typical beer or liquor shop."
Just as coffee shops rely on customers drinking coffee right on the spot, many owners think it makes sense to move to a model that's more like a bar than a retail store. Take the example of the three-year-old Beer Street in Williamsburg, where take-away beer is still available, even though the spot's emphasis is now squarely on the experience of drinking. "It's been really nice to get feedback on the spot and get a little deeper into the story of the brew," says owner Lorcan Precious. "From a purely business standpoint, it diversifies what we can offer."
Creating an atmosphere conducive to actually drinking beer helps these retailers stand apart from some unexpected competition: Many nontraditional beer specialists — corner bodegas, grocery stores such as Red Apple, even Duane Reade — have increased their own stocks of craft beers. "We have inquires from new places constantly," says Eric Schulman, who last year founded Sarene Craft Beer Distributors with his brother Matt. The company signed the lauded Wisconsin brewer Central Waters in 2014. Recently, Sarene launched Chicago's Pipeworks in New York City, and it will begin selling Grey Sail beer from Rhode Island soon. Normally, these are sought-after beers that would go right to independent beer emporiums, but Schulman says the demand is so strong that chances are these beers, like other craft beers, could end up at a variety of different retailers. "The high demand helps craft in general, but thins everyone out a little bit," Schulman admits.
Boutique owners say there's another problem: large retailers' low prices. "I'm fortunate enough to have a killer location," Beer Table's Philips explains. "If I didn't, there would be nothing to stop Duane Reade from crushing me. I'll never be able to compete with their prices, there's just no way."
Of course the lower prices come with trade-offs: There's no guarantee the beer at the corner deli will have been stored properly (with beers being found next to radiators, stored in suboptimal deli fridges, or stacked up against windows, all of which can damage the beer itself), and there's no real way to know whether a store's inventory is turning over as quickly as it should. As always, the real trick for these boutiques is convincing casual customers that the added cost and hassle of going to a specialty store not only results in a better-buying experience, but also means customers can trust they'll get better beer in general — rarer bottles that have been cared for properly. "I wouldn't deny that all this makes things more competitive for craft beer retailers," Precious says, "but there's a level of knowledge and service that specialty shops and bars can provide that sets them apart."