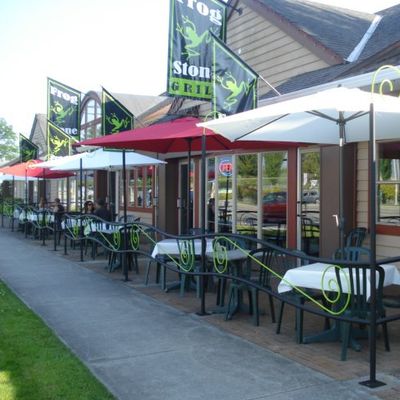 Frogstone Grill describes itself as a "family-friendly" restaurant.
One Vancouver restaurant is in dire need of a quick primer about the breast-feeding etiquette: A mother of four, Brianne McNally, was feeding her newborn at a booth at Frogstone Grill when a manager swung by and suggested she cover up with a blanket. Offended, McNally tagged the restaurant in a Facebook post that brought a fit of angry commenters over to the joint's page, which now has a 1.5-star rating and over 800 reviews. She wrote:
For the first time in almost 9 years and 4 kids, I was asked today by the manager of a restaurant to cover myself with a blanket when nursing my baby. For the reason that 'this is a restaurant, and there is food around', on a very hot day, in a restaurant without air conditioning … Put a blanket over your baby's head while you feed her. I'd like to see that woman eat her dinner with a blanket over her head.
Offended by her comments, owner Todd Pratt then threw up a knee-jerk defense (in a post that's since been removed) of his employee's actions, ending it with this regrettable analogy for why breastfeeding moms should keep themselves covered:
What we don't want is women that feel they need to bare it all while feeding their baby. They will be asked to cover themselves up. There is already one topless bar in town and council won't approve another.
He's since learned his grasp of Canadian law was, well, incomplete, and apologized, saying the comment was meant "lightheartedly," and added in a Facebook update that he actually considers this scandal a gain for women. "We [had] 150,000 people talking about breast feeding in an eight-hour time span. Pretty spectacular when you think about it."
[CTV]