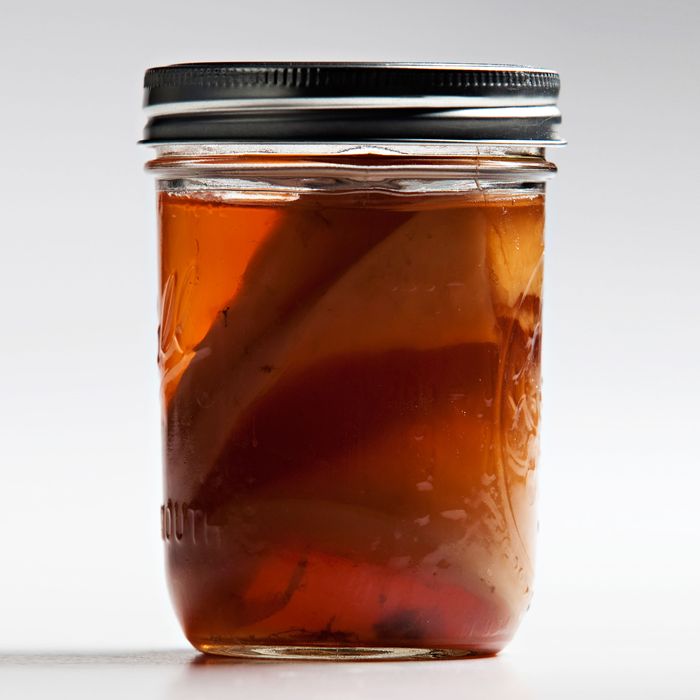 Not just for probiotics anymore.
Photo: The Washington Post/Getty Images
Kombucha, the sour, funky, fermented tea that originated in China, serves as a (questionable) health elixir and source of all things probiotic. But soon, people might be able to get drunk from it, too. Ayla Bystrom-Williams, an ambitious home-brewer who runs the "female founded, Santa Fe-based, bad-ass" HoneyMoon Brewery, has apparently created a beverage that combines the purported health properties of kombucha with the flavor and the alcohol levels of beer. While others have dabbled in these crock pots before, no one else has successfully brought a boozy kombucha to the market. If it all works out, she'll have a brand-new "crossover yeast culture" and a similarly unique fermentation process, with patents for both.
Though little has been revealed about how she's making this beer-bucha happen, for legal reasons, Bystrom-Williams does say that she's been influenced by the open-air process used for Belgian lambics. She's doing research in Los Almas to settle the longtime argument over whether kombucha is good for you, once and for all. But, let's be honest, Grub knows this is all about the booze: It might sound a bit crunchy on the surface, but what she's doing is creating a whole new, apparently well-thought-out kind of adult beverage.
[Guardian]