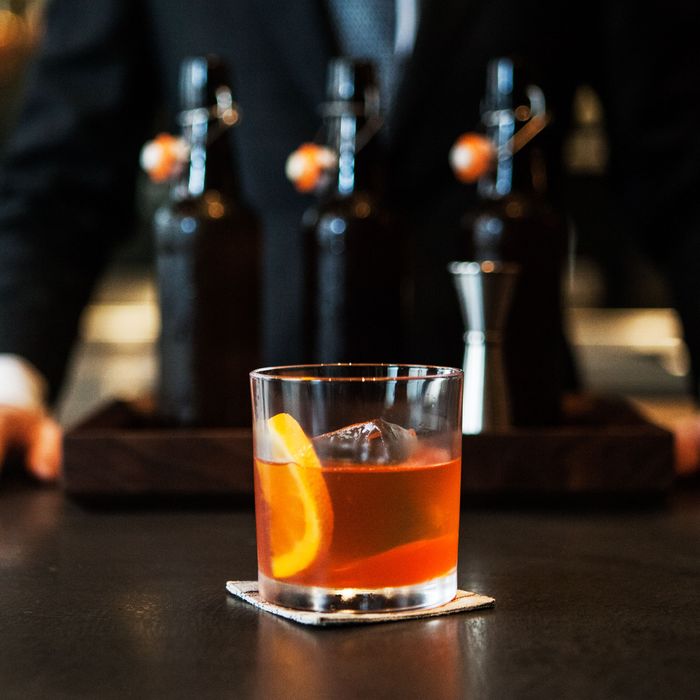 It's a high-wire act.
Photo: Konstantin Sergeyev
Bitter, herbaceous, and steadfastly boozy, the Negroni is a favorite drink for cocktail fanatics, and for good reason. Yet now the Italian cocktail is the anchor of the recently reopened Atera's "Temperance Pairing" program, which matches alcohol-free drinks to the dishes on chef Ronny Emborg's ambitious tasting menu. Given that a classic Negroni is made with just Campari, gin, and vermouth, stirring one without booze sounds a bit like making a sandwich without bread or meat. At the very least, it's a high-wire act when compared to typical mocktails, which are often combinations of juice and herbs — pineapple and fennel, watermelon and whatever — that, while good, don't necessarily aim to perfectly replicate specific cocktails. Most surprisingly, Atera's Nick Duble has succeeded where others failed and he's created an uncanny, deliciously booze-free take on the Negroni that is raising the standard for the mocktail.
When Emborg took over the high-concept tasting table, he told his staff he wanted to offer a juice pairing, something popular in his native country of Denmark but foreign to his New York staff. Initially confused by the concept, Duble and his team decided to apply American cocktail culture to the concept and create non-alcoholic takes on classic drinking traditions. They ended up with things like a carbonated pine infusion, "Champine," to kick off the meal; a cucumber and bay leaf Laurel Martini: and a beet-and-currant wine that Duble designed to drink like a full-bodied red. And then there is the Negroni, which also proved, for obvious reasons, to be the most difficult to create.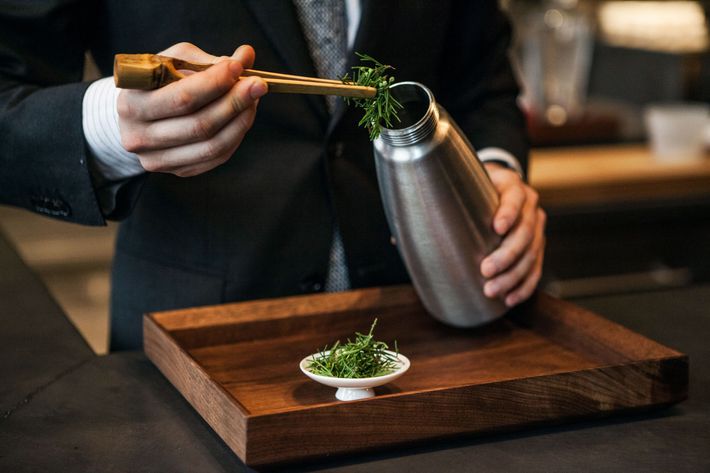 "A lot of restaurants have non-alcoholic pairings available, but they're not always directly on the menu," Duble says. "It's been really fun to put that out there for people, not like, 'Okay, we've got this if you don't want alcohol but want something to drink.' You're ordering an experience."
To re-create those distinctive flavors, Duble turned to both obvious and unconventional sources. For his "gin," he combines juniper leaves and branches with water in a whipped-cream siphon, creating a rapid infusion that results in a potent, aromatic tea to serve as his drink's base. For the bitter "Campari," Duble turned to a familiar friend in Peruvian quinine bark, the essential ingredient in tonic that is sometimes used in bitters, adding beet juice for color and other aromatics, including citrus peel, for flavor.
The final ingredient, "vermouth," is perhaps the most clever. Counterintuitively, Duble rehydrates raisins to create what he says is "a grape juice that tastes like vermouth."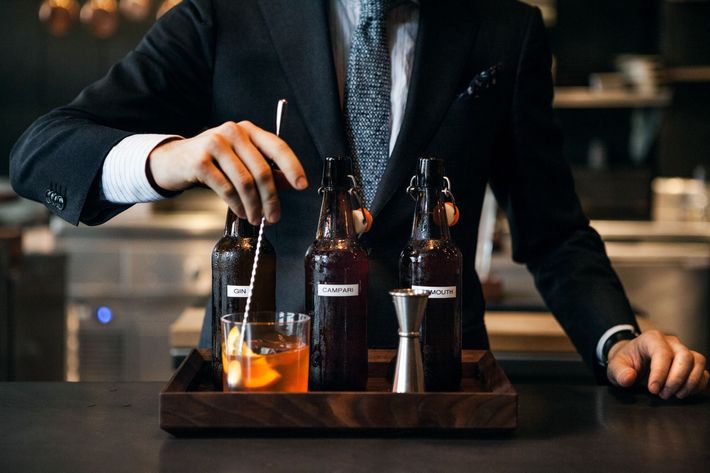 What results is pure cocktail mimicry, enhanced by the performance of presenting the drink as a traditional cocktail. As for the taste, the drink is a little brighter and livelier than a traditional Negroni, but it has all the punch and deceptive complexity of the original, right down to the bittersweet, viscous layer of drink that coats the bottom of your glass, the magician's last trick. It's so convincing that you might even get a placebo buzz, but that's probably just the juniper tea's jolt, and your enthusiasm, doing the trick.