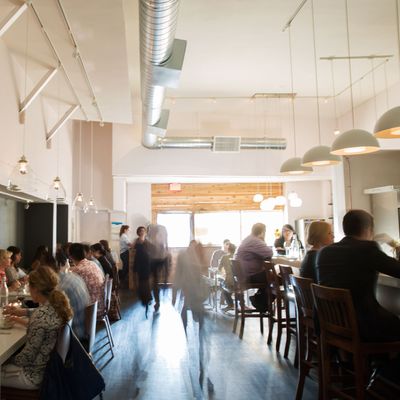 Alma, in Los Angeles.
Photo: Lauren Edward Studio
Downtown Los Angeles restaurant Alma has earned almost every award that exists in the food industry: Bon Appétit and GQ both deemed it one of the best restaurants in America, and chef Ari Taymor has received Food & Wine's Best New Chef honor, as well as a recent nomination for the James Beard Foundation's Rising Star Award. Yet that success with critics hasn't translated to financial stability. In fact, three years into business, Taymor and his partner, Ashleigh Parsons, are asking for $40,000 in a new crowd-funding campaign, just to keep the restaurant open. What happened?
As Taymor explains, there are a few factors at play: As a small business without investors, the cost of running an ambitious restaurant like Alma — which operates a nonprofit outreach program and its own urban garden — has always been high. All the press and accolades have been both a blessing and burden, perhaps isolating local Los Angeles customers. And to make things more complicated, Alma is embattled in an ongoing lawsuit with a former advisor. Instead of going down quietly, the Alma team is now making itself quite vulnerable by asking for help. Grub talked to Taymor about how it got to this point, and why his plight is representative of so many of the challenges plaguing small businesses.
The public perception is that Alma is one of the most successful, critically acclaimed restaurants in the country, so this comes as a shock. When did your financial problems begin?
We started the restaurant with almost no money. We got the doors open for about $25,000, and we have since put in more money, but we don't have any investors. We have a lot of independence and freedom because of that, but at the same time, we've always been really exposed. You don't have anybody behind you when things get tough. There have been no real resources for us at any point. That was just the way we had to go, because none of us came from really significant means: We definitely grew up upper-middle class, but nobody was coming in with a trust fund to build a restaurant. So we started the restaurant hoping that it was going to be community-supported, and the people who lived in L.A. and loved the restaurant would be the ones supporting it all along.
Did you see that support at any point, or has it always been a struggle to appeal to people in L.A.?
Just like any restaurant, it's really inconsistent. We're able to absorb a lot of the inconsistencies of the day-to-day business, but when things really started getting out of control was around this time last year, which was when a lawsuit was brought against us, and that just accelerated the amount of money that we were spending on things that had nothing to do with the restaurant. Lawsuits are outrageously expensive, even before you get to court.
What brought on the lawsuit?
As new business owners, we had found ourselves in a couple of initial pickles — one involving an accountant. One of his employees came forward and told us that there was some sort of illegal activity going on with the books, and that what we were being told wasn't necessarily the truth. As we dug deeper, we uncovered fraudulent tax filings. At that point, we had a regular in the restaurant who had been very vocal about how he felt about the food and the service and he felt like we were doing something different. He offered us a chance to ask for his advice and pick his brain. So we took him up on that on his offer for support — intellectual support. This individual is extremely rich and well-connected in the Hollywood community. He didn't want or need anything from us, essentially. It seemed like a great situation where we could have a mentor. But as it progressed, it became clear that this individual wanted some kind of repayment, so we offered a profit-sharing agreement. In the middle of negotiations, well after we had presented our initial offer, we were sued. Now we are in the discovery stage, which is when everybody sends out their documents. We have a deposition scheduled, but the trial date won't be until next January.
Beyond the lawsuit, you've been outspoken on social media about the city of L.A. making things difficult for small businesses. Does that play a part?
Well, I don't know if it's so much the city of L.A. I think it's just the climate right now. When we started, we had tax benefits for being in that area, which was really run down with no actual business. It does feel like we've been getting excessively heckled by the Health Department. They come in almost double or triple the amount of times they've visited any other restaurant I've worked in. There's the cost of getting a beer and wine license within a year in the city of L.A. — with all the permits and fees and middlemen you have to pay, it ends up being close to $60,000 just for that. And often you're just sitting and waiting for forms to get looked at, so there's no kind of understanding of the necessity to move quickly with regards to new businesses.
It seems like the biggest argument against this crowd-sourcing campaign is, "People simply don't like the restaurant." How will you respond to that?
That's totally valid. They might not like our stuff, but we feel like that the way that the restaurant has been characterized, people just don't feel like they can get in. Or they feel like we're just going to be too busy, so why even bother trying to come in to the restaurant? When you receive press like we've received, the perception is that we're not hurting for business — we're full, so don't worry about it. We're finding that the majority of people we speak to in L.A. haven't even been to the restaurant yet to try food, which is kind of interesting.
People think that accolades translate to financial gain. But have any of the awards you've received actually caused a spike in business?
The Bon Appétit award caused a spike in business, but we were so undermanned as a restaurant that we were just playing catch up the whole time — being able to get the systems in place to handle the volume that it brought to the restaurant. It ended up being a really good push for us to get our shit together, in terms of operations and learning how to run a busy restaurant, which is different than a slow restaurant. Everything speeds up and the ability to fix mistakes — the window for that — diminishes. We've developed a lot of really great relationships through the press we've received. But on the other end of it, there is this perception that we don't need people's business, and that we are fine without it. That's just not the case. This is a restaurant that was opened for L.A., and we really are proud of the city and the food culture here, and how it's growing and changing. So for us to thrive, we're dependent on people who live in L.A., who live within the vicinity of downtown to come and support the restaurant.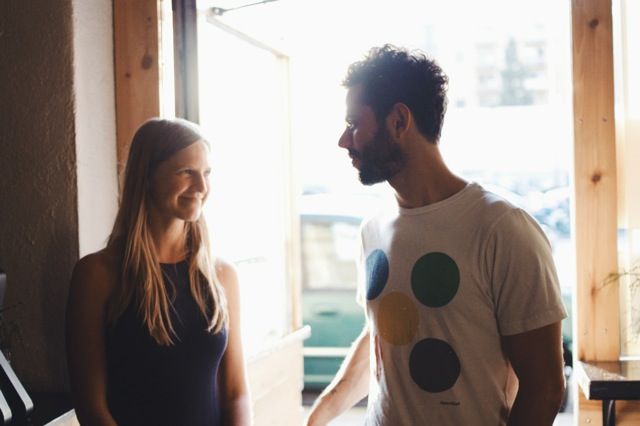 How have you tried to make changes and appeal to locals?
We've done our best to try to adjust as business owners — to try to prevail and figure out the most efficient way to run a business our size. We don't have a lot of the resources that other restaurants have, like a walk-in or dry-storage space, so we initially switched to a tasting menu, because we felt like we were going to be able to deliver a better value. And then we saw the people still valued choice and the ability to control their experience, so we brought à la carte back.
That's helpful, because at Alma, there is a financial barrier to entry.
It simultaneously is, and isn't, expensive. You're not going to come and have a tasting menu every day. That's a big reason why we brought the à la carte back. The price of food and the price of labor combined is much higher than people are used to paying right now. They're used to paying for cheap labor, and nobody's been paying the cost of cheap restaurant labor — except for the individuals who work in restaurants. They are the ones with no insurance. That's why when cooks and chefs get sick or hurt, often their careers are over, because they're out of work. They're in deep debt. So those are the ones that take the fall for us when we want cheaper and cheaper food. People do need to come to grips with the fact that the price they're paying for food in restaurants is not reflective of sustainable labor policies.
What other steps have you taken? Have you considered investors?
We've reached out to friends and family, but ultimately, we wouldn't be in this situation if we hadn't gotten sued. The fact is that the legal system that should protect small, weaker individuals from larger powerful individuals and corporations and interests, especially on the civil side. There's really no strong burden of proof required to bring forward a lawsuit, and it can cause great financial harm to a small business. We feel like the justice system — and I think people have seen this across the board lately — is totally blind to what is going to make a vibrant, diverse economy.
But even if we were to grow and be perceived as a big, powerful institution, we feel like our best asset is the community. We have our outreach program. We have our garden. We're at the farmers' market four times a week. We feel like we've really embedded ourselves in the fabric of the community here, and in the food community across the country, so we feel like our response isn't going to come from one rich backer who wants to help us. It's going to come from a group of people who value the same values, who are interested in sustainability, who are proponents of progressive labor policies, who are interested in exploring why our food systems are only serving such a tiny percentage of the population. For us to be able to succeed, the community has to get behind us, and that's where our strength will come from. Otherwise, if that doesn't happen, the restaurant's going to go away. And that's not the worst thing that's ever happened in the world.
How close are you to the end?
If we don't meet this goal, we're done. There's just no way around it. We're about to enter the most expensive part of the lawsuit process, and it'll tap us out. We have tighter margins because of the way we pay our staff and because of the ingredients that we use, so our profit margins are smaller. If you add another $18,000 a month in legal fees … we just can't absorb it on our own. I don't think any small restaurant can.
What's the larger lesson that you want people to glean from your experience?
This is just a little example of the small-business climate in this country where people, politicians, whoever talk a lot about the American Dream. They're tired of banks. They're tired of financial institutions. They're tired of large corporations dictating the rules of the game, but on the other hand, to change, that means that as a country, we need to change our economic habits and think more about where we're spending our money. Are we spending it on small businesses? Are we spending money in the places with an ethical component? Are we making sure that we're buying food that is sourced from people with progressive environmental policies? Are we supporting restaurants who are paying their employees a living wage? In any place, it's expensive to do business this way. It's not prohibitively expensive, which is sometimes the argument people make when the minimum wage goes up, but it's also not possible without strong, vocal, and enthusiastic community support. And if we're going to have an economy where young people see that there is this economic viability to taking progressive risks and to doing business a different way … the good thing is that we have a chance to respond right now. We have a chance to, as a community, come together and say that these are the values that we believe in.