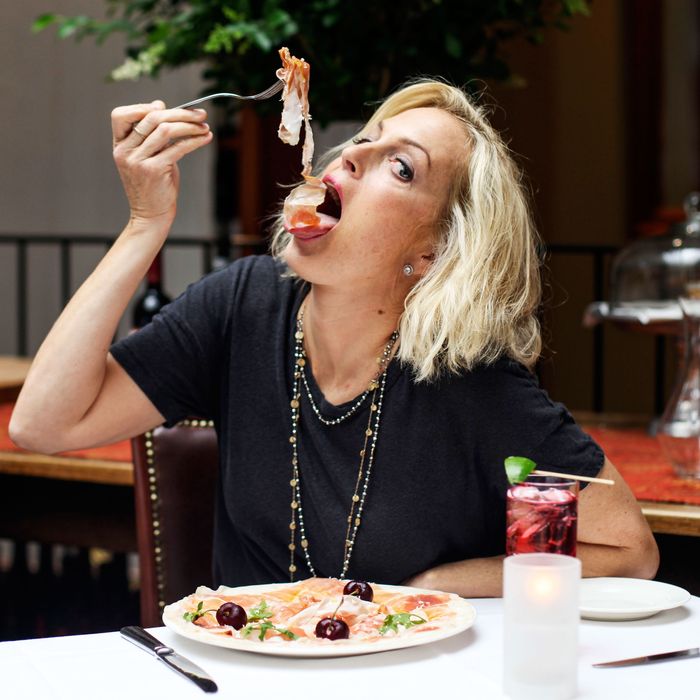 "I find cooking very therapeutic and creative."
Photo: Hannah Mattix
Ali Wentworth wears many hats: She's a comedian, an actress, a producer, and an author — with a new book that came out this week, Happily Ali After. Somehow, amid all of this, she also plays the role of family cook and prepares nightly meals for her husband, George Stephanopoulos, and her two daughters. This week, she whipped up dishes like turkey bolognese, steak with baked potatoes ("which of course is an excuse to eat a lot of butter"), and an impromptu sandwich that she considers worthy of a patent.
Thursday, June 4
Breakfast is always at home. My husband gets up at 2:30 a.m. to go to GMA, and then I get up at 6 a.m. with our two younger children. I become a short-order cook: One of them wants pancakes, while another has cereal, but then realizes she wants eggs.
I had a little bit of Greek yogurt with blueberries and some granola. I've never had a cup of coffee in my life. Every morning, I drink two mugs of PG Tips tea — a very strong English black tea — with raw sugar and half-and-half. Don't even get near me with soy milk and Splenda.
For lunch, I made a beet salad at home with oranges and goat cheese. I was at Whole Foods, and I saw these ginormous beets. I roasted them. I added two slices of toast. It was great: I was sorry to eat it alone in front of the tube. I also had this Italian lemon soda I like. I don't like the taste of water. When I lived in Los Angeles, I was an outcast because I didn't walk around with a bottle of Evian.
I cooked turkey bolognese for dinner. During the week, mostly because of George's schedule, we eat at home, and I cook. It's tricky when you have kids: They either think what I've made is disgusting — after I've just slaved over clams casino — but turkey bolognese is always a crowd-pleaser. You just throw in a baguette and make a simple salad, and you have a good family meal.
My 10-year-old is a baker: Most kids want to be on Snapchat, but she loves to bake. So we always have baked goods in our house. This week, she felt like making a chocolate cake. What happens is that it sits there, and every few hours, someone takes a thin slice off of it. If I'm particularly hormonal, I eat most of it.
Friday, June 5
I had Rice Krispies with strawberries and whole milk, out of laziness. My daughter wanted that, and we had it together. I love, love Rice Krispies Treats. If you told me I could eat them morning, noon, and night, I'd be so happy. Having Rice Krispies for breakfast is like the poor man's version.
I had a slice of New York-style pizza for lunch. A little while ago, our family went on a pizza tour with the Seinfeld family. What that entailed was a tour guide taking us to all the pizza places in New York. Now I understand pizza in a whole different way. After I went on that tour, if I'm in an area with one of the best places, I'll have a slice.
For dinner, I cooked salmon with onion-lemon sauce with white rice, which I served with baked cauliflower. George's parents came over for dinner. I can't really make anything too spicy or crazy for them, but this is the dish that everyone loves. It's funny: My mother can't cook an egg. When you grow up in a house where your mom doesn't cook, you kind of learn by default. I grew to love it. I find cooking very therapeutic and creative. My husband does, too. We're most competitive in the kitchen.
I had a Skinny Cow chocolate-pretzel ice-cream bar for dessert. I can't lie to you, this particular one is so good! I have had the fanciest people over for a dinner party, and I'll put out a little ice-cream bar and everyone will rave about it. When something's good, it's good.
Saturday, June 6
My 10-year-old loves fried eggs with hot sauce. I would have never thought to eat that, but I tried it once, and I love it too. I cut up an avocado and then I put the fried egg on top of it. And I had two mugs of tea.
This was a typical Saturday lunch: You're running around doing errands, and you've got to eat something. I had a banana dipped in peanut butter, a handful of chocolate-covered raisins, and lemon soda.
I try not to eat a lot of red meat, but a good steak, every once in a while, is delicious. I cook it in a pan with salt and pepper. And I made a baked potato, which of course is an excuse to eat a lot of butter. I didn't go out that Saturday night, so I could eat a heavy meal, get in my pajamas, watch a movie, and fall asleep. I had just two bites of frozen cookie dough. We always keep a roll in our freezer, but it rarely ever gets sliced and baked. If you ever need just a little hit of something sweet, it's right there.
Sunday, June 7
The problem with kids is that they get up every day at the same time, no matter what. I usually get up with them on Sundays, have Greek yogurt, and then go back to sleep while George takes them to church. After church, they come back with bagels and cream cheese and lox. I kind of had a second breakfast.
Sundays are totally lazy days. Usually, we do an early dinner and check out a new restaurant. But this particular Sunday, we stayed home, and I made a weird sandwich filled with stuff that we had in the fridge: turkey, cheese, jalapeño, and mustard. It was a spicy melt-in-your-mouth kind of sandwich. I want to patent it. I'd call it "the Ali." And I had four Milano cookies. I love Milanos. I hadn't had a Milano in 15 years! You can't have just one.
Monday, June 8
I made a Jarlsberg omelette with tomatoes. I was answering a bunch of emails, and I needed something substantial. We had a big hunk of Jarlsberg cheese in the fridge. I was very happy with my omelette.

For lunch, I ate a bagel with salmon and cream cheese — leftovers. Why not? Our refrigerator is very well stocked, which is good and bad. There's always a lot of food, but you feel guilty if you don't eat it all. If I make a particularly good dinner, I always bring it down to our doorman on a plate.
I made a Mandarin Chinese salad from Gwyneth Paltrow's cookbook. I wanted to feel healthy. It's light enough that you can have a huge plate of it and not feel stuffed.
Tuesday, June 9
We went to the Brooklyn Flea Market two years ago and discovered Dough doughnuts. I thought, These are the greatest doughnuts I've ever had in my life. For a while, I was driving to Brooklyn to get them, but now Whole Foods on the Upper West Side sells them. Occasionally, I'll go there and get a variety of flavors. For breakfast, I ate a glazed one.
I had sushi for lunch with my friend at a place called Sushi Ann on 51st and Park Avenue. It's very authentic, and they have the best salad. There are a lot of great sushi restaurants in New York, but if the salad isn't good, I'm only 50 percent happy. The lettuce is really fresh. The dressing is so good — light and ginger-y.
I cooked a filet of sole, which I do in a pan with butter, a lot of lemon, salt. and pepper. I also made rice and an arugula served with shaved Parmesan. We're a family that eats together every night. And we have a morbidly obese dachshund named Daisy, who also shares in our culinary delights. Unlike my kids, she likes all of my food.