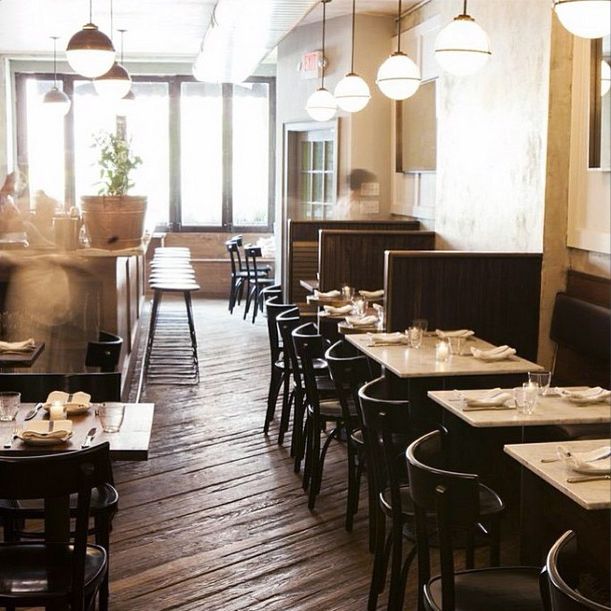 For the first time ever, Estela made the cut.
Photo: estelanyc/Instagram
The value of the "World's 50 Best Restaurants" list is debatable, but it certainly brings attention to elite chefs around the world. The full 2015 lineup will be revealed next week, but in the meantime, those ranked Nos. 51 to 100 — the runner-ups, in a sense — are live. America's honorees include Estela, the NoMad, Momofuku Ko, and Manresa. But at No. 51, Copenhagen's Geranium deserves a special shout-out — so close!
No. 51: Geranium, Copenhagen, Denmark
No. 52: Tim Raue, Berlin, Germany
No. 53: Hertog jan, Bruges, Belgium
No. 54: Hof Van Cleve, Kruishoutem, Belgium
No. 55: The Clove Club, London, Uk
No. 56: Saison, San Francisco, Usa
No. 57: Septime, Paris, France
No. 58: Quay, Sydney, Australia
No. 59: Diverxo, Madrid, Spain
No. 60: Hedone, London, Uk
No. 61: Martin Berasategui, San Sebastián, Spain
No. 62: 8 ½ Otto E Mezzo Bombana, Hong Kong, China
No. 63: L'Atelier De Joël Robuchon Paris, Paris, France
No. 64: Maaemo, Oslo, Norway
No. 65: Combal Zero, Rivoli, Italy
No. 66: Amass, Copenhagen, Denmark
No. 67: Nomad, New York, Usa
No. 68: Nerua, Bilbao, Spain
No. 69: Momofuku Ko, New York, Usa
No. 70: Waku Ghin, Singapore
No. 71: De Librije, Zwolle, Netherlands
No. 72: Restaurant At Meadowood, St. Helena, Usa
No. 73: The Fat Duck, Bray, Uk
No. 74: Jaan, Singapore
No. 75: Coi, San Francisco, Usa
No. 76: Fu He Hui, Shanghai, China
No. 77: Indian Accent, New Delhi, India
No. 78: La Maison Troisgros, Roanne, France
No. 79: Ryunique, Seoul, South Korea
No. 80: Daniel, New York, Usa
No. 81: Joe Beef, Montreal, Canada
No. 82: Le Louis Xv, Monte Carlo, Monaco
No. 83: Tegui, Buenos Aires, Argentina
No. 84: Sepia, Sydney, Australia
No. 85: L'Effervescence, Tokyo, Japan
No. 86: Hajime, Osaka, Japan
No. 87: Brae, Birregurra, Australia
No. 88: The Tasting Room At Le Quartier Français, Franschhoek, South Africa
No. 88: Zuma, Dubai, Uae
No. 90: Estela, New York, Usa
No. 91: Belcanto, Lisbon, Portugal
No. 92: St. John, London, Uk
No. 93: Jungsik, Seoul, South Korea
No. 94: Masa, New York, Usa
No. 95: Fu1015, Shanghai, China
No. 96: Mikla, Istanbul, Turkey
No. 97: Esperanto, Stockholm, Sweden
No. 98: Vila Joya, Albufeira, Portugal
No. 99: Lung King Heen, Hong Kong, China
No. 100: Manresa, Los Gatos, Usa