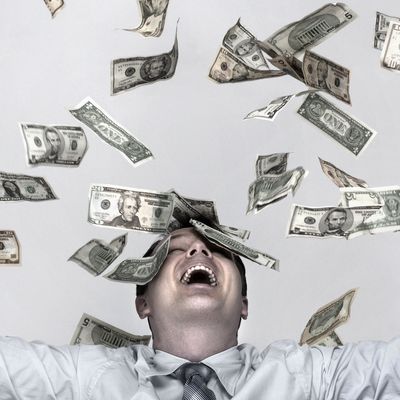 Money money money.
Photo: 13/Jonathan Kitchen/Corbis
Everybody, mom or not, inside a North Carolina Huddle House restaurant this past weekend had a happy Mother's Day. An anonymous customer came in, ordered to-go breakfast for some friends, and announced he was in "the mood for giving" because of the holiday. So he paid for everyone's breakfast and reportedly left $9,000 in tips that he requested be distributed to not only the three waitresses on shift that morning, but also for the five customers there just eating at tables: On his way out, the man asked that every waitress get $1,400 and each random customer $800. (The original story doesn't specify how much the manager received, but the math breaks down to indicate she's taking home $800 of her own.)
Alas, there is one little hiccup in this otherwise heartwarming tale: Because the customer paid with a debit card, the Huddle House manager told everyone it will take 90 days to get them their money. One of the customers, who called $800 "a lot of money to be happy about" told the local news the wait period just isn't fair, since "it's not [Huddle House's] money," and the instructions were clear that the money should be dispersed for the holiday. But c'mon, it's still $800, and all you had to do to get it was eat breakfast.
[WPDE]