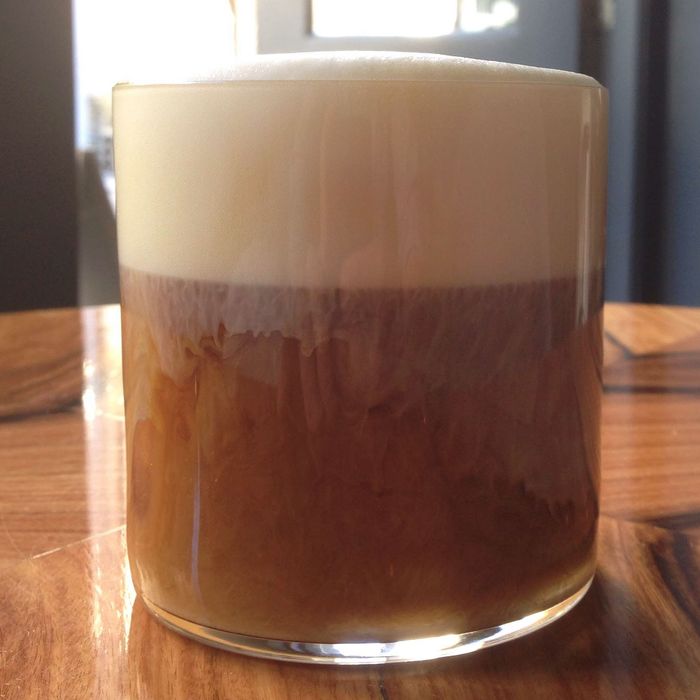 Start the day right.
Photo: Courtesy of La Compagnie des Vins Surnaturels
It makes sense that a sommelier would be as enamored of coffee as he is of wine — both ancient potions require dedication and attention to detail for full appreciation. It's certainly true for Caleb Ganzer, a former Eleven Madison Park wine expert who now runs the program at La Compagnie des Vins Surnaturels, the Centre Street natural-wine spot from the team behind the Experimental Cocktail Club. There, he's launched a summertime pop-up café that only serves one thing: meticulously conceived cold-brew coffee.
Here's the deal: Ganzer uses two types of beans — Ethiopian Yirgacheffe, which is slightly tart, or Colombian El Boton, which Ganzer says has heavier notes of berries and chocolate — and lets them cold-brew for 24 hours in a Filtron Pro, which Ganzer says amps up the intensity. Both types of beans are low-yielding, hand-picked, and sun-dried, yet Ganzer explains they both result in mind-bendingly complex cups.
He serves his brew cocktail-style, in chic glass cups filled with a single large ice cube. Customers can take it black, or add some frothed, raisin-infused milk (which is vaguely sweet and just a little tangy). If it all sounds like gilding the lily, that's kind of the point. "Don't get me wrong, I can drink a simple cup of coffee," Ganzer says, "but life is so short."
The whole thing will run you $5 a cup, which is likely less than you'd spend on a mass-produced Frappuccino at Starbucks. For now, the drink is on premises only, offered between 9 a.m. and 5 p.m., but Ganzer says to-go cups are coming soon for connoisseurs who happen to also be on the run.